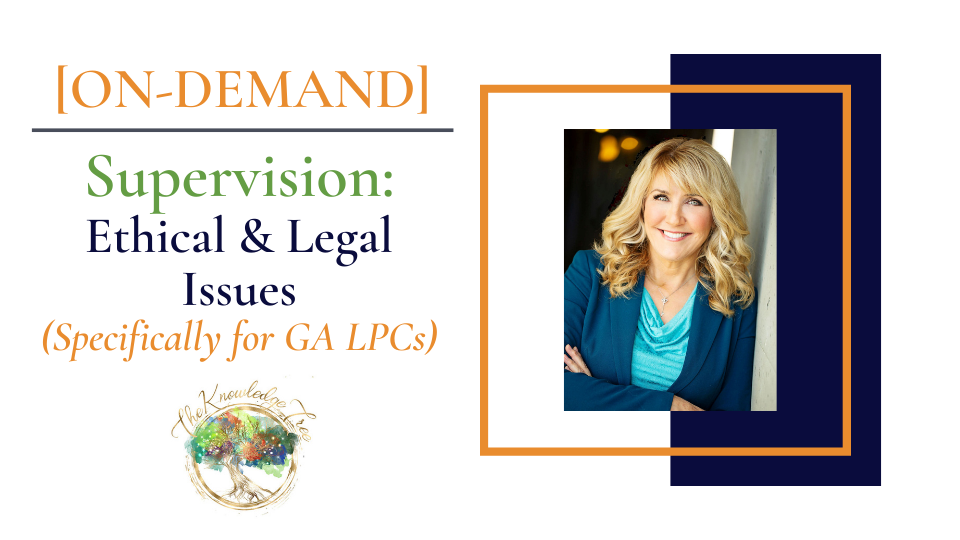 On-Demand: Supervision: Ethical & Legal Issues (for Georgia LPCs Only) - 6 CEUs
To access the discount form for registering for multiple workshops or participants, please click here.
CE Hours Included: 6 Core for Georgia LPCs ONLY (please see below for more information)
Format: On-Demand Webinar ("Asynchronous") ~ At your leisure to be viewed at your own pace. You may pause, rewind, and fast forward at any point during the videos. You are in complete control of how you view this workshop. However, you are required to watch at least 90% of the videos to receive CEs. The PowerPoint handout will be displayed in the video along with the presenter, and there is also a separate document for printing as well as multiple other handouts and forms. There is a quiz at the end to ensure comprehension and is required by all CE approval organizations for On-Demand workshops.
Investment:

$135 (provides lifetime access!)

Presented by: Becky Beaton-York, Ph.D.

Educational Objectives:

Compare the new Composite Board Licensing Requirements in Georgia (Oct 1, 2018) to the previous ones for LAPCs and LPCs.

Identify the LPCA-GA requirements for Certification and Recertification of the CPCS

Review several Ethical Guidelines related to Counseling and Supervision: CPCS, NBCC, ACA, AMHCA, and the ACES Best Practices in Clinical Supervision.

Summarize what you need to include in your Supervisory Informed Consent as well as other supervisory and supervisee required documentation.

Discuss the vicarious liability every supervisor needs to be aware of as well as procedures to put in place to minimize risk.

Describe the importance of ascertaining supervisee competence, reviewing notes, and running a successful supervision group.
Presented by: Becky Beaton-York, Ph.D.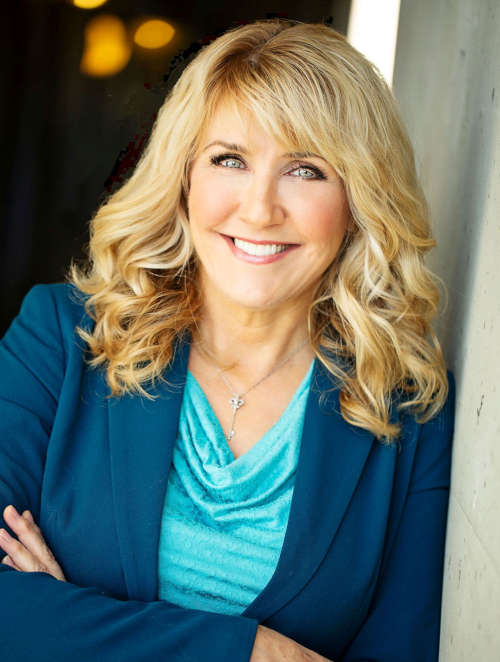 Dr. Beaton-York is a Licensed Psychologist, Licensed Professional Counselor, and a Certified Professional Counselor's Supervisor (CPCS). She has supervised several hundred individuals to licensure since 1997. Dr. Beaton-York has been on the Georgia Psychological Association's Ethics Committee since 2010 and Ethics Chair since 2014. She was also the Ethics Chair & Supervisory Registry Chair for the Licensed Professional Counselor's Association of Georgia (LPCA-GA) for two years and helped create the original requirements for the CPCS. You may have seen her on one of the 60 episodes that she filmed as the featured psychologist on TLC's "Hoarding: Buried Alive." She has also made appearances on The Anderson Cooper Show, Good Morning America, and CNN Headline News. Additionally, Dr. Beaton-York is the Founder of The Knowledge Tree. Her primary passion is teaching and mentoring. She has served as Adjunct Faculty for both Emory and Georgia State Universities, and Dr. Beaton-York was voted Counselor Educator of the Year by LPCA-GA in 2005 and received their Lifetime Achievement Award in 2015.
What people are saying about Dr. Beaton-York's Ethics workshop:
"I only take ethics trainings from Dr. Becky. Somehow she makes it fun, the time flies by, and I know I'm getting the correct information!"

"I was dreading doing this - expecting it to be boring & anxiety producing. Becky's approach made it interesting, relevant, and encouraging!" J.T.

"Extraordinary! As always, Dr. Beaton is engaging, easy to understand - and the time flies by!" B.D.

"Great presenter - energetic, funny, & amazingly well-informed" - C.H.

"Becky's presentations are interesting and informative. There is always something new that I learn, even after 30 years of practice!" - N.M.

"I always feel we're getting the latest info with Becky!" A.S.
6 Core CE Clock Hours (Georgia Counselors ONLY):
Counselors: The Knowledge Tree has been approved by NBCC as an Approved Continuing Education Provider, ACEP No. 7153. Programs that do not qualify for NBCC credit are clearly identified. The Knowledge Tree is solely responsible for all aspects of the programs.

Georgia Counselors: This workshop has been approved for 6 Core Hours as an "On-Demand - asynchronous" course by NBCC (ACEP # above). NBCC hours satisfy the requirements of the Georgia Composite Board. They do not need to be approved by LPCA. This 6 CE course needs to be "Core" because the Georgia Composite Board requires that all Ethics hours be obtained either live or via a live synchronous webinar.
To view our various workshop policies, including our multi-workshop discount & refund policy, please click here.
We are an approved vendor for the U.S. Department of Veteran's Affairs for easy reimbursement of educational expenses for VA employees.
Blank Page Issues? We have received some reports about compatibility issues with our website while attempting to pay for a workshop resulting in blank pages. According to our website host, this is a known security issue with Internet Explorer (particularly when someone is about to use a credit card). Microsoft stopped supporting Internet Explorer in January 2016, and they updated it to Microsoft Edge. Our website is updated constantly to offer the highest level of security. If you experience issues while using Internet Explorer, we recommend updating your browser to Edge or using another browser (e.g., Google Chrome, Safari, or FireFox). This should fix the issue and be more secure for you in general. Or, you may always enroll another way here. We apologize for any inconvenience.
For information about our Continuing Education Workshops, please contact our Continuing Education
Workshop Coordinator at: