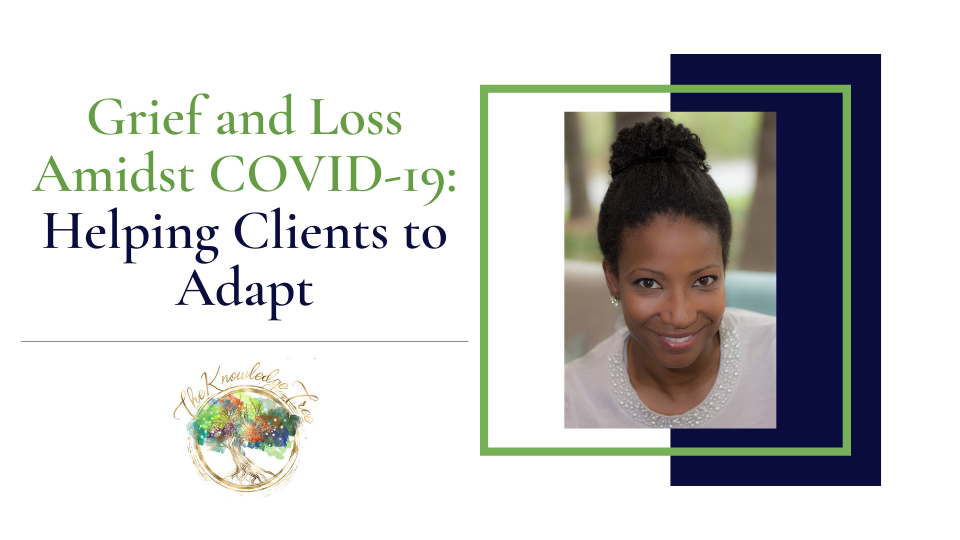 Grief and Loss Amidst COVID-19: Helping Clients to Adapt - 5 CEUs
To access the discount form for registering for multiple workshops, please click here.
When & Where:
Date: Friday, December 3, 2021
Time: 9:00 a.m. - 3:30 p.m. EST
CEs Included: 5 Core Continuing Education Clock Hours (For Psychologists, Counselors, Social Workers, and Marriage and Family Therapists - please see below for details)
Location: Live Interactive Webinar ("Synchronous") on Zoom
Investment: $115 before Friday, November 19 at 5:00pm EST, $130 after
Presented by: Angela Bethea-Walsh, Ph.D. (see bio below)
Educational Objectives:
Discuss different theoretical frameworks for grief and loss.

Define the different types of grief and loss.

Examine grief and loss unique to the COVID-19 pandemic.

Discuss potential mental health outcomes related to pandemic losses.

Utilize 3 interventions to support clients in adapting to multiple losses.

Identify cultural issues that impact the grief process.
Workshop Description:
The COVID-19 pandemic has become a top leading cause of death worldwide. The worldwide death toll currently exceeds 4 million people worldwide. The psychological burden of the COVID-19 pandemic is fraught with grief and traumatic loss that encompasses more than COVID-related patient death. Physical distancing and other COVID-19 protocols have engendered ambiguous losses including the absence of traditional/cultural rituals in the grieving process, abrupt separation from friends and loved ones, job and financial loss, loss of child care, the absence of significant changes in family roles and division of labor cause significant relationship strain, hamper relationship intimacy, and shift identity. Prolonged stress is likely to lead to long-term physical health and psychological consequences. The prolonged nature of these changes and losses place clients at risk for complex bereavement disorder. Dr. Bethea-Walsh will discuss use therapeutic tools to support clients to manage suffering and to make meaning in the mourning process.
Presented by: Angela Bethea-Walsh, Ph.D.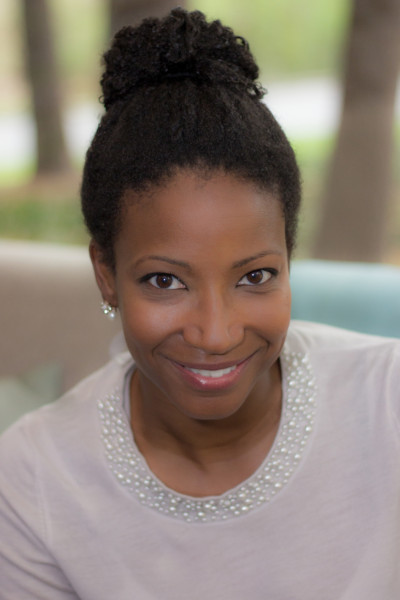 Angela R. Bethea-Walsh, Ph.D., is a Licensed Psychologist in Georgia. She received her doctoral degree in Counseling Psychology from Lehigh University. She completed a 3-year Postdoctoral Fellowship in Clinical Health and Addictions Psychology at Mount Sinai St. Luke's-Roosevelt Hospital Center, Columbia University College of Physicians and Surgeons.
She is currently the owner of Bethea Consulting and Psychological Services, P.C. (Bethea CPS), a private practice located in Atlanta, Georgia. As a Psychologist, she specializes in delivering evidence-based, culturally-sensitive interventions to treat problematic substance use, substance use disorders, stress related to racial and sexual identity development, relationship concerns, grief and loss, depression, anxiety (including performance anxiety), insomnia, weight loss, chronic pain and illness management.
Her trainings are fast-paced, highly informative and interactive. For more information about Dr. Bethea-Walsh, her clinical work and workshop experience, go to: http://www.betheacps.com
Agenda:

8:30 - 9:00 Registration

9:00 - 10:30 Welcome and Morning Session

10:30 - 10:45 Break

10:45 - 12:00 Morning Session (Cont.)

12:00 - 1:00 Lunch Break

1:00 - 2:00 Afternoon Session

2:00 - 2:15 Break

2:15 - 3:30 Afternoon Session (Cont.)

3:30 - Continuing Education Certificates Available
What people are saying about this workshop:
"The presenter was fabulous- incredibly informative, held my attention and her voice was so warm. She had an amazing playlist!" - LM, APC

"Great information on grief, especially during this time." - SS, APC

"The presentation was great! Dr. Bethea-Walsh did a great job presenting the material in a way that was interactive and informative." - MM, LMSW

"Well informed and organized. Thank you so much...very helpful!" - PM, LPC

"This workshop was great and very informative. I really enjoyed the class. This was the first and not the last time taking course with Knowledge Tree." - SB, LPC

"Thank you! It was well worth my time." - ED, LCSW

"Very well organized, researched and useful." - JW, LPC
5 Core CE Clock Hours:
Psychologists: The Knowledge Tree (TKT) is approved by the American Psychological Association to sponsor continuing education for psychologists. TKT maintains responsibility for this program and its content.

For Georgia Psychologists, all online webinars (both live and on-demand) count the same as live for 2021 (including ethics). The Board states it will go back to the pre-COVID rules in 2022. You may complete all 40 CEUs this year while you have options.

Licensed in another state? The Knowledge Tree is a Continuing Education Sponsor Approved (CESA) by APA, so all of our workshops should satisfy your CE requirements, but please check your state rules regarding live webinars vs. live workshops.

Counselors: This workshop is approved for 5 core CE hours for counselors through LPCA of Georgia, approval #2021-09-07-611LW. Now in Georgia, Live Webinars count the same as a Live In-Person Workshop.

Licensed in another state? Please see the highlighted section below.*

Social Workers: This workshop is approved for 5 core CE hours for social workers through the Georgia Society for Clinical Social Work, approval #010521. Now in Georgia, Live Webinars count the same as a Live In-Person Workshop.

Licensed in another state? Please see the highlighted section below.*

Marriage & Family Therapists: This workshop is approved for 5 core CE hours for marriage & family therapists through the Georgia Association for Marriage and Family Therapy, approval #127-2021. Now in Georgia, Live Webinars count the same as a Live In-Person Workshop.

Licensed in another state? Please see the highlighted section below.*

*Licensed in another state as a counselor, social worker, or marriage & family therapist? Many states will accept CEs for Counselors, Social Workers & MFTs if that workshop has approved status from another state. Additionally, we have national approval for all our courses through APA, so this workshop should satisfy your "Related Hours" option (meaning a course Nationally Approved in the related field of Psychology), but please check your specific state rules & regulations.
To view our various workshop policies, including our refund policy, please click here.
Blank Page Issues? We have received some reports about compatibility issues with our website while attempting to pay for a workshop resulting in blank pages. According to our website host, this is a known security issue with Internet Explorer (particularly when someone is about to use a credit card). Microsoft stopped supporting Internet Explorer in January 2016, and they updated it to Microsoft Edge. Our website is updated constantly to offer the highest level of security. If you experience issues while using Internet Explorer, we recommend updating your browser to Edge or using another browser (e.g., Google Chrome, Safari, or FireFox). This should fix the issue and be more secure for you in general. Or, you may always enroll another way here. We apologize for any inconvenience.
For information about our Continuing Education Workshops, please contact our Continuing Education
Workshop Coordinator at: