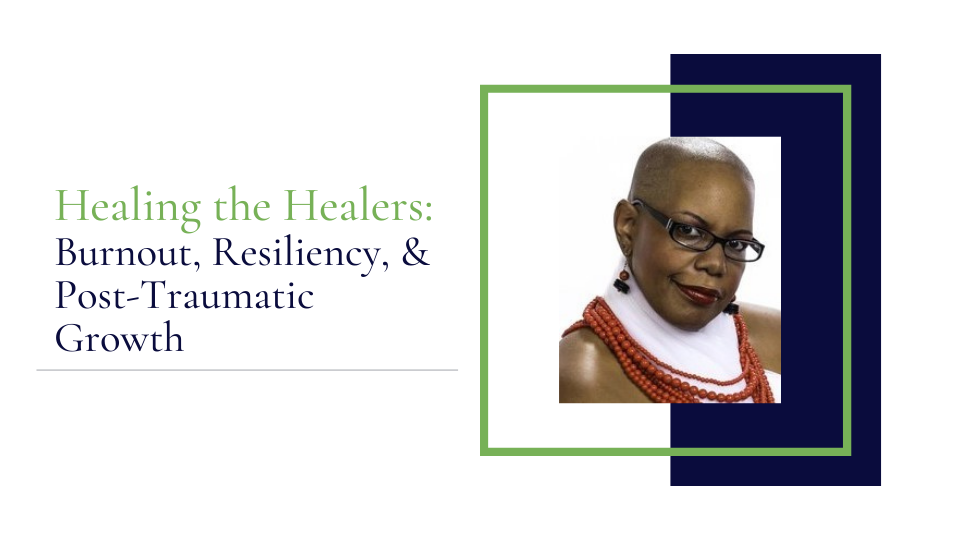 Healing the Healers: Burnout,
Resiliency, Post-Traumatic Growth - 5 CEUs
To access the discount form for registering for multiple workshops, please click here.
When & Where:
Date: Friday, May 7, 2021
Time: 10:00 a.m. - 4:30 p.m. EST
CEs Included: 5 Core Continuing Education Clock Hours (For Psychologists, Counselors, Social Workers, and Marriage and Family Therapists - please see below for details). All other healthcare workers and healers are welcome.
Location: Live Interactive Webinar ("Synchronous") on Zoom
Investment: $115 before Friday, April 23 at 5:00pm, $130 after
Presented by: Angelique Burke, MS, EdS, LPC, ChT (see bio below)
Educational Objectives:
Compare and contrast the fundamental components of Resiliency and Post-Traumatic Growth.

Employ at least 3 interventions that will foster holistic wellness approaches to increasing quality of life, mood, healing, and resiliency, particularly when feeling overwhelmed or burned-out.

Identify cultural factors that may impact experiences of burnout and resiliency.

Outline clear tactics for cultivating Post-Traumatic Growth.

Define the seven points of wellness and techniques to create concrete goals related to each.

Practice strategies for moving from fear of inappropriate emotional entanglement to utilizing transference and countertransference to strengthen the therapeutic relationship.

Create a holistic plan for the integration of experiences and skills into clinical and personal practice.
Workshop Description:
Can you relate to any of these? . . . Change in work environment and/or increased client/patient stressors that may mimic some of your own stressors, relationship distress, shifts in income—including increases and decreases, shifts in childcare and primary educational structures & duties, changes in Sandwich Generation responsibilities, unanticipated disconnection from family, friends, partners, coworkers, and communities, or absence of social, spiritual, and religious rituals and traditions.
This workshop, created especially with you in mind, will provide a full-day experience for health care providers that will move from evidence-based and the theoretical to user-friendly, provider-focused, practices designed to increase personal resiliency that will translate into professional efficacy.
Anyone who has ever flown on an airplane or watched a movie with scenes on an airplane knows the flight attendants' instructions to "put your oxygen mask on first." Are you putting your oxygen mask on . . . first? In this workshop participants will be guided through exercises designed to support access to transferable skills that will assist in doing just that!
This level of training is appropriate for any and all healing and healthcare providers who have lived and worked during our current mental health and medical pandemic or any other significant life-impacting experiences. Attention will be given to methods to cultivate resiliency and posttraumatic growth via live demonstration, open discussions, self-reflection, and resource building exercises.
Presented by: Angelique L. Burke, MS, EdS, LPC, ChT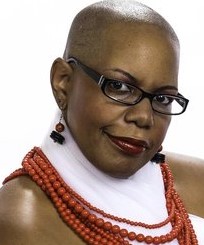 With over 20 years in the field and utilizing her long-standing commitment to community involvement, leadership, and education, Angelique L. Burke, MS, EdS, LPC, ChT has studied, and presented on a number of areas such as recovery education, decreasing distress symptoms, intimate partner violence, careering, non-partum depression, creative relationshipping, and relational and sexual minorities. She is a PhD candidate and Psychotherapist who graduated from The Florida State University's College of Education with dual Masters' of Science in Career Counseling and Mental Health Counseling, and an Educational Specialist degree.

While attending Florida State University, Ms. Burke obtained further specialization and experience via the Arts in Community Practice Certificate Program, which has supported her ability and interest in using Expressive Arts, Music, Somatics and Dance in therapeutic work with clients in both group and individual sessions.
She believes the most impactful approach to experiencing healing, growth, and successful recovery is via a relational framework. Therefore, utilizing a comprehensive approach that blends art and science, she has worked in the substance abuse and mental health field in inpatient and outpatient settings, extensively with co-occurring disorders, Intimate Partner Domestic & Sexual Violence, LGBTQI+ Relationships, trauma, and abuse with both children and adults.
Beyond being in private practice in Atlanta since 2004, she has advanced training and focus on applying scientifically based techniques in Relationship Therapy, Imago Therapy, Emotionally-Focused Couples Therapy, and is a Certified Relationship and Life Coach (CLC) through the International Coaching Science Research Foundation (ICSRF), a Member of the International Association of Trauma Professionals (IATP), and Certified through The Anxiety & Stress Management Institute (ASMI) as a Clinical Hypnotherapist.
Agenda:
9:30 - 10:00 Registration

10:00 - 11:30 Welcome and Morning Session

11:30 - 11:45 Break

11:45 - 1:00 Morning Session (Cont.)

1:00 - 2:00 Lunch Break

2:00 - 3:00 Afternoon Session

3:00 - 3:15 Break

3:15 - 4:30 Afternoon Session (Cont.)

4:30 - Continuing Education Certificates Available
5 Core CE Clock Hours:
Psychologists: The Knowledge Tree (TKT) is approved by the American Psychological Association to sponsor continuing education for psychologists. TKT maintains responsibility for this program and its content.

For Georgia Psychologists, all online webinars (both live and on-demand) count the same as live for 2021 (including ethics). The Board states it will go back to the pre-COVID rules in 2022. You may complete all 40 CEUs this year while you have options.

Licensed in another state? The Knowledge Tree is a Continuing Education Sponsor Approved (CESA) by APA, so all of our workshops should satisfy your CE requirements, but please check your state rules regarding live webinars vs. live workshops.

Counselors: This workshop is approved for 5 core hours through LPCA of Georgia, approval #2021-01-06-266LW. Now in Georgia, Live Webinars count the same as a Live In-Person Workshop.

Licensed in another state? Please see the highlighted section below.*

Social Workers: This workshop is approved for 5 core CE hours for Social Workers through the Georgia Society for Clinical Social Work, approval #121720. Now in Georgia, Live Webinars count the same as a Live In-Person Workshop.

Licensed in another state? Please see the highlighted section below.*

Marriage & Family Therapists: This workshop is approved for 5 core CE hours for Marriage & Family Therapists through the Georgia Association for Marriage and Family Therapy, approval #155-2020. Now in Georgia, Live Webinars count the same as a Live In-Person Workshop.

Licensed in another state? Please see the highlighted section below.*

*Licensed in another state as a counselor, social worker, or marriage & family therapist? Many states will accept CEs for Counselors, Social Workers & MFTs if that workshop has approved status from another state. Additionally, we have national approval for all our courses through APA, so this workshop should satisfy your "Related Hours" option (meaning a course Nationally Approved in the related field of Psychology), but please check your specific state rules & regulations.
To view our various workshop policies, including our refund policy, please click here.
Blank Page Issues? We have received some reports about compatibility issues with our website while attempting to pay for a workshop resulting in blank pages. According to our website host, this is a known security issue with Internet Explorer (particularly when someone is about to use a credit card). Microsoft stopped supporting Internet Explorer in January 2016, and they updated it to Microsoft Edge. Our website is updated constantly to offer the highest level of security. If you experience issues while using Internet Explorer, we recommend updating your browser to Edge or using another browser (e.g., Google Chrome, Safari, or FireFox). This should fix the issue and be more secure for you in general. Or, you may always enroll another way here. We apologize for any inconvenience.
For information about our Continuing Education Workshops, please contact our Continuing Education
Workshop Coordinator at: