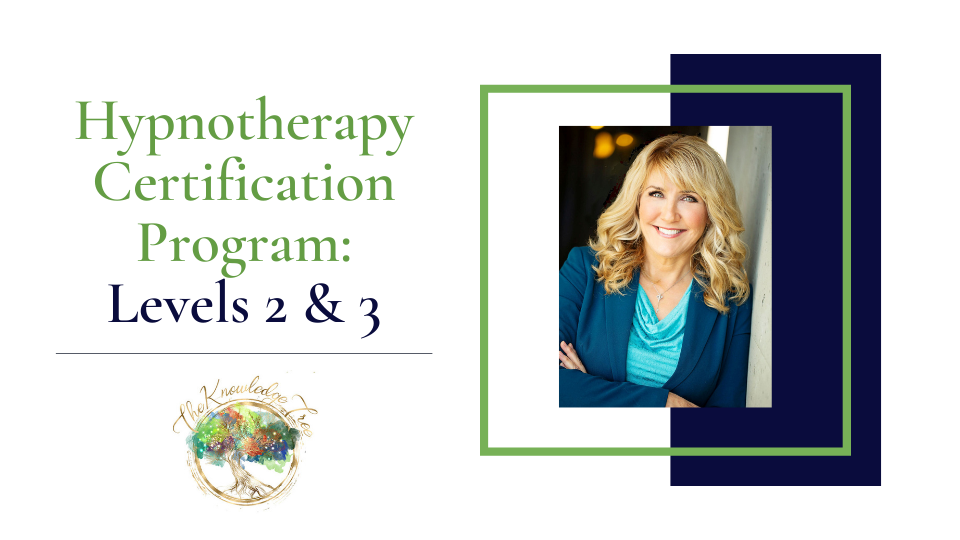 Hypnotherapy Certification Program:
Levels 2 & 3 - 53 CE Hours
When and Where:

Dates: Friday-Sunday, April 14-16 & 28-30, 2023
Times: 10:00 a.m. – 6:15 p.m. Eastern Time each day
CE Hours Included: 43 Core (Live-Synchronous) and 10 Independent (Asynchronous); the latter 10 hours are documented by practice session forms submitted (please see below for details)
Location: Two Live Interactive "Synchronous" Webinars over Zoom with Breakout Rooms. In 2020, we found this format to work amazingly well. It also helps participants learn to provide hypnotherapy via telemental health!
Investment: $1499 before Friday, March 3 at 5pm Eastern Time, $1599 after

Monthly payment plan available; please contact us for more information

REQUIRED PREREQUISITE:

Hypnotherapy with Memory Reconsolidation (Level 1) taught by Dr. Beaton-York (available live here or on-demand here) OR Hypno-Counting with Memory Reconsolidation for Discrete Trauma Treatment (available live here or on-demand here). For planning purposes, please know that she only teaches this Certification Course once each year, and it is limited to 33 participants. Additionally, only mental health clinicians with a minimum of a masters degree (or in their second year of a masters) may take this training. The masters or doctoral degree must be in counseling, mental health, social work, marriage and family therapy, or psychology.
Presented by: Becky Beaton-York, Ph.D., NBCCH-Fellow (see bio below)
Instruction Level: Intermediate
Target Audience: Psychologists, Counselors, Social Workers, Marriage & Family Therapists, Psychotherapists, Other Mental Health Professionals
Educational Objectives:
In this workshop, you will learn how to:

Hypno 2 Weekend:
Review the research regarding hypnotherapy efficacy for a variety of presenting concerns.

Identify the role of the observer-self in hypnotherapy and describe how to assist the client with recognizing and accepting this aspect of the experience.

Demonstrate how our five senses and intuition are enhanced by hypnotherapy and ways to utilize them to facilitate change.

Define "early decisions" and introjections, explore ways to listen for them, and help the client to rewrite them into a more positive framework.

Utilize the eight pillars that uphold lasting change and apply them to the Pre-Induction Interview to set up each hypnotherapy session for positive reinforcement.

Summarize the cutting-edge research and principles of memory reconsolidation.

Discuss how hypnotherapy combined with memory reconsolidation creates a more robust experience for new learning to take place.

Outline how to use hypnotherapy to gently assist clients in allowing their own subconscious to guide their experience & create change they believe in . . . because they came up with the idea.

Demonstrate, experience, and practice utilizing a pre-induction interview to draw upon the client's own resiliency, support factors, attachment figures, ego strength, wise self, and higher power (if the client chooses and only if the therapist is comfortable with incorporating this aspect – no pressure).

Discuss the propensity for transpersonal experiences to emerge in hypnotherapy and how to manage them.

Describe the importance of containment with certain clients and review containment script and ego strengthening script.

Explain, demonstrate, and practice creating a hypnotherapy resource state for manifesting change, ego strengthening, and containment in addition to the scripts provided.

Identify the three populations of clients with whom using hypnotherapy could be contraindicated.

Recognize and apply the principles of Polyvagal Theory to activate a client's parasympathetic nervous system while in trance to enhance safety and assimilation of new beliefs.

Demonstrate the elements of prosody and your own breathing to gently guide clients while in trance.

Compare induction techniques.

Review evidence regarding "HeartMath" training for distress tolerance, containment, stress management, and mind/body healing (and incorporate HearthMath principles into the induction and reinforcement section).

Review the principles of cognitive-behavioral therapy (CBT).

Describe how to take a client's negative self-talk, negative schemas, and negative introjections and turn them into a positive script for healthy reinforcement utilizing the senses and other hypnotherapeutic principles for Hypno-Enhanced CBT.

Explain, demonstrate, and practice incorporating hypnotherapy with imaginal & interoceptive exposure and response prevention (ERP) for anxiety and the OCD spectrum disorders = Hypno-ERP.

Provide an overview of Michelle Craske's (2015) newer research on inhibitory learning and ERP as well as ways to enhance new learning through her principles combined with hypnotherapy.

Identify how to create a client hierarchy for exposure therapy.

Explain the importance of encouraging a client to lean into anxiety and learn to tolerate and accept it as opposed to trying to relax it away or avoid it for lasting success.

Review the use of counting interventions while clients recall a traumatic experience. This type of intervention helps clients process through the trauma vs. their amygdala being stuck at the most stressful peak like many are.

Describe how hypnotherapy combined with counting facilitates memory reconsolidation.

Discuss Dr. Bessel van der Kolk's description of the neurobiology of Posttraumatic Stress Disorder in relation to the distortion of time and space and how counting may help provide a linear experience to reduce distortion and bring clarity to an experience that indeed does have a beginning, a middle, and an end.

Explain, demonstrate, and practice Hypno-Counting™ for discrete trauma.

Manage note-taking during hypnotherapy with Dr. Becky's templates for each technique.
Hypno 3 Weekend:
Compare Posttraumatic Stress Disorder (PTSD) as defined in the ICD-10/DSM-5 with Developmental/Complex PTSD.

Discuss Dr. Bessel van der Kolk's review of the Alpha-Theta brain wave states (two predominant states in trance) in his book The Body Keeps the Score (2015) and how intentionally accessing them may help "open the mind to new possibilities, so that the present is no longer interpreted as a continuous reliving of the past." (p. 327)

Review the latest findings of the importance of engaging the emotional brain to facilitate change and how hypnotherapy is a perfectly suited intervention to do just this.

Define hypnotherapeutic regression.

Apply hypnotherapeutic regression to three groups of client presenting concerns: 1) Emotional distress they may or may not be related to complex/developmental trauma; 2) Those who desire behavioral change (e.g., weight loss, smoking cessation, addictions, etc.); 3) Somatic complaints (e.g., pain, mind/body communication)

Review the importance of ego-strength prior to engaging in regression techniques and the populations of clients where regression is contraindicated.

Explain, demonstrate, and practice using a hypnotherapeutic emotional bridge technique with regression for behavioral change and addictions.

Explain, demonstrate, and practice using a hypnotherapeutic emotional bridge technique with regression for somatic complaints (pain and mind/body communication).

Explain, demonstrate, and practice using a hypnotherapeutic emotional bridge technique with regression for finding the source of emotional distress.

Explain, demonstrate, and practice using a hypnotherapeutic emotional bridge technique with regression for understanding complex trauma and rewriting early decisions/introjections surrounding it.

Describe and demonstrate three ways to increase mind/body awareness: Ideo-motor finger symbols, applied kinesiology, and body scans.

Practice six different types of hypnotherapy over six days to have a range of options with a multitude of presenting client concerns.

Explain ways to incorporate rapid trauma resolution approaches such as EMDR, Brainspotting, tapping, Hypno-Counting™, etc. with hypnotherapy to prevent retraumatization & facilitate quicker healing.

Discuss several ways to incorporate the principles of hypnotherapy into everyday practice, whether or not you initiate an official trance.

Summarize the concept of "turbo trance" and discuss ways to utilize this when time does not permit a full hypnotherapy session or when a quick introspective experience could enhance talk therapy.

Review which hypnotherapy technique to utilize with which presenting concern. Easy to use table and flow chart is provided.
Workshop Description:

This unique program meets the training standards of the National Board for Certified Clinical Hypnotherapists for professionals seeking NBCCH certification, and it enables the trainee to develop practical skills through didactic teaching, observation of the instructor performing each technique, personal experience, and supervised hypnotherapy practice sessions. The training covers clinically targeted applications of several effective methods and techniques which combine hypnotherapy with several theoretical models.
Each day begins with a guided hypnotic experience. Next, Dr. Becky Beaton-York will provide a didactic description of a new technique, followed by Dr. Becky doing a live demonstration of the technique. Participants break for lunch and then spend the afternoon practicing what they have learned during the morning session. This allows participants to really practice as well as experience hypnotherapy.
Due to COVID and unknowns about vaccine immunity, boosters, etc., as well as how successful our last three trainings over Zoom have been, Dr. Becky will again teach this workshop virtually in 2023. We have several assistants who will supervise sessions in virtual breakout rooms along with Dr. Becky. Additionally, you'll be able to really get up close to see Dr. Becky do her demonstration sessions as well while assistants write in the chat what to pay attention to. And you'll be able to do so from the comfort of your own home. Lastly, if you continue to see clients virtually, you'll really know how to do this modality over videoconferencing, which has reportedly worked extremely effectively, is well-tolerated, and has been really helpful for many clients during the last three years as telemental health has become the norm for clients and therapists alike.
Previous attendees have described the course as "life-changing" for them personally as well as professionally. The course includes a manual with multiple interviews, scripts, and other resources. It also includes access to the training videos recorded during the workshop and the demonstration videos for review and deeper understanding. Bonus demonstration videos from other workshops are also included.
*Certification requirements: 1) Having a graduate degree in mental health (as described above); 2) Attendance for the entire course (43 CE hours) and one of the prerequisite courses taught by Dr. Beaton-York (7 CE hours); 3) Completion of 10 practice sessions (for a total of 60 CE hours). Consultation is available after the course but not required.
Presented by: Becky Beaton-York, Ph.D., NBCCH-Fellow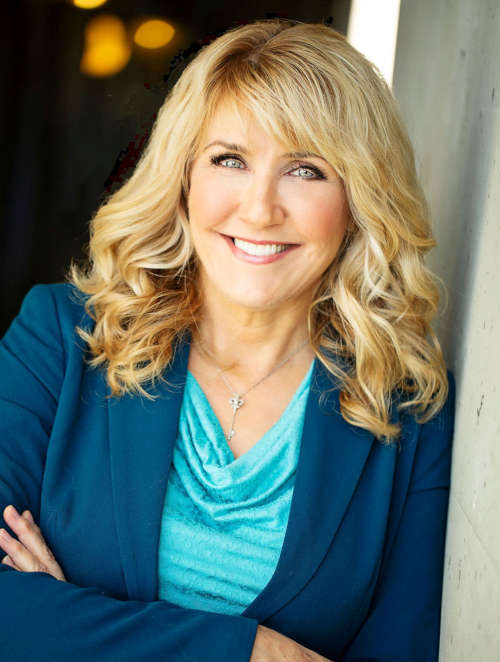 Dr. Beaton-York is a Licensed Psychologist and the Founder of The Knowledge Tree with over 32 years of experience. She is a National Board Certified Fellow in Clinical Hypnotherapy (NBCCH-Fellow) through the National Board for Certified Clinical Hypnotherapists (NBCCH). Dr. Beaton-York earned her Fellowship (the highest level of certification) with NBCCH for her extensive years of training and experience in hypnotherapy since 1995. She has taught hundreds of workshops both nationally and internationally. However, for many years, Dr. Beaton-York only taught hypnotherapy certification courses to mental health professionals all over the United States, Mexico, and South Africa. She later created her own NBCCH-approved training in 2008. Dr. Beaton-York is known for her unusual combination of being extremely knowledgeable & scientific yet down-to-earth & easy to understand, while also being playful and humorous. Not only will you learn a ton, you'll have fun doing so. LPCA of Georgia has awarded her with both the Counselor Educator of the Year Award in 2005 as well as the Lifetime Achievement Award in 2015.
Agenda (Each Day of the Training):
9:45 a.m. – 10:00 a.m. Sign-In (Please be mindful that you will be on camera all day & need a quiet place for practice sessions :-)

10:00 a.m. – 12:00 p.m. Workshop

12:00 p.m. – 12:15 p.m. Break

12:15 p.m. – 1:45 p.m. Workshop (Cont.)

1:45 p.m. – 2:30 p.m. Lunch Break

2:30 p.m. – 4:30 p.m. Workshop (Cont.)

4:30 p.m. – 4:45 p.m. Break

4:45 p.m. – 6:15 p.m. Workshop (Cont.)

6:15 p.m. – Continuing Education Certificates Available (day 3 of each weekend only)
What people are saying about this workshop series:
"I would have to say this is probably the best, most powerful advanced training I have ever done. (And I have done many). I really think this is going to transform my practice. It has already infused me with more energy to go back to work. I feel excited and exuberant and confident about using ALL of the hypnotherapy approaches with my current and prospective clients." - CF, LPC
This is the single best training that I've ever taken! C.C., Psychologist
I cannot recommend this certification course highly enough. I left with so many new skills that I can use immediately. I didn't realize that I can combine hypnotherapy with other approaches I use, and it enhances their effectiveness. I feel like I've found a way to make a much greater impact on the quality of my clients' lives" A.G., LCSW
This workshop changed my life both professionally and personally! The experiential exercises were amazing. Not only did I learn some incredible new approaches, I really found myself as a therapist." T.R., LMFT
I can't say enough about Dr. Beaton's trainings. I've always been impressed with her knowledge base, but her heart really comes out in this training, and it taught me to open mine as well. S.D., Psychologist
I LOVED this certification course! What can I say - Life-changing sums it up!. M.O., LPC
43 "Synchronous" Core and 10 "Asynchronous" Independent CE Clock Hours Included - Details by License Type Below:
PSYCHOLOGISTS: The Knowledge Tree (TKT) is approved by the American Psychological Association (APA) to sponsor continuing education for psychologists. TKT maintains responsibility for this program and its content. For more detailed information on the current CE ruling in Georgia, or if you are licensed in another state or country, please click here.
COUNSELORS: The Knowledge Tree has been approved by the National Board for Certified Counselors (NBCC) as an Approved Continuing Education Provider (ACEP), ACEP No. 7153. Programs that do not qualify for NBCC credit are clearly identified. The Knowledge Tree is solely responsible for all aspects of the programs.

Counselors licensed in Georgia: Although approval through the Licensed Professional Counselors Association of Georgia (LPCA-GA) is not required for CE credit since all our courses are NBCC-approved, this workshop is approved for core CE hours through LPCA-GA, approval #s: 2023-03-01-444LW and 2023-03-01-449LW.
Counselors licensed in another state: Please click here for more detailed information.
Counselors Licensed in Canada: This workshop is approved for 40 total credit hours (20 per weekend) through the Canadian Counseling and Psychotherapy Association (CCPA), event codes: 64962261 and 64962262.
SOCIAL WORKERS: This workshop is approved for 40 Core CE hours (20 hours each weekend) through the Georgia Society for Clinical Social Work (GSCSW), approval #022123. If you are licensed in another state or country, please click here for more detailed information.
MARRIAGE & FAMILY THERAPISTS: This workshop is approved for 43 core CE hours through the Georgia Association for Marriage & Family Therapy (GAMFT), approval #028-2023. If you are licensed in another state or country, please click here for more detailed information.
To view our various workshop policies, including our multi-workshop discount & refund policy, please click here.
We are an approved vendor for the U.S. Department of Veterans Affairs for easy reimbursement of educational expenses for VA employees.
Blank Page Issues? We have received some reports about compatibility issues with our website while attempting to pay for a workshop resulting in blank pages. According to our website host, this is a known security issue with Internet Explorer (particularly when someone is about to use a credit card). Microsoft stopped supporting Internet Explorer in January 2016, and they updated it to Microsoft Edge. Our website is updated constantly to offer the highest level of security. If you experience issues while using Internet Explorer, we recommend updating your browser to Edge or using another browser (e.g., Google Chrome, Safari, or FireFox). This should fix the issue and be more secure for you in general. Or, you may always enroll another way here. We apologize for any inconvenience.
For information about our Continuing Education Workshops, please contact our Continuing Education
Workshop Coordinator at: