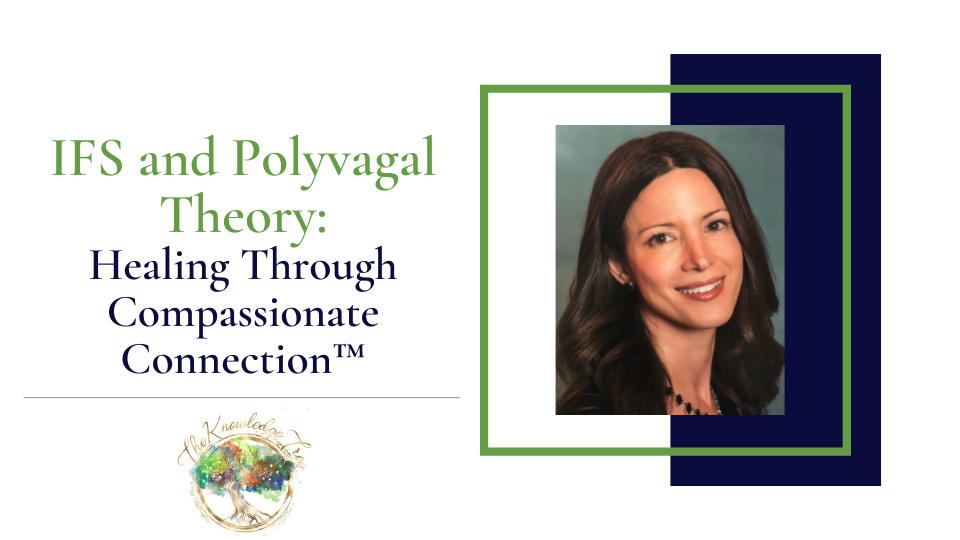 IFS and Polyvagal Theory: Healing Through Compassionate Connection™ - 6 CEUs
To access the discount form for registering for multiple workshops or participants, please click here.
When & Where:
Date: Friday, May 13, 2022
Time: 9:00 a.m. - 4:30 p.m. EDT
CE Hours Included: 6 Core (see below for more information)
Location: Live Interactive Webinar ("Synchronous") on Zoom
Investment: $135 before Friday, April 29 at 5pm EDT, $155 after
Presented by: Alexia Rothman, Ph.D. (see bio below)
Workshop Recording: A recording of this workshop is available to review for 60 days after the presentation. However, participants must attend live to receive the "Synchronous" CE Certificate.

Educational Objectives:
Identify the basic principles of Polyvagal Theory and how PVT can inform and enhance application of any psychotherapeutic modality.

Discuss how understanding Polyvagal Theory can help therapists implement IFS more safely and effectively, especially in the systems of clients with complex trauma.

Utilize IFS strategies to shift clients' nervous systems towards regulation and help them access their own capacity for healing.

Develop skills to help clients foster attuned, trusting relationships with their hyperaroused and hypoaroused parts, as well as parts that strategically utilize adaptive survival responses, such as fight, flight, freezing, and numbing, for protection.

Describe the impact of the therapist's internal state on clinical work and how clinicians can use this awareness to facilitate client regulation and healing.

Analyze, through observation and discussion of real video examples, how to seamlessly integrate IFS and PVT in treatment.
Workshop Description:
Despite the diversity of content that brings clients to therapy, difficulty regulating their emotional experience is at the heart of their struggles. Clients can feel hijacked by extreme emotional states, uncomfortable in their own skin, or think or behave in ways they wish they wouldn't. Polyvagal Theory (PVT) helps us understand what is happening on a biological level when our clients are emotionally dysregulated or stuck in adaptive survival states, such as fight, flight, freeze, or numb. Internal Family Systems Therapy (IFS) offers a compassionate, non-pathologizing approach to healing the wounded, burdened, and traumatized parts of clients' systems and increasing internal harmony and connection. This workshop explores the integration of IFS therapy and Polyvagal Theory to help clinicians more safely and effectively use the IFS model in treatment.
Presented by: Alexia Rothman, Ph.D.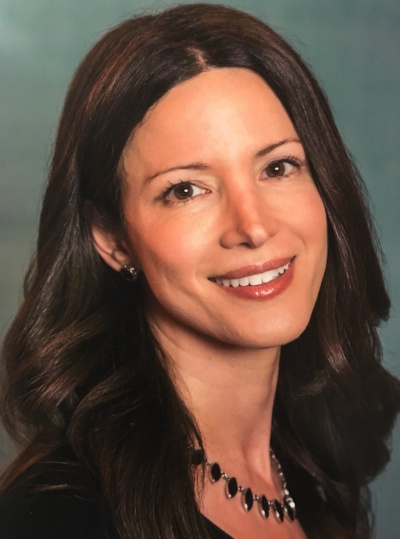 Dr. Alexia Rothman is a clinical psychologist in private practice in Atlanta, GA, since 2004. She is a Certified Internal Family Systems therapist, an international speaker and educator on the IFS model, and a professional consultant for clinicians seeking to deepen their knowledge and practice of IFS through theoretical discussions, case consultation, technique practice, and deep, personal experiential work with their own internal systems. Dr. Rothman has received extensive training in the IFS model, primarily from IFS developer, Dr. Richard Schwartz. She has served as a Program Assistant for multiple Level 1, 2, and 3 experiential IFS trainings, and she offers workshops on the IFS model throughout the United States and abroad. She co-hosts an Internal Family Systems-informed podcast, Explorations in Psychotherapy.
Dr. Rothman is a United States Presidential Scholar who graduated summa cum laude from Emory University as a Robert W. Woodruff Scholar. She received her Ph.D. in Clinical Psychology from the University of California, Los Angeles (UCLA), where she was an Edwin W. Pauley Fellow and a National Science Foundation Graduate Research Fellow. She has held adjunct faculty positions at Emory University and Agnes Scott College.
Agenda:
8:30 - 9:00 Registration

9:00 - 10:30 Welcome and Morning Session

10:30 - 10:45 Break

10:45 - 12:15 Morning Session (Cont.)

12:15 - 1:15 Lunch Break

1:15 - 2:45 Afternoon Session

2:45 - 3:00 Break

3:00 - 4:30 Afternoon Session (Cont.)

4:30 - Continuing Education Certificates Available
What people are saying about this workshop:

"I am now a super fan of Dr. Alexia Rothman! Her presentation was so clear, calming, and engaging all at the same time which I feel is so difficult to achieve. Wonderful presentation, valuable information!" - AC, LCSW

"Excellent - I greatly appreciate Dr. Rothman's use of the therapy session recording." - KA, LMSW

"This was the most well organized and stimulating CE I have done online. I will be signing up for more! Dr. Alexia Rothman was knowledgeable, well-spoken, and personable." - KN, LCSW

"Fantastic, great content, enhanced my knowledge on two approaches I love and value. I gained much more in depth knowledge of PVT" - KCF, LMSW

"I thought this workshop was fabulous! I was not very familiar with IFS before this workshop but learned a lot of great skills to use moving forward." - MC, LCSW

"She knows her stuff. She's absolutely lovely. My baseline for polyvagal theory was low. Applying the psychoeducation piece of polyvagal into my IFS work will only enhance my effectiveness. My clients will love this." - CD, LMSW

"Amazing presenter! Use of specific examples help to make the material applicable." - TB, LPC

"I always enjoy Dr. Rothman. She has wonderful energy that is inviting and engaging. I could see she put a lot of thought and energy into the presentation. I will attend whatever programs Dr. Rothman would like to present." - SLF, LPC

"Warm engaging style, kept interest, kept to outline and provided all material - yahoo! - JF, SW

"Amazing- loved this course" - HAY, APC

"Well organized; time frame sufficient for content; video was excellent. I appreciated the presenter's expertise" - SK, Psychologist

"Excellent. Engaging and useful examples she used to illustrate an intervention or process." - AW, LMFT

"Dr. Rothman did a great job in presenting material that combined two different concepts. She was able to talk about IFS and PVT separately yet explain how they work together to treat a client. Basically and amazingly was able to teach two workshops in one." - AB

"It was wonderful and so informative! I deepened my knowledge of IFS and learned about PVT. I would love more courses from Dr. Rothman!" - BB, LMSW

"This was excellent and I appreciated every minute of it." - JH, LPC, LMHC
6 Core CE Clock Hours:
Psychologists: The Knowledge Tree (TKT) is approved by the American Psychological Association to sponsor continuing education for psychologists. TKT maintains responsibility for this program and its content.

Georgia Psychologists: All online webinars (both real-time "synchronous" and on-demand "asynchronous") count the same as "live" throughout 2022 (including ethics). There is also a proposed Board rule to make this change permanent. Please stay tuned for updates.
Licensed in another state: The Knowledge Tree is a Continuing Education Sponsor Approved (CESA) by APA, so all of our workshops should satisfy your CE requirements, but please check your state rules.

Counselors: The Knowledge Tree has been approved by NBCC as an Approved Continuing Education Provider, ACEP No. 7153. Programs that do not qualify for NBCC credit are clearly identified. The Knowledge Tree is solely responsible for all aspects of the programs. This workshop is also approved for 6 Core CE hours through LPCA of GA, approval #2022-02-08-814MLW.

Licensed in another state? The Knowledge Tree has been approved by NBCC as an Approved Continuing Education Provider (ACEP) #7153, so all of our workshops should satisfy your CE requirements, but please check your state rules regarding live webinars vs. live workshops.

Licensed in Canada? This workshop is approved for 6 credit hours through CCPA, Event Code: 64956631.

Social Workers: This workshop has been approved for 6 core CE hours through GSCSW, approval #100721. Now in Georgia, Live Webinars count the same as a Live In-Person Workshop.

Licensed in another state? Please see the highlighted section below.*

Marriage & Family Therapists: This workshop has been approved for 6 core CE hours through GAMFT, approval #144-2021-1. Now in Georgia, Live Webinars count the same as a Live In-Person Workshop.

Licensed in another state? Please see the highlighted section below.*

*Licensed in another state as a social worker or marriage & family therapist? Many states will accept CEs for Social Workers & MFTs if that workshop has approved status from another state. Additionally, we have national approval for all our courses through APA & NBCC. Many states accept APA & NBCC approved workshops, but please check your specific state rules & regulations.
To view our various workshop policies, including our multi-workshop discount & refund policy, please click here.
We are an approved vendor for the U.S. Department of Veteran's Affairs for easy reimbursement of educational expenses for VA employees.
This course is closed for enrollment.
Blank Page Issues? We have received some reports about compatibility issues with our website while attempting to pay for a workshop resulting in blank pages. According to our website host, this is a known security issue with Internet Explorer (particularly when someone is about to use a credit card). Microsoft stopped supporting Internet Explorer in January 2016, and they updated it to Microsoft Edge. Our website is updated constantly to offer the highest level of security. If you experience issues while using Internet Explorer, we recommend updating your browser to Edge or using another browser (e.g., Google Chrome, Safari, or FireFox). This should fix the issue and be more secure for you in general. Or, you may always enroll another way here. We apologize for any inconvenience.
For information about our Continuing Education Workshops, please contact our Continuing Education
Workshop Coordinator at: