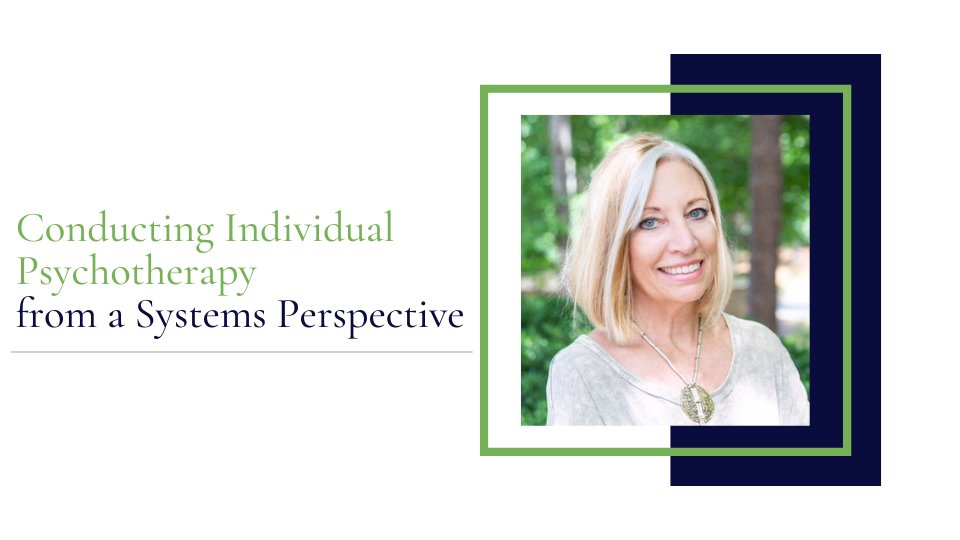 Conducting Individual Psychotherapy from a Systems Perspective - 5 CEUs
To access the discount form for registering for multiple workshops, please click here.
When & Where:
Date: Friday, July 16, 2021
Time: 9:00 a.m. - 3:30 p.m. EST
CEs Included: 5 Core Continuing Education Clock Hours (For Psychologists, Counselors, Social Workers, and Marriage and Family Therapists - please see below for details)
Location: Live Interactive Webinar ("Synchronous") on Zoom
Investment: $115 before Friday, July 2 at 5:00pm EST, $130 after
Presented by: Linda Buchanan, Ph.D. (see bio below)
Educational Objectives:
Understand the fundamental tenets of family systems approaches and how they can inform individual psychotherapy.

Utilize a systems philosophy to empower clients and aid in increasing personal responsibility within their system.

Utilize strategies to maintain neutrality in psychotherapy and avoid taking a side.

Increase awareness of when clients are projecting in psychotherapy and strategies for managing projections and splitting
Workshop Description:
When conducting individual psychotherapy, we are limited by the client's perspective in understanding the source of their difficulties. In family therapy and group therapy, the therapist has the advantage of seeing the individual interact with others, thus creating a broader and more complete perspective of the person. Tenets of systemic thinking will be presented that will enable the individual therapist to choose strategies which minimize the problems inherent to individual therapy while maximizing the potential for the client to increase personal responsibility for change.
People create narratives that they then project in their relationships often resulting in problems in interpersonal functioning such as splitting. Even though we know that our clients' perspectives may be distorted, we are often primarily focused on listening to and validating our clients and we naturally tend to believe what we are told. Thus valuable therapy time can be wasted chasing the client down well-worn paths rather than empowering the client to shift their thinking or perspective to be more effective in life. This workshop will focus on strategies that enable the therapist to develop the art of being on the client's side without taking a side. These strategies are designed specifically for increasing awareness of projection when it occurs, avoiding splitting between systems, and maintaining a neutral yet empathic stance regarding the clients' dilemmas increasing the chance for lasting change.
Presented by: Linda Buchanan, Ph.D.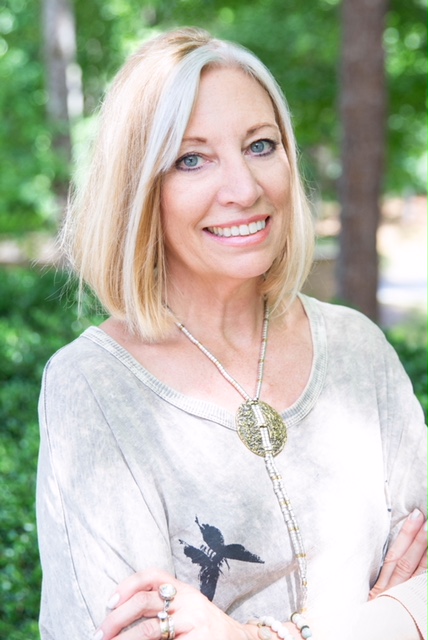 Dr. Linda Buchanan is a psychologist who has been working in the mental health field for over 30 years. She received her master's degree from Georgia State University and a Diploma from the Psychological Studies Institute (now known as Richmont University) in Christian Counseling from which she received the Distinguished Alumnus Award for her work in founding ACE. Dr. Buchanan then went on to receive her Ph.D. from Georgia State University with a specialty in family therapy. Dr. Buchanan founded Atlanta Center for Eating Disorders in 1993 which was acquired by Walden Behavioral Care in 2017. She now primarily focuses on consulting and writing. Her book A Clinician's Guide to Pathological Ambivalence was published in 2019, the content of which she has presented at national and international conferences. She has also self-published three workbooks (one serves as a client companion to the Clinician's Guide) which can be found on her website at www.lindapaulkbuchanan.com. Additionally, she has published four research articles on the treatment of eating disorders including two outcome studies of the treatment provided at Atlanta Center for Eating Disorders and two book chapters. Dr. Buchanan serves as a peer reviewer of American Psychological Association (APA) Journals and writes a blog called From One Therapist to Another, writing about experience gained in 35 years of clinical practice. She has been married for over 30 years and is the mother of two adopted sons.
Agenda:
8:30 - 9:00 Registration

9:00 - 10:30 Welcome and Morning Session

10:30 - 10:45 Break

10:45 - 12:00 Morning Session (Cont.)

12:00 - 1:00 Lunch Break

1:00 - 2:00 Afternoon Session

2:00 - 2:15 Break

2:15 - 3:30 Afternoon Session (Cont.)

3:30 - Continuing Education Certificates Available
5 Core CE Clock Hours:
Psychologists: The Knowledge Tree (TKT) is approved by the American Psychological Association to sponsor continuing education for psychologists. TKT maintains responsibility for this program and its content.

For Georgia Psychologists, all online webinars (both live and on-demand) count the same as live for 2021 (including ethics). The Board states it will go back to the pre-COVID rules in 2022. You may complete all 40 CEUs this year while you have options.

Licensed in another state? The Knowledge Tree is a Continuing Education Sponsor Approved (CESA) by APA, so all of our workshops should satisfy your CE requirements, but please check your state rules regarding live webinars vs. live workshops.

Counselors: The Knowledge Tree has applied for core hours for this workshop through the Licensed Professional Counselor's Association of Georgia. Now in Georgia, Live Webinars count the same as a Live In-Person Workshop.

Licensed in another state? Please see the highlighted section below.*

Social Workers: This workshop is approved for 5 core CE hours through the Georgia Society for Clinical Social Work, approval #030721. Now in Georgia, Live Webinars count the same as a Live In-Person Workshop.

Licensed in another state? Please see the highlighted section below.*

Marriage & Family Therapists: This workshop is approved for 5 core CE hours through the Georgia Association for Marriage and Family Therapy, approval #029-2021. Now in Georgia, Live Webinars count the same as a Live In-Person Workshop.

Licensed in another state? Please see the highlighted section below.*

*Licensed in another state as a counselor, social worker, or marriage & family therapist? Many states will accept CEs for Counselors, Social Workers & MFTs if that workshop has approved status from another state. Additionally, we have national approval for all our courses through APA, so this workshop should satisfy your "Related Hours" option (meaning a course Nationally Approved in the related field of Psychology), but please check your specific state rules & regulations.
To view our various workshop policies, including our refund policy, please click here.
Blank Page Issues? We have received some reports about compatibility issues with our website while attempting to pay for a workshop resulting in blank pages. According to our website host, this is a known security issue with Internet Explorer (particularly when someone is about to use a credit card). Microsoft stopped supporting Internet Explorer in January 2016, and they updated it to Microsoft Edge. Our website is updated constantly to offer the highest level of security. If you experience issues while using Internet Explorer, we recommend updating your browser to Edge or using another browser (e.g., Google Chrome, Safari, or FireFox). This should fix the issue and be more secure for you in general. Or, you may always enroll another way here. We apologize for any inconvenience.
For information about our Continuing Education Workshops, please contact our Continuing Education
Workshop Coordinator at: