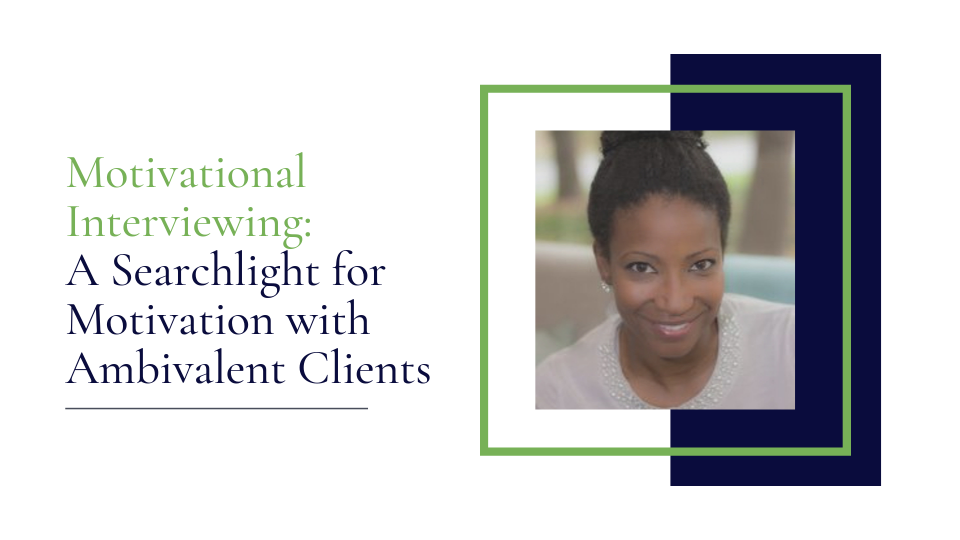 When & Where:
Presented by: Angela Bethea-Walsh, Ph.D.

Angela R. Bethea-Walsh, Ph.D., is a Licensed Psychologist in Georgia and a member of the international Motivational Interviewing Network of Trainers (MINT). For over 10 years, she has been practicing Motivational Interviewing (MI) and training health care providers in MI practice. She has conducted MI training in a wide variety of settings, including primary care, emergency departments in trauma centers, inpatient and outpatient mental health/addictions, college counseling, corrections, integrated behavioral health, providers in mandated treatment for professional athletes, and school settings. She provides small group MI consultation to health care providers. She is also the Chief Behavioral Health Officer for Corporate Health Partners, where she provides MI coaching for health coaches, program directors and other administrators. Her trainings are fast-paced, highly informative and interactive. She is the owner of Bethea Consulting and Psychological Services, P.C., a private practice located in Atlanta, Georgia. For more information about Dr. Bethea-Walsh, her clinical work and workshop experience, go to: http://www.betheacps.com
Workshop Description:
Angela R. Bethea-Walsh, Ph.D., Licensed Psychologist and member of the Motivational Interviewing Network of Trainers (MINT), proposes a full-day introductory-level MI training designed for health care providers. This level of training is appropriate for individuals with minimal or moderate exposure to MI.
Motivational Interviewing (MI) is an evidence-based, person-centered clinical treatment developed to engage individuals into treatment in contrast to the traditionally confrontational and sometimes demoralizing treatment that historically has been practiced in the healthcare field.
This workshop will address how to use MI methods with ambivalent clients. Dr. Bethea-Walsh will also discuss how to use MI methods to get unstuck with clients who are reluctant or "resistant" to change.
Dr. Bethea-Walsh proposes to present the underlying "Spirit" and principles of MI. She will present an overview of MI methods within "The 4 MI processes" framework: engaging, focusing, evoking, and planning. Identifying "change talk" (language about changing) and "sustain talk" (language about not changing/maintaining status quo) will be presented and discussed. Open Questions, Affirmations, Reflections, and Summaries (OARS) will be presented as methods designed to increase individuals' motivation for change and decrease or "dance with" relationship discord (formerly referred to as "rolling with resistance"). Attention will be given to when it is not appropriate to use MI.
Participants will be guided through exercises including live demonstration, video demonstration, "real plays" and some practice in small group exercises. These exercises are designed to help participants have "a taste" of MI interventions in contrast to more confrontational helping styles.
*Dr. Bethea-Walsh will not directly measure participants' adherence to MI Spirit and methods, or competency using MI during the workshop. Participants will not be trained to proficiency or as "experts" in MI during this workshop.
Educational Objectives:
Identify the limitations of a confrontational helping style with ambivalent individuals or in response to relationship discord.
Describe the "Spirit" of MI.
Describe the 4 processes of MI (Engaging, Focusing, Evoking, Planning).
Practice strategies to respond effectively to clients' reluctance or "resistance" to change.
Utilize 3 MI principles or interviewing skills to elicit intrinsic motivation to change in a non-confrontational style.
Explain ways to reinforce "change talk".
Develop a plan for how to integrate MI into clinical practice.
Agenda:
8:30 - 9:00 Registration (Coffee, Tea, and Granola Bars Served)
9:00 - 10:30 Welcome and Morning Session
10:30 - 10:45 Break
10:45 - 12:00 Morning Session (Cont.)
12:00 - 1:00 Lunch Break (Lunch is on Your Own)
1:00 - 2:00 Afternoon Session
2:00 - 2:15 Break
2:15 - 3:30 Afternoon Session (Cont.)
3:30 - 3:45 Continuing Education Certificates Distributed
5 Core CE Clock Hours:
Ph.D.s: The Knowledge Tree (TKT) is approved by the American Psychological Association to sponsor continuing education for psychologists. TKT maintains responsibility for this program and its content.
LPCs: The Knowledge Tree (TKT) has been approved by NBCC as an Approved Continuing Education Provider, ACEP No. 6502. Programs that do not qualify for NBCC credit are clearly identified. TKT is solely responsible for all aspects of the programs.
SWs: This workshop is approved for 5 core hours through the Georgia Society for Clinical Social Work.
MFTs: This workshop is approved for 5 core hours through the Georgia Association for Marriage and Family Therapy.
To view our various workshop policies, including our refund policy, please click here.
For information about our Continuing Education Workshops, please contact our Continuing Education
Workshop Coordinator at: