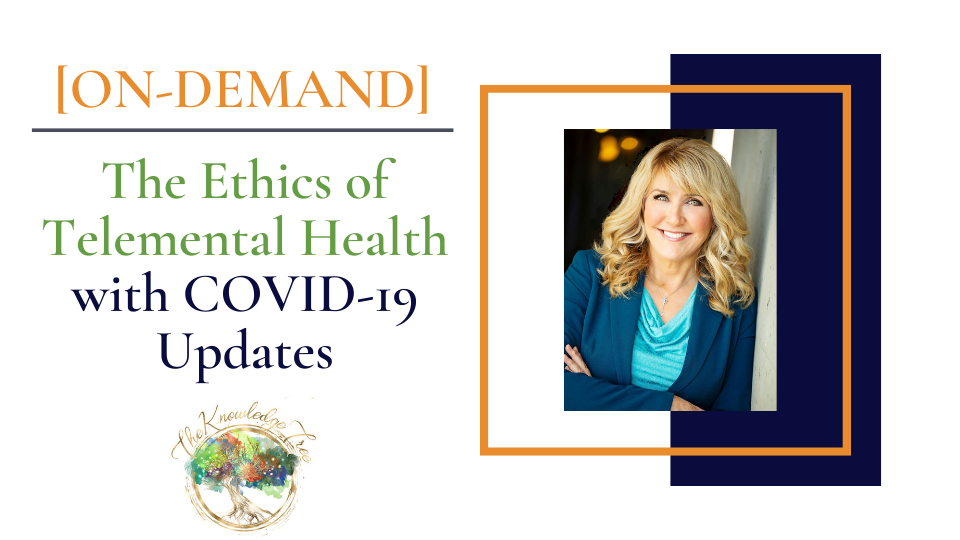 On-Demand: The Ethics of TeleMental Health with COVID-19 Updates - 6 CEUs
To access the discount form for registering for multiple workshops or participants, please click here.
CE Hours Included: 6 Ethics, Core, or Related - Includes 6 TeleMental Health Hours and satisfies the Composite Board requirements for the state of Georgia (Meets the training/renewal requirement for the ASPPB PSYPACT Authority to Practice Interjurisdictional Telepsychology) (please see below for more details)
Format: On-Demand Webinar ("Asynchronous") ~ At your leisure to be viewed at your own pace. You may pause, rewind, and fast forward at any point during the videos. You are in complete control of how you view this workshop. However, you are required to watch at least 90% of the videos to receive CEs. The PowerPoint handout will be displayed in the video along with the presenter, and there is also a separate document for printing as well as multiple handouts and forms. There is a quiz at the end to ensure comprehension and is required by all CE approval organizations for on-demand workshops.
Investment: $140 (provides lifetime access!)
Presented by: Becky Beaton-York, Ph.D.

Educational Objectives:
In this workshop you will learn how to:

Explain what constitutes "TeleMental Health" (Hint: It's much broader than many people think!)

Describe how the HIPAA Business Associate Agreement fits into the HIPAA Security Ruling as it pertains to Electronic Protected Health Information (EPHI) and what you need to know about protecting your electronic transactions and maintaining confidentiality.

Review the latest evidence regarding TeleMental Health use and client preferences during COVID and predictions going forward as well as the benefits and limitations of services and effectiveness.

Assess the dangers of practicing across state lines and the options available to do so legally, including updates on PSYPACT, the Counseling Compact, where the Social Workers and MFTs are on their progress.

Provide several resources on international practice.

Identify HIPAA compatible platforms for video-conferencing, texting, emailing, cloud storage, etc.

Summarize what you need to include in your Informed Consent to Treatment regarding TeleMental Health.

Demonstrate ways to respond to and manage emergencies, including a thorough assessment of client fit for TeleMental Health.

Explain important TeleMental Health details such as verifying a client's identity and how to bill appropriately for your services.

Identify the TeleMental Health issues related to recommending Apps and Websites and how to do so ethically.

Discuss the ethical considerations of Social Media such as Facebook, Twitter, Instagram, LinkedIn, Snapchat, Tiktok, and Google searches.
Workshop Description:
The use of "technology-assisted media" in the delivery of mental health services (or TeleMental Health) has generated a lot of confusion and controversy. First of all, many therapists are confused about what even constitutes TeleMental Health, which is much more far-reaching than many people realize. Basically, if a device requires electricity and you're using it to deliver mental health care, you're practicing TeleMental Health. This includes phones (voice and texts), computers & tablets (email, billing, or storage of files), fax machines, the Internet (cloud storage of records, billing transactions, video-conferencing, or even recommending apps and websites to clients). There are also a multitude of ethical issues and requirements related to each of these options, and every therapist's ethics code now states we need training in TeleMental Health. This is why Georgia's Composite Board passed a law requiring masters-level licensed therapists to complete six hours of training in TeleMental Health. Georgia is a model state for TeleMental Health law and regulations, and Dr. Beaton-York will provide information and resources for all 50 states. This workshop will help clarify numerous concerns and address the ethical requirements and considerations we all need to be making, including updated information regarding crossing state lines and HIPAA-compliant requirements that have changed due to COVID-19.
Presented by: Becky Beaton-York, Ph.D.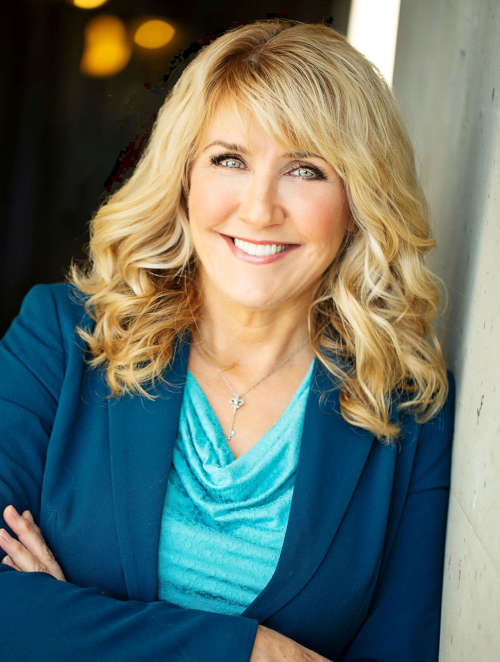 Dr. Beaton-York has been on the Georgia Psychological Association's Ethics Committee since 2010 and Ethics Chair since July 2014. She was also the Ethics Chair for the Licensed Professional Counselor's Association of Georgia (LPCA-GA) for two years and has taught literally hundreds of ethics workshops since 2000. You may have seen her on one of the 60 episodes that she filmed as the featured psychologist on TLC's "Hoarding: Buried Alive." She has also made recent appearances on The Anderson Cooper Show, Good Morning America, and CNN Headline News. Dr. Beaton-York's primary passion is teaching and mentoring, which inspired her to start The Knowledge Tree. She has served as Adjunct Faculty at Georgia State University and now Emory's Department of Psychology. Dr. Beaton-York was voted Counselor Educator of the Year by LPCA-GA in 2005 and received their Lifetime Achievement Award in 2015.
What people are saying about Dr. Beaton-York's Ethics & TeleMental Health workshops:
"Great presenter - energetic, funny, & amazingly well-informed" - C.H.

"Becky's presentations are always interesting and informative. There is always something new that I learn, even after 30 years of practice!" - N.M.

"Truly the most thorough and helpful ethics course I have ever attended." C.G.

"So good! Best, most informative ethics class I've done!" E.B.

"I was EXTREMELY impressed by Dr. Beaton. Her deep, extensive knowledge, outgoing and engaging personality made this workshop one of the BEST I've ever been to!" E.H.

"I love your personality! Your laugh is very contagious. You are able to present boring material in a very interesting and educational way!" P.T.

"Most important training I've had in years. Becky, as usual, was superior and enjoyable in her presentation." P.T.

"This was one of the best CEU presentations I've attended, thank you. The presenter was very knowledgeable regarding the subject matter and kept me engaged throughout the presentation." MP, LCSW

"Fantastically not boring ethics seminar!" SF, LPC

"This was one of THE BEST seminars I have ever attended!!!" JB

"Becky magically transforms what could otherwise be dull but useful information into a creative, organized and extremely informative experience. I love her workshops!" BD, LCSW

"One of the best CE courses I have attended, she was very knowledgeable and interactive with the attendees." LV, LPC

"They were wonderful! The touches throughout were very thoughtful and engaging – which was lovely since this was a lengthy workshop. I enjoyed the moments of laughter during the workshop, too. It definitely felt like a workshop I was meant to be in and I am glad I attended." AG, LAMFT
6 Ethics, Core, or Related CE Clock Hours:
Psychologists:

The Knowledge Tree (TKT) is approved by the American Psychological Association to sponsor continuing education for psychologists. TKT maintains responsibility for this program and its content.

Georgia Psychologists: All online webinars (both real-time "synchronous" and on-demand "asynchronous") count the same as "live" throughout 2022 (including ethics

). There is also a proposed Board rule to make this change permanent. Please stay tuned for updates.

Licensed in another state

: The Knowledge Tree is a Continuing Education Sponsor Approved (CESA) by APA, so all of our workshops should satisfy your CE requirements, but please check your state rules.

Counselors: The Knowledge Tree has been approved by the National Board for Certified Counselors (NBCC) as an Approved Continuing Education Provider, ACEP No. 7153. Programs that do not qualify for NBCC credit are clearly identified. The Knowledge Tree is solely responsible for all aspects of the programs.

Georgia Counselors: This workshop has been approved for 6 Core Hours as an "On-Demand - asynchronous" course by NBCC (ACEP # above). NBCC hours satisfy the requirements of the Georgia Composite Board. They do not need to be approved by LPCA. This 6 CE course needs to be "Core" because the Georgia Composite Board requires that all Ethics hours be obtained either live or via a live synchronous webinar.

Licensed in another state as a Counselor: The Knowledge Tree is approved by NBCC as an Approved Continuing Education Provider, so all of our workshops should satisfy your CE requirements, but please check your specific state rules to be certain.
Licensed in Canada as a Counselor: This workshop is approved for 6 credit hours through CCPA, event code 64957756.
Social Workers:

This workshop is approved for 6 core CE hours through GSCSW, approval #031122.

Georgia: Ten Core hours of On-Demand are expressly permitted, and the extra five would be your optional Independent Study hours. "Ethics" hours must be obtained via a live "Synchronous" event (either in-person or Live Webinars). Therefore, this course would be considered Core hours rather than ethics. Please see our Live Webinars for Ethics options.
Licensed in another state as a Social Worker: This workshop is approved for 6 core CE hours through GSCSW, approval #031122. Many states will honor approval from another state, or they will honor our approval through APA -The Knowledge Tree (TKT) is approved by the American Psychological Association to sponsor continuing education for psychologists. TKT maintains responsibility for this program and its content.

Licensed as an MFT: The Knowledge Tree has national approval for all our courses through APA. Many states will accept APA-approved continuing education hours, but please check your specific state rules & regulations.
To view our various workshop policies, including our refund policy, please click here.
We are an approved vendor for the U.S. Department of Veteran's Affairs for easy reimbursement of educational expenses for VA employees.

Blank Page Issues? We have received some reports about compatibility issues with our website while attempting to pay for a workshop resulting in blank pages. According to our website host, this is a known security issue with Internet Explorer (particularly when someone is about to use a credit card). Microsoft stopped supporting Internet Explorer in January 2016, and they updated it to Microsoft Edge. Our website is updated constantly to offer the highest level of security. If you experience issues while using Internet Explorer, we recommend updating your browser to Edge or using another browser (e.g., Google Chrome, Safari, or FireFox). This should fix the issue and be more secure for you in general. Or, you may always enroll another way here. We apologize for any inconvenience.
For information about our Continuing Education Workshops, please contact our Continuing Education
Workshop Coordinator at: