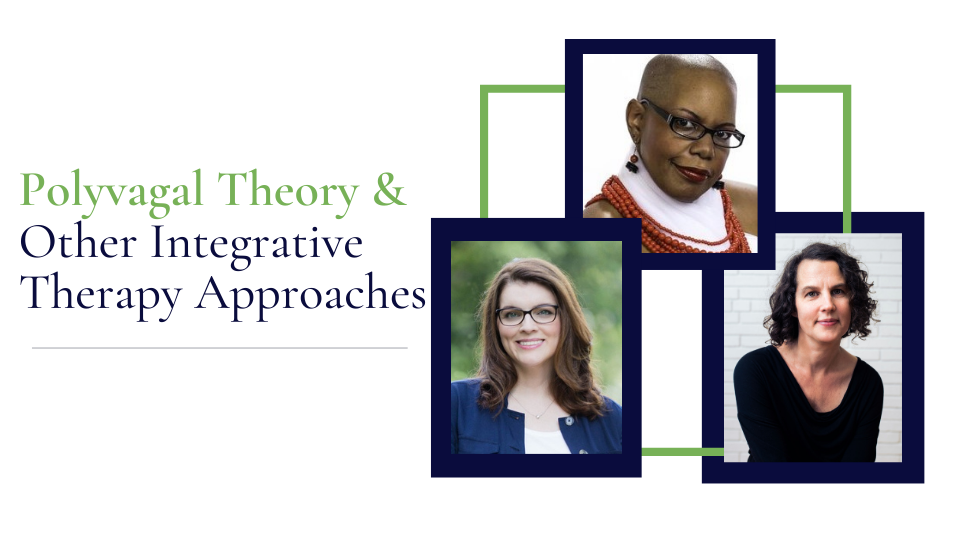 Polyvagal Theory & Other Integrative Therapy Approaches: The Art & Science - 6 CEUs
To access the discount form for registering for multiple workshops, please click here.
When & Where:
Date: Friday, June 18, 2021
Time: 9:00 a.m. - 4:30 p.m. EST
CEs Included: 6 Core Continuing Education Clock Hours (For Psychologists, Counselors, Social Workers, and Marriage and Family Therapists - please see below for details)
Location: Live Interactive Webinar ("Synchronous") on Zoom
Investment: $135 before Friday, June 4 by 5:00pm EST, $155 after
Presented by: Angelique Burke, LPC, Lauren Stinson, LPC, and Amy Bryant, LPC (see bios below)
Educational Objectives:
Describe three adaptive stress responses as they relate to the basics of the Autonomic Nervous System and the Polyvagal Autonomic Ladder and how to use them with clients.

Identify and use at least three Polyvagal exercises for safety and connection.

Formulate potential ways to consciously foster "safety" and connection when addressing ethnic, racial, generational, gender, and/or systemic oppressive experiences of diverse clients.

Explain how to increase clients' ability to engage the therapeutic integration of various modalities, such as: somatic-focused, expressive arts, experiential, and energy psychology modalities.

Summarize the neurobiological basis of demanding, defiant, and avoidant behaviors of children (i.e., why meltdowns, hitting, and running away are annoying and also adaptive).

Discuss three experiential tools to use with parents to help them decrease challenging behaviors and increase regulation and resiliency in themselves and their children (i.e., parents are often healing themselves while also nurturing their children).

List six pathways to earn clients' trust through the Social Engagement System.

Describe three techniques to help clients who have experienced trauma self-regulate between sessions.

Discuss with clients the importance of self-regulation and co-regulation within significant relationships.

Create at least one approach for assisting partners with increasing a shared sense of safety in relational therapy work.
Workshop Description:
This is a workshop with impromptu origins emerging from the Deb Dana's Polyvagal Trauma Workshop presented on Friday, March 12th. Participants wanted more and three of our panelists: Angelique L. Burke, LPC, Amy Bryant, LPC, and Lauren Stinson, LPC agreed to do so.
Via demos, skill building, and practice, the presenters will focus more on the experiential and practical uses of Integrative Approaches, including, but not limited to Polyvagal Theory.
Participates will obtain relevant and practical tools for decreasing challenging behaviors, and increasing regulation and resiliency in children, parents, couples/partners/relationship units, families, and clients who have experienced trauma.
Presented by:
Angelique Burke, LPC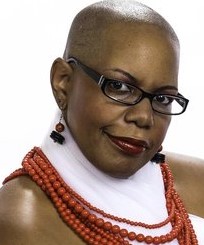 With over 20 years in the field and utilizing her long-standing commitment to community involvement, leadership, and education, Angelique L. Burke, MS, EdS, LPC, ChT has studied, and presented on a number of areas such as recovery education, decreasing distress symptoms, intimate partner violence, careering, non-partum depression, creative relationshipping, and relational and sexual minorities. She is a PhD candidate and Psychotherapist who graduated from The Florida State University's College of Education with dual Masters' of Science in Career Counseling and Mental Health Counseling, and an Educational Specialist degree.
While attending Florida State University, Ms. Burke obtained further specialization and experience via the Arts in Community Practice Certificate Program, which has supported her ability and interest in using Expressive Arts, Music, Somatics and Dance in therapeutic work with clients in both group and individual sessions.
She believes the most impactful approach to experiencing healing, growth, and successful recovery is via a relational framework.Therefore, utilizing a comprehensive approach that blends art and science, she has worked in the substance abuse and mental health field in inpatient and outpatient settings, extensively with co-occurring disorders, Intimate Partner Domestic & Sexual Violence, LGBTQI+ Relationships, trauma and abuse with both children and adults.
Beyond being in private practice in Atlanta since 2004, she has advanced training and focus on applying scientifically based techniques in Relationship Therapy, Imago Therapy, Emotionally-Focused Couples Therapy, and is a Certified Relationship and Life Coach (CLC) through the International Coaching Science Research Foundation (ICSRF), a Member of the International Association of Trauma Professionals (IATP), and Certified through The Anxiety & Stress Management Institute (ASMI) as a Clinical Hypnotherapist.
Amy Bryant, LPC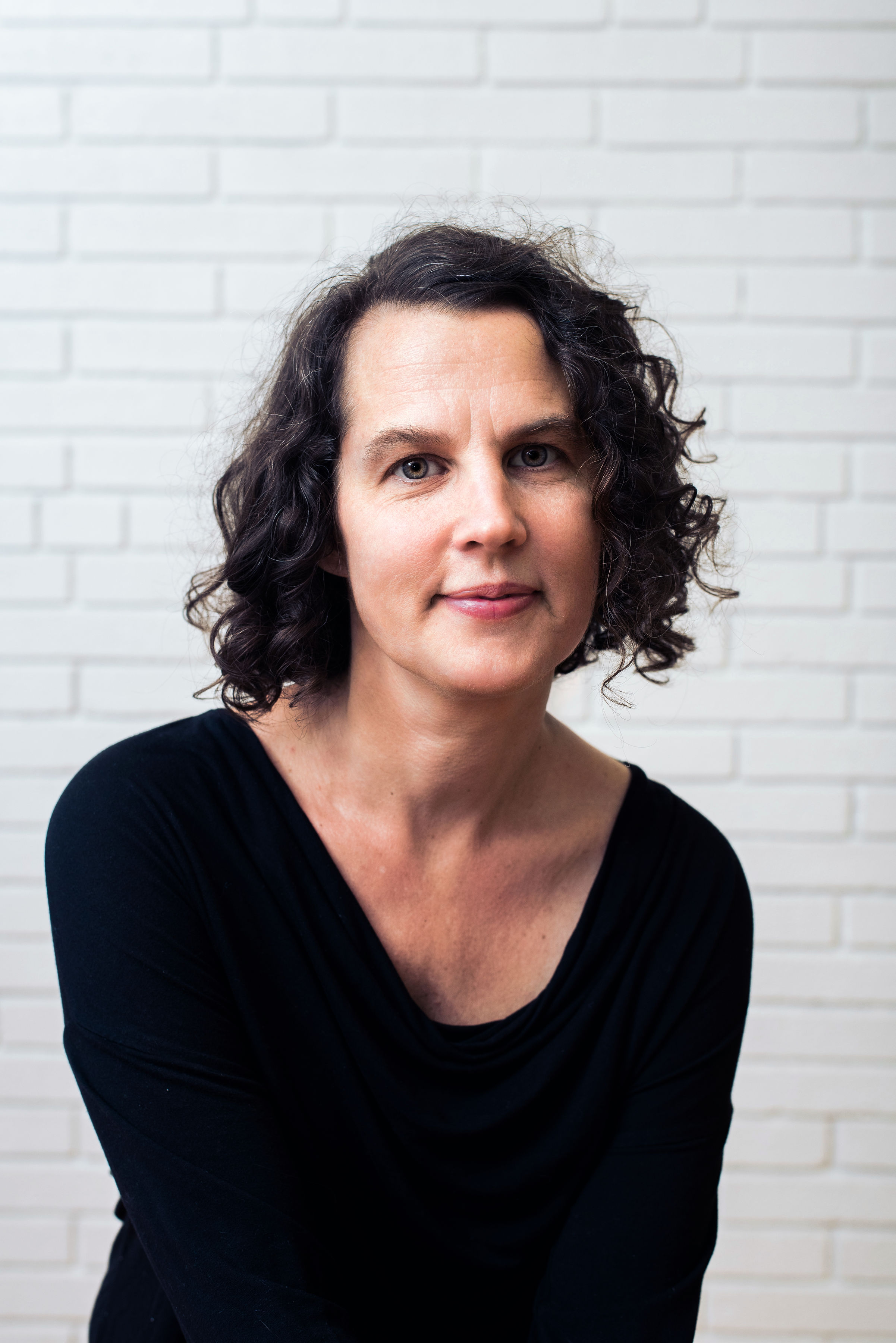 Amy Bryant, EdS, LPC practices mindfulness-based psychotherapy and clinical hypnotherapy to help women, teens, kids and parents transform worries and struggles into emotional resilience and strengths. Her services are rooted in trainings and research on anxiety and OCD, trauma, neuroscience, social sciences, and development across the lifespan. Amy operates on the belief that as you deepen your understanding of and trust in yourself, you are better able to live your life with more authenticity, freedom, creativity, and personal meaning. In addition to her private practice, Amy also offers nonviolent parenting webinars on her website. Learn more at wildchildcounseling.com, or contact her at [email protected].
Lauren Stinson, LPC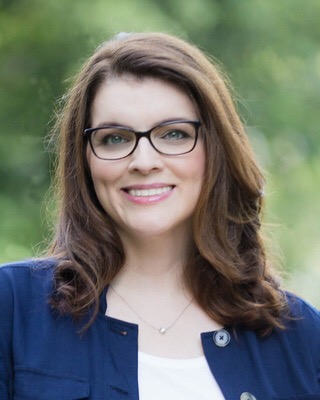 Lauren Stinson, LPC, NCC offers trauma-informed psychotherapy, EMDR, and clinical hypnotherapy for adolescents and adults. She views the therapeutic relationship as collaborative and accepting with the understanding that the client is an expert on their life. Lauren works with a diverse population of clients, including those who wish to process trauma, anxiety, depressive symptoms, abuse, boundaries in relationships, overcoming creative blocks, life changes, and building self esteem for personal growth. To learn more about her services, you may contact her at [email protected]AtlantaWellnessServices.com or at her Psychology Today page: https://www.psychologytoday.com/us/therapists/lauren-stinson-atlanta-ga/306237

Agenda:
8:30 - 9:00 Registration

9:00 - 10:30 Welcome and Morning Session

10:30 - 10:45 Break

10:45 - 12:15 Morning Session (Cont.)

12:15 - 1:15 Lunch Break

1:15 - 2:45 Afternoon Session

2:45 - 3:00 Break

3:00 - 4:30 Afternoon Session (Cont.)

4:30 - Continuing Education Certificates Available
6 Core CE Clock Hours:
Psychologists: The Knowledge Tree (TKT) is approved by the American Psychological Association to sponsor continuing education for psychologists. TKT maintains responsibility for this program and its content.

For Georgia Psychologists, all online webinars (both live and on-demand) count the same as live for 2021 (including ethics). The Board states it will go back to the pre-COVID rules in 2022. You may complete all 40 CEUs this year while you have options.

Licensed in another state? The Knowledge Tree is a Continuing Education Sponsor Approved (CESA) by APA, so all of our workshops should satisfy your CE requirements, but please check your state rules regarding live webinars vs. live workshops.

Counselors: The Knowledge Tree has applied for core hours for this workshop through LPCA of GA. Now in Georgia, Live Webinars count the same as a Live In-Person Workshop.

Licensed in another state? Please see the highlighted section below.*

Social Workers: The Knowledge Tree has applied for core hours for this workshop through GSCSW. Now in Georgia, Live Webinars count the same as a Live In-Person Workshop.

Licensed in another state? Please see the highlighted section below.*

Marriage & Family Therapists: The Knowledge Tree has applied for core hours for this workshop through GAMFT. Now in Georgia, Live Webinars count the same as a Live In-Person Workshop.

Licensed in another state? Please see the highlighted section below.*

*Licensed in another state as a counselor, social worker, or marriage & family therapist? Many states will accept CEs for Counselors, Social Workers & MFTs if that workshop has approved status from another state. Additionally, we have national approval for all our courses through APA, so this workshop should satisfy your "Related Hours" option (meaning a course Nationally Approved in the related field of Psychology), but please check your specific state rules & regulations.
To view our various workshop policies, including our refund policy, please click here.
Blank Page Issues? We have received some reports about compatibility issues with our website while attempting to pay for a workshop resulting in blank pages. According to our website host, this is a known security issue with Internet Explorer (particularly when someone is about to use a credit card). Microsoft stopped supporting Internet Explorer in January 2016, and they updated it to Microsoft Edge. Our website is updated constantly to offer the highest level of security. If you experience issues while using Internet Explorer, we recommend updating your browser to Edge or using another browser (e.g., Google Chrome, Safari, or FireFox). This should fix the issue and be more secure for you in general. Or, you may always enroll another way here. We apologize for any inconvenience.
For information about our Continuing Education Workshops, please contact our Continuing Education
Workshop Coordinator at: