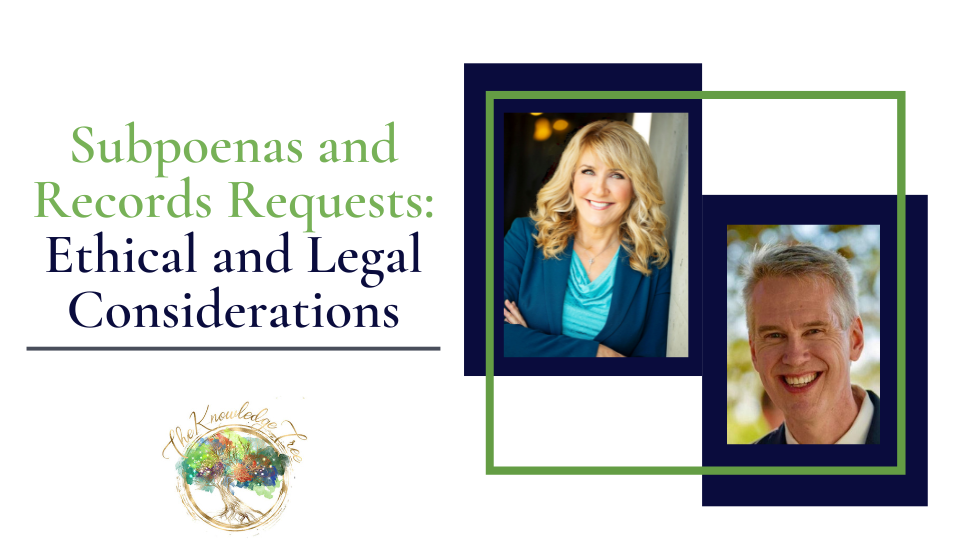 Subpoenas and Records Requests: Ethical & Legal Considerations - 3 CEUs
To access the discount form for registering for multiple workshops or participants, please click here.
When and Where:
Date: Friday, October 13, 2023
Time: 1:00pm - 4:15pm Eastern Time
CE Hours Included: 3 Ethics or Core (please see below for CE details)
Location: Live Interactive Webinar ("Synchronous") on Zoom
Investment: $87 before Friday, September 29th at 5:00pm Eastern Time, $97 after
Presented by: Becky Beaton-York, Ph.D. & Chris J. York, Esq. (see bios below)
Instruction Level: Intermediate
Target Audience: Psychologists, Counselors, Social Workers, Marriage & Family Therapists, Psychotherapists, Other Mental Health Professionals
Workshop Recording: A recording of this workshop is available to review for 60 days after the presentation. However, participants must attend live to receive the "Synchronous" CE Certificate.
Educational Objectives:
In this workshop, you will learn how to:
Describe the difference between a Subpoena and Court Order.

Identify what to consider and what actions to take if you are served with a Subpoena.

Discuss the best legal and ethical steps involved in a non-subpoena simple records request from a client as well as a third party.

Review some lesser-known dual relationship issues concerning court appearances and document production by therapists who never planned to be involved in court work.
Workshop Description:
Have you ever wondered what to do when a third part or a client requests access to clinical records or where to turn if a served with a subpoena or court order? In this workshop, Attorney Chris York, and Ethicist Dr. Becky Beaton-York review the steps to take if served with a Subpoena or a simple request for client records. Additionally, they will discuss ways to avoid being served to begin with and ethical issues that could arise from blind compliance as well as what to spell out in your informed consent. This is a course every therapist needs to take!
Presented by: Becky Beaton-York, Ph.D.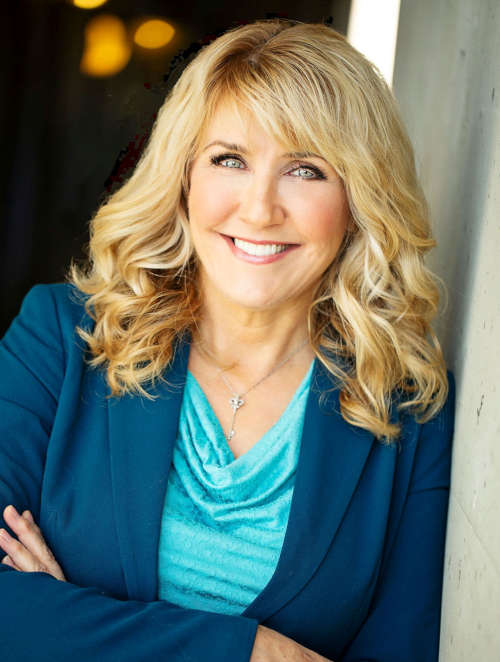 Dr. Beaton-York has provided behavioral health services since 1991, and she has a true passion for ethics. She's been on the Georgia Psychological Association's Ethics Committee since 2010 and their Ethics Chair for eight of those years. She was also the Ethics Chair for the Licensed Professional Counselor's Association of Georgia (LPCA-GA) from 1999-2001. Early in her career, Dr. Beaton-York taught at Georgia State University and has been adjunct faculty for Emory's Department of Psychology since 2016, primarily providing ethics training for their faculty. She has also served as an ethics expert on several malpractice cases.
Dr. Beaton-York founded a large anxiety and OCD practice in Atlanta that she ran from 2004-2019 until she sold it. Many of her ethics examples come from these 15 years of managing up to 40 clinicians and answering ethical dilemmas nearly daily. She has also coached numerous group practice owners since 2010. Literally, she has taught tens of thousands of therapists how to manage ethical issues in one form or another for the past 25 years. In other words, navigating ethical dilemmas is Becky's jam. :-) Since she loves ethics, teaching, and mentoring, this inspired her to start The Knowledge Tree. Furthermore, Dr. Beaton-York was voted Counselor Educator of the Year by LPCA-GA in 2005 and received their Lifetime Achievement Award in 2015.
Lastly, you may have seen "Dr. Becky" on one of the 60 episodes that she filmed as the featured psychologist on TLC's "Hoarding: Buried Alive." She has also made appearances on The Anderson Cooper Show, Good Morning America, CNN Headline News, and other media.
Chris J. York, Esq.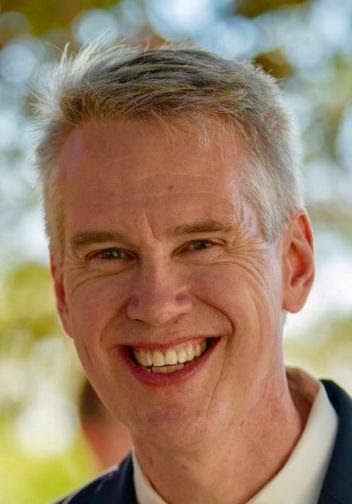 Mr. York attended Bowdoin College in Maine for undergrad and is a 1991 graduate of Emory University Law School. As an Atlanta-based litigator, early in his career he tried numerous medical malpractice jury trials on behalf of defendant physicians. Later, he focused more on product liability, business, and corporate practice. He was Georgia counsel to a national seat belt and airbag supplier and later served as Senior VP and General Counsel to an Atlanta medical device company. In 2003, he formed his own firm which he still runs. His law partner, Chip Gaskill, is a Vanderbilt Law School graduate who specializes in corporate matters in addition to family law, trusts, and estates. Their firm is York Gaskill, LLC. Today, Mr. York primarily specializes in helping small businesses, with several of his clients being therapy practice owners.
Agenda (Eastern Time):
12:30pm - 1:00pm | Sign-In and Welcome

1:00pm - 2:30pm | Session


2:30pm - 2:45pm | Break

2:45pm - 4:15pm | Session

4:15pm | Continuing Education Certificates Available
3 Ethics or Core CE Clock Hours Included - Details by License Type Below:
PSYCHOLOGISTS: The Knowledge Tree (TKT) is approved by the American Psychological Association (APA) to sponsor continuing education for psychologists. TKT maintains responsibility for this program and its content. For more detailed information on the current CE ruling in Georgia, or if you are licensed in another state or country, please click here.
COUNSELORS: The Knowledge Tree has been approved by the National Board for Certified Counselors (NBCC) as an Approved Continuing Education Provider (ACEP), ACEP No. 7153. Programs that do not qualify for NBCC credit are clearly identified. The Knowledge Tree is solely responsible for all aspects of the programs.

Counselors licensed in Georgia: Although approval through the Licensed Professional Counselors Association of Georgia (LPCA-GA) is not required for CE credit since all our courses are NBCC-approved, this workshop is also approved for 3 ethics or core CE hours through LPCA-GA, approval #2023-08-11-672LW.
Counselors licensed in another state: Please click here for more detailed information.
Counselors Licensed in Canada: This workshop is approved for 3 credit hours through the Canadian Counseling and Psychotherapy Association (CCPA), event code: 64964498.
SOCIAL WORKERS: This workshop is approved for 3 ethics CE hours through the Georgia Society for Clinical Social Work (GSCSW), approval #081223. If you are licensed in another state or country, please click here for more detailed information.
MARRIAGE & FAMILY THERAPISTS: This workshop is approved for Ethics Hours for Marriage and Family Therapists via LPCA-GA through reciprocal agreement with the Georgia Composite Board of Professional Counselors, Social Workers, and Marriage & Family Therapists. If you are licensed in another state or country, please click here for more detailed information.
To view our various workshop policies, including our multi-workshop discount & refund policy, please click here.
We are an approved vendor for the U.S. Department of Veteran's Affairs for easy reimbursement of educational expenses for VA employees.
Blank Page Issues? We have received some reports about compatibility issues with our website while attempting to pay for a workshop resulting in blank pages. According to our website host, this is a known security issue with Internet Explorer (particularly when someone is about to use a credit card). Microsoft stopped supporting Internet Explorer in January 2016, and they updated it to Microsoft Edge. Our website is updated constantly to offer the highest level of security. If you experience issues while using Internet Explorer, we recommend updating your browser to Edge or using another browser (e.g., Google Chrome, Safari, or FireFox). This should fix the issue and be more secure for you in general. Or, you may always enroll another way here. We apologize for any inconvenience.
For information about our Continuing Education Workshops, please contact our Continuing Education
Workshop Coordinator at: