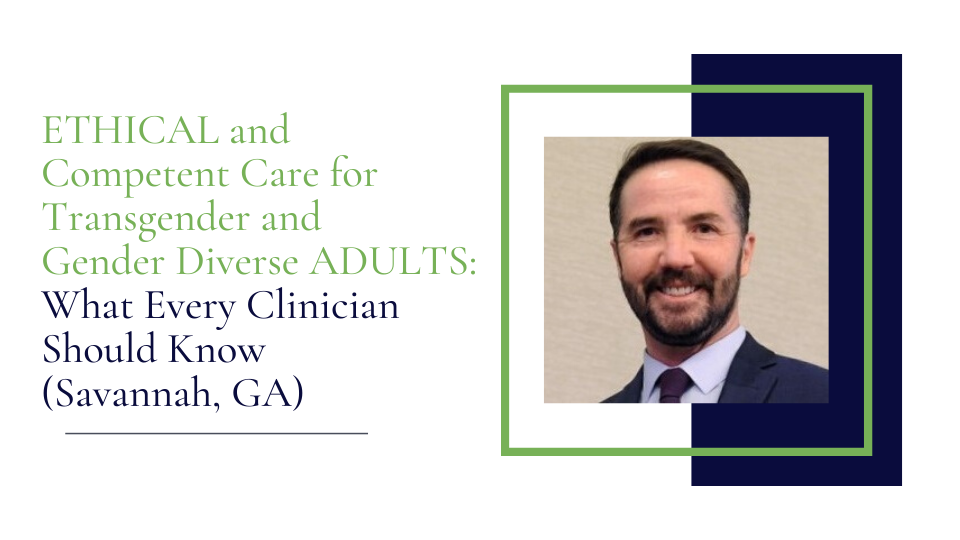 When & Where:
July 24, 2020
9:00 a.m. - 4:30 p.m.
6 CEs =

3 Ethics

or Core AND 3 Core Continuing Education Clock Hours
Location: Live-Streaming Webinar and/or live at the Georgia Coastal Botanical Gardens, Andrews Visitor & Education Center, Room 2 (2 Canebrake Rd,

Savannah, GA

31419) depending on the status of COVID-19. Both the Georgia Board of Psychology (Emergency Rule OCGA § 43-39-15) and the Georgia Board of Professional Counselors, Social Workers and Marriage & Family Therapists

(Emergency Board Rule 135-9-0.3-.01)

have approved Live-Streaming Webinars and Online Pre-recorded Webinars to be counted the same as a live training (even for Ethics) due to COVID-19 for the remainder of this renewal period. Both emergency bills have been signed by the Governor and are official!

Please note this workshop is in person, it will be located in SAVANNAH, GEORGIA. Come enjoy beautiful Savannah and earn Ethics CEs as well as Core!

Investment: We are pleased to be partnering with the Georgia Psychological Association (GPA) on this workshop. Therefore, GPA members will receive a discount!!

GPA Members - $140 before July 10, $160 after (Current GPA membership is required to receive discount)
Non-GPA Members - $145 before July 10, $165 after

This workshop is a PREREQUISITE for other workshops in the series including for Part II: Essential Competencies to Work with Transgender/Gender Diverse Children and Adolescents
Educational Objectives:
Understand and define what gender non-conforming and gender nonbinary are.
Recite data regarding prevalence estimates of people identifying as trans/gd and rates and reasons of people detransitioning.
Identify mental health risks and their relationship to minority stress.
Describe ethical principles and how they apply to recommending gender-affirming hormone treatments and gender-affirming surgical interventions.
Explain different roles performed and ethical issues encountered by mental healthcare providers with transgender and gender-diverse clients and their families.
Recognize ethical concerns and utilize specific therapeutic approaches for counseling transgender and gender-diverse clients.
Workshop Description:
Most clinicians are encountering T/GNC clients, sometimes without even being aware. Others intend to work with this population. Either way, being open-minded and supportive are just the beginning of providing services to people who are T/GD or questioning. Dr. Massey provides extensive cultural, clinical, legal, ethical, and medical information and considerations needed as foundations in practicing effectively and ethically with T/GD individuals and their families. In addition to learning terminology, treatment issues, techniques, and more about this population, attendees will have opportunities to observe and participate in role-playing to practice using tools and information covered in the presentation.
Dr. Massey's training will focus on adults, and this program is a pre-requisite for a the Series Part II training on work with T/GD children and adolescents. (Competency with adult T/GD clients is a criterion of the World Professional Association for Transgender Health for professionals working with T/GD youth.) This workshop provides introductory information and intermediate-level material as well as advanced issues clinicians need to be prepared to address. Advanced material comes from cases Dr. Massey has worked with directly or as a consultant. The workshop includes the following topics relevant to working with Transgender and Gender Diverse (T/GD) Clients:
Essential information such as terminology, prevalence statistics, etiquette, plus social and biological factors
Major mental health concerns such as suicide risk, non-suicidal self-injurious behavior, and co-existing and differential diagnoses
Consideration of minority stress and cultural and personal stressors including School, Work, Family, Public Facilities & more
Standards of Care (currently Version 7) of the World Professional Association for Transgender Health (WPATH) and other resources for ethical and competency issues in work with T/GD clients
Overview of the tasks of mental health professionals working with the T/GD population, including evaluation, psychotherapy (individual, couples, and family), collaboration with other healthcare professionals and schools, and advocacy
Medical and non-medical treatment options to understand a range of possibilities clients need to grasp as well as review of client satisfaction/outcomes with gender transition-related care and consideration of de-transitioning. Ethical concerns related to referrals for medical interventions will be addressed as well.
Frequent psychotherapy and evaluation issues, and office practice concerns
Role-plays, exercises, case discussions, and question and answer
Please note: This workshop will include open and candid discussion of and references to human bodies, anatomical parts, and sexual functioning.
Presented by: Ren Massey, Ph.D.

Ren Massey, Ph.D. is a licensed psychologist who has practiced in the Atlanta area for over 25 years. Dr. Massey has published on several topic areas, including gender identity, and he presents seminars primarily on gender identity issues. He has provided training in the USA and abroad for mental and medical healthcare professionals and students, US Federal Bureau of Prisons Staff, community groups, and faculties and staffs of numerous schools as well as universities. He has been an expert witness in state and federal legal cases and has provided case consultation to many colleagues. He is often sought for repeat presentations because of his warm and engaging style of presenting practical and useful information. He bases his program content on empirical research and over a decade of education, experience, and work with approximately 1,000 clients in the transgender/gender-nonconforming community. He was featured on the podcast "The 50 Minute Hour (10/6/2018)."
Dr. Massey is on the Board of Directors of the World Professional Association for Transgender Health (WPATH) and is on the Faculty of the WPATH Global Education Initiative. He is also on the committee revising the WPATH Standards of Care to Version 8, contributing to the chapters on Adolescent care and work in Institutions. He is an Adjunct Assistant Professor in the Emory University School of Medicine. Dr. Massey is a Fellow of the Georgia Psychological Association (GPA) and founded the group that became GPA's Council on Gender and Sexual Diversity. Additionally, Dr. Massey has served on the GPA Ethics Committee, and he was the 2017-18 GPA President.
Agenda:

8:30 - 9:00 Registration
9:00 - 10:30 Welcome and Morning Session
10:30 - 10:45 Break
10:45 - 12:15 Morning Session (Cont.)
12:15 - 1:15 Lunch Break
1:15 - 2:45 Afternoon Session
2:45 - 3:00 Break
3:00 - 4:30 Afternoon Session (Cont.)
4:30 - 4:45 Continuing Education Certificates Distributed
3 Ethics or Core AND 3 Core CE Clock Hours:

Ph.D.s: The Knowledge Tree (TKT) is approved by the American Psychological Association to sponsor continuing education for psychologists. TKT maintains responsibility for this program and its content.
LPCs: This workshop is approved for 3 ethics and 3 core hours (or 6 core hours) through Licensed Professional Counselor's Association of Georgia (LPCA-GA), approval #8858-20.
SWs: This workshop is approved for 3 ethics and 3 core hours through the Georgia Society for Clinical Social Work, approval #030520.
MFTs: This workshop is approved for 3 ethics and 3 core hours through the Georgia Association for Marriage and Family Therapy, approval #043-2020.
To view our various workshop policies, including our refund policy, please click here.
For information about our Continuing Education Workshops, please contact our Continuing Education
Workshop Coordinator at: