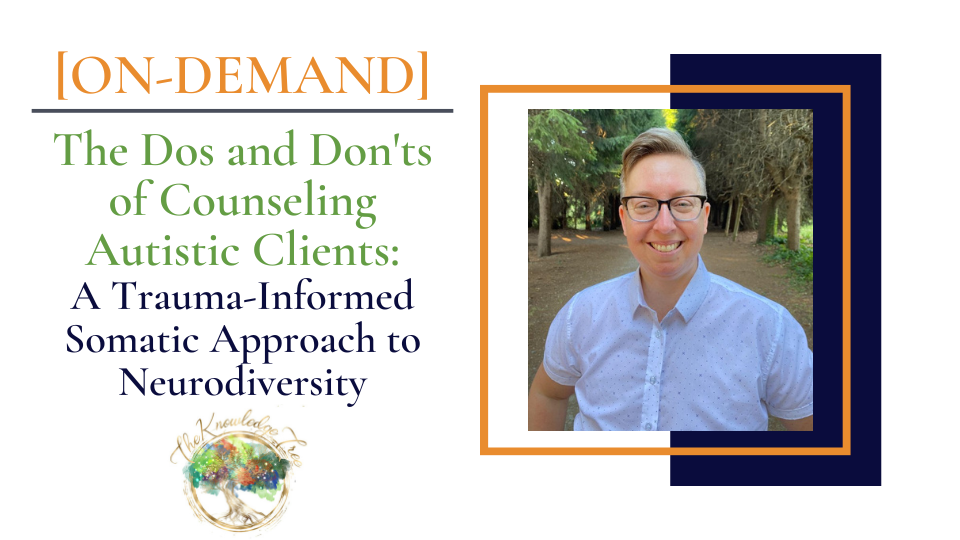 On-Demand: The Dos and Don'ts of Counseling Autistic Clients: A Trauma-Informed Somatic Approach to Neurodiversity - 2 CEUs
To access the discount form for registering for multiple workshops or participants, please click here.
Continuing Education (CE) Hours Included:

2 Core (see below for more information)

Format: On-Demand Webinar ("Asynchronous") ~ At your leisure to be viewed at your own pace. You may pause, rewind, and fast forward at any point during the videos. You are in complete control of how you view this workshop. It also comes with a PowerPoint and references. There is a quiz at the end to ensure viewing and required by all CE approval organizations.
Investment: $55
Presented by: Nyck Walsh, LPC (see bio below)
Instruction Level: Intermediate
Target Audience: Psychologists, Counselors, Social Workers, Marriage & Family Therapists, Psychotherapists, Other Mental Health Professionals

This workshop is not yet available; by pre-registering, you will receive immediate access when it becomes available in May.
Educational Objectives:
In this workshop, you will learn how to:

Describe the importance of self-identification in the Autistic community

Critique the pathology paradigm

List the primary responsibilities of the therapist when working with Neurodivergent clients
Workshop Description:
Did you know that the rate of PTSD in Autistic people is 35%-42%, compared to 4% of the general population? This disturbing statistic is the fundamental reason why Autistic people need anti-ableist, trauma-informed therapy from clinicians who understand that being Autistic does not equate to being a flawed or broken neuronormative person. The Autistic nervous system, mind, and body, while unique to every individual, need its own approach that centers somatic resourcing, client as self-expert, and understanding of the Neurodiversity paradigm versus the long-standing pathology paradigm. We will focus on language to use and to avoid, self-identification in the Autistic community, attributes or qualities that may suggest a client is Autistic, and tools to approach your clients from a trauma-informed lens. In addition to learning how to better support your clients, you will discover more of your own uniqueness and access greater creativity and permission in your role as a therapist.
Presented by: Nyck Walsh, LPC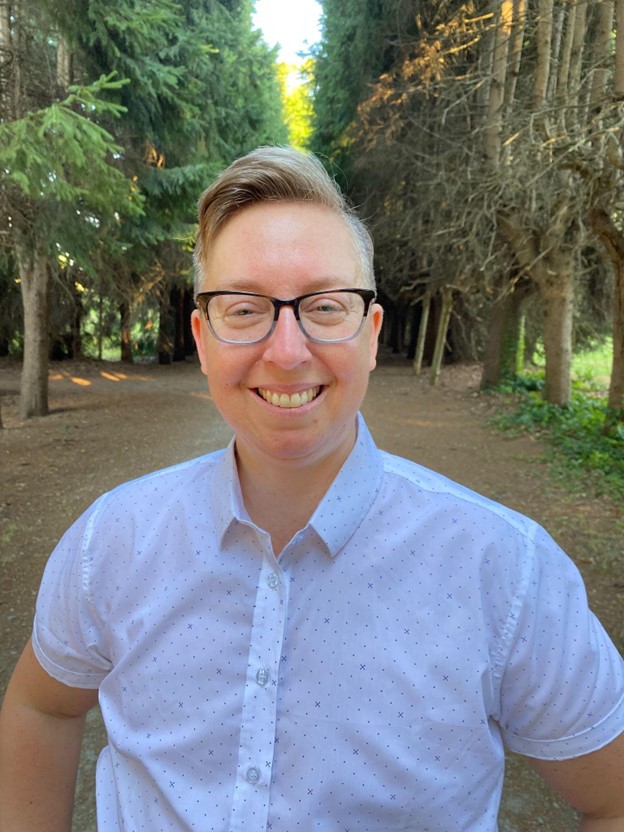 Nyck Walsh has been a leader for 14 years in bringing somatic, anti-ableist, trauma-informed care to Autistic children, adults, and families. They founded The Infinite U in 2009 after a most profound experience of teaching a yoga class to families with Autistic kids. In that hour, Nyck's most shamed parts, specifically their gentleness, sensitivity, and seriousness, became true assets, and they witnessed kids and parents go from deep distress and isolation to a state of calm, safe, and belonging. Originally formed in NJ, Nyck brought The Infinite U to Colorado while they pursued their graduate studies at Naropa University in Somatic Counseling Psychology, with a concentration in Body Psychotherapy. Over time, The Infinite U grew to include somatic counseling for kids, teens, and parents, community-oriented social groups for teens, summer camp programs, and family support that included groups for Autistic teens, their non-Autistic siblings, and their parents. All of this work centers around Neurodivergent and Autistic people.
Through the pandemic and the shift to virtual work, The Infinite U transformed into Nyck Walsh Counseling and Training Center, focusing on individual work with adults and training clinicians, and is now located in Massachusetts. Their work, bringing a compassionate and accurate lens to Neurodivergent people, has created a large national following among clinicians wishing to expand their ability to serve Neurodivergent clients.
Nyck's identities include white, Autistic, queer, trans, and Jewish. As a somatic, anti-oppression counselor, Nyck brings these values into their counseling and trainings. They acknowledge how their sociocultural locations inform their lived experience as an individual and as a clinician. They are deeply passionate about supporting late identified Autistic folks, especially helping people socialized as girls and women to unpack their lives through the lens of their unidentified and misunderstood Autistic experience. Nyck attributes much of their personal and professional growth to their clients, who are, by far, their greatest teachers and the experts on Autism. When not advocating for the individual and collective rights of marginalized people, Nyck can be found frolicking in the forest or beach, delighting in sensory pleasure, feeling 'big love' for their family, or basking in solitude with their noise-canceling headphones.
2 "Asynchronous" Core CE Clock Hours Included - Details by License Type Below:
To view our various workshop policies, including our multi-workshop discount & refund policy, please click here.
We are an approved vendor for the U.S. Department of Veterans Affairs (VA) for easy reimbursement of educational expenses for VA employees.
Blank Page Issues? We have received some reports about compatibility issues with our website while attempting to pay for a workshop resulting in blank pages. According to our website host, this is a known security issue with Internet Explorer (particularly when someone is about to use a credit card). Microsoft stopped supporting Internet Explorer in January 2016, and they updated it to Microsoft Edge. Our website is updated constantly to offer the highest level of security. If you experience issues while using Internet Explorer, we recommend updating your browser to Edge or using another browser (e.g., Google Chrome, Safari, or FireFox). This should fix the issue and be more secure for you in general. Or, you may always enroll another way here. We apologize for any inconvenience.
For information about our Continuing Education Workshops, please contact our Continuing Education
Workshop Coordinator at: