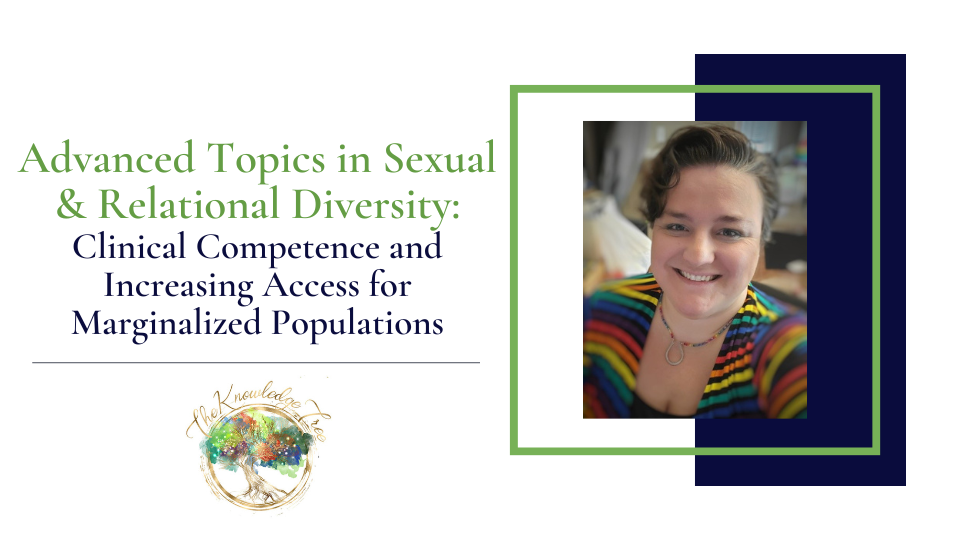 Advanced Topics in Sexual & Relational Diversity: Clinical Competence and Increasing Access for Marginalized Populations - 4 CEUs
To access the discount form for registering for multiple workshops or participants, please click here.
When and Where:
Date: Friday, April 5, 2024
Time: 12:00pm - 4:30pm Eastern Time
CE Hours Included: 4 Core (please see below for CE details)
Location: Live Interactive Webinar ("Synchronous") on Zoom
Investment: $109 before Friday, March 22nd at 5:00pm Eastern Time, $122 after
Presented by: Rachel Anne Kieran, Psy.D. (see bio below)
Instruction Level: Intermediate
Target Audience: Psychologists, Counselors, Social Workers, Marriage & Family Therapists, Psychotherapists, Other Mental Health Professionals
Workshop Recording: A recording of this workshop is available to review for 60 days after the presentation. However, participants must attend live to receive the "Synchronous" CE Certificate.

Required Prerequisite:

Dr. Kieran's Sexual, Gender, & Relational Diversity: Understanding Marginalized Populations introductory workshop (previously taken live or on-demand here) or extensive knowledge on this topic
Learning Objectives:
In this workshop, you will learn how to:
Identify common concerns of sexually marginalized clients when meeting with mental health providers.

Identify techniques for indicating sex-positive and affirming spaces for marginalized populations in physical locations and online modalities.

Describe calls to action from APA guidelines relevant to practice with sexually marginalized populations.

Discuss techniques for addressing consent concerns with sexually marginalized populations.

Assess your own level of "kink-phobia" and "poly-phobia" and how this may enter the room and impact clients.
Workshop Description:
Consensual non-monogamy and consensual power exchange in relationships, as well as a broad diversity in sexual desire and behaviors, are more common than most clinicians understand, and a multitude of pathologizing assumptions continue to exist in this area of human life. As responsible clinicians, we must challenge ourselves to confront our own values and stereotypes around sexual and relational diversity, becoming increasingly aware of the judgments we bring into the room.
This program is designed to build upon basic knowledge of the breadth of sexual and relational diversity, as well as other intersecting identities (please see Dr. Kieran's Introductory Workshop with TKT). The session delves into findings on best practices in clinical work with these populations, as well as how to address the impact of minority stress. We will explore how opportunities to build rapport and client resilience (or fail to) exist at every moment of our interaction with clients, from their contact with our websites and office spaces to addressing specific personal and relational concerns. We will also spend time in exploration of the important role of therapist self-awareness in creating the facilitative conditions needed for this and all our clinical work.
Workshop Schedule:
Let's Get Together – introductions and creating a shared working definition – 15 mins

Let's Put the A in Sex (and the B, and the D…S…M) – 45 minutes

Understanding sexual and relational diversity – what the science suggests

Depathologizing and the DSM

What's Ethics Got to Do With It? – 1 hour

What is "ethical nonmonogamy," polyamory etc?

What is "competence" in this area

Examples of working with assumptions

Let's Talk About Sex (in the therapy room) – 1 hour

What is a consensual power exchange, and is it even/always about sex?

Common concerns

Recognizing and addressing microaggressions

Creating affirming therapeutic spaces & relationships

What's So Funny 'Bout Sex Love & Understanding? – 45 minutes

Examining shared values across diverse identities and professions

Identifying best practices in working with sexually marginalized populations

I Want Your… Questions – 15 minutes
Presented by: Rachel Anne Kieran, Psy.D.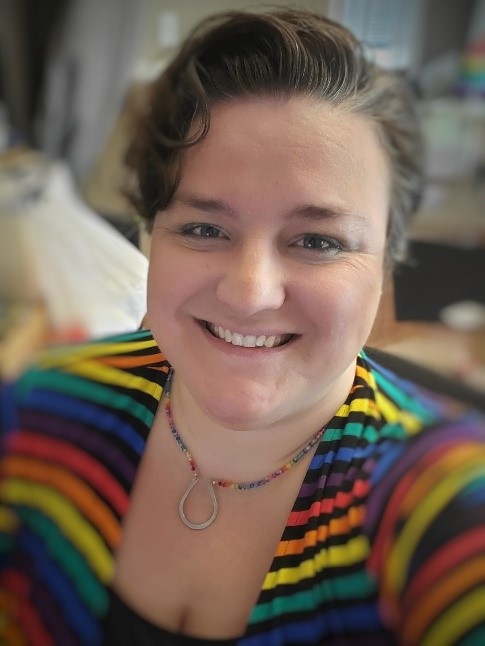 A graduate of Jacksonville University in Jacksonville, Florida with Bachelors degrees in History and Psychology, I received my Masters and Doctorate of Clinical Psychology from the University of Denver. Prior to opening a private practice, I worked for Regis University in Denver and Georgia State University in Atlanta - providing clinical services for students in both positions.
In 2007 I opened a private practice, now known as StorieBrook Therapy & Consulting. The mission of this practice is to provide a range of services specializing in sexual, gender & relational diversity, recognizing that this is an expansive category, intersecting with all other identities and requiring deliberate opportunities for access, cultural humility on the part of providers, and bespoke collaboration with clients to meet their unique needs. Our practice values include access, anti-racism, body liberation, collaboration, cultural humility, public & professional education, inclusion & affirmation, social justice, and trauma informed care.
In addition to running this practice, I teach in the Department of Psychological Science at Kennesaw State University, and frequently provide continuing education workshops for other mental health professionals, particularly in the areas of sexual, gender and relational diversity, locally and nationally. I am also a leader, and Past-President, of the Georgia Psychological Association, and a current campaign chair of the APA Division 44 Committee on Consensual Non-Monogamy.
Agenda (Eastern Time):
11:30am - 12:00pm | Sign-In and Welcome

12:00pm - 2:00pm | Session

2:00pm - 2:30pm | Break

2:30pm - 4:30pm | Session

4:30pm | Continuing Education Certificates Available
4 Core CE Clock Hours Included - Details by License Type Below:
PSYCHOLOGISTS: The Knowledge Tree (TKT) is approved by the American Psychological Association (APA) to sponsor continuing education for psychologists. TKT maintains responsibility for this program and its content. For more detailed information on the current CE ruling in Georgia, or if you are licensed in another state or country, please click here.
COUNSELORS: The Knowledge Tree has been approved by the National Board for Certified Counselors (NBCC) as an Approved Continuing Education Provider (ACEP), ACEP No. 7153. Programs that do not qualify for NBCC credit are clearly identified. The Knowledge Tree is solely responsible for all aspects of the programs. Please click here

for more detailed information.

Counselors Licensed in Canada: TKT has applied for approval for this workshop through the Canadian Counseling and Psychotherapy Association (CCPA).
SOCIAL WORKERS: TKT has applied for approval for this workshop through the Georgia Society for Clinical Social Work (GSCSW). If you are licensed in another state or country, please click here for more detailed information.
MARRIAGE & FAMILY THERAPISTS: TKT has applied for approval for this workshop through the Georgia Association for Marriage & Family Therapy (GAMFT). If you are licensed in another state or country, please click here for more detailed information.
To view our various workshop policies, including our multi-workshop discount & refund policy, please click here.
We are an approved vendor for the U.S. Department of Veteran's Affairs for easy reimbursement of educational expenses for VA employees.
Blank Page Issues? We have received some reports about compatibility issues with our website while attempting to pay for a workshop resulting in blank pages. According to our website host, this is a known security issue with Internet Explorer (particularly when someone is about to use a credit card). Microsoft stopped supporting Internet Explorer in January 2016, and they updated it to Microsoft Edge. Our website is updated constantly to offer the highest level of security. If you experience issues while using Internet Explorer, we recommend updating your browser to Edge or using another browser (e.g., Google Chrome, Safari, or FireFox). This should fix the issue and be more secure for you in general. Or, you may always enroll another way here. We apologize for any inconvenience.
For information about our Continuing Education Workshops, please contact our Continuing Education
Workshop Coordinator at: