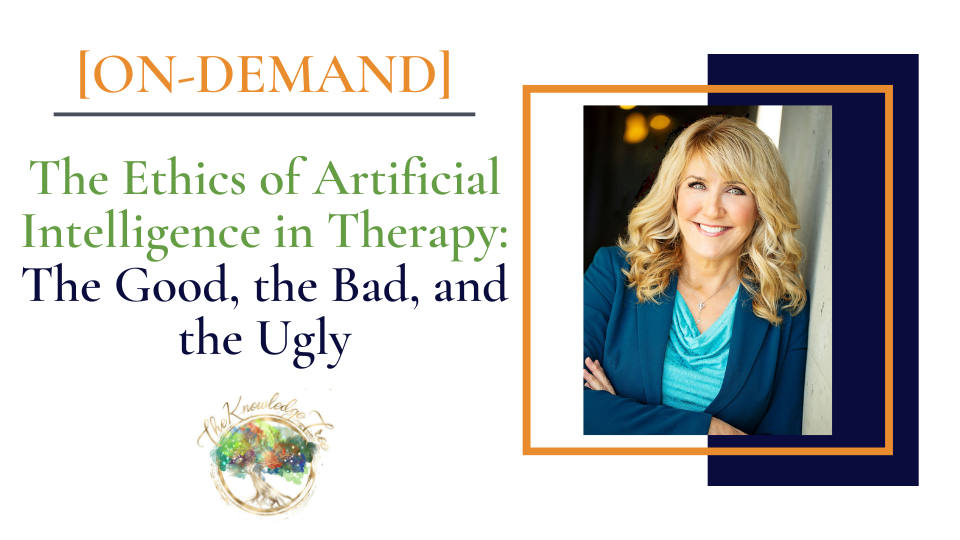 On-Demand: The Ethics of Artificial Intelligence in Therapy: The Good, the Bad, and the Ugly - 3 CEUs
To access the discount form for registering for multiple workshops or participants, please click here.
CE Hours Included:

3 Ethics, Core, or Related (please see below for CE details)

Format: On-Demand Webinar ("Asynchronous") ~ At your leisure to be viewed at your own pace. You may pause, rewind, and fast forward at any point during the videos. You are in complete control of how you view this workshop. It also comes with a PowerPoint and references. There is a quiz at the end to ensure viewing and required by all CE approval organizations.

Investment:

$87

Presented by: Becky Beaton-York, Ph.D. (see bio below)
Instruction Level: Intermediate
Target Audience: Psychologists, Counselors, Social Workers, Marriage & Family Therapists, Psychotherapists, Other Mental Health Professionals
Educational Objectives:
In this workshop, you will learn how to:

Identify the ethical considerations of AI integration in therapeutic practice, examining its potential impact both positively and negatively on clients and therapists alike.

Demonstrate how to use AI to write treatment plans and progress notes in a manner that protects confidentiality and maintains the standard of care.

Engage in self-reflection to consider personal attitudes, biases, and responsibilities when using AI in therapeutic practice, fostering a proactive and mindful approach.

Describe existing cases and participate in a lively discussion to share insights, experiences, and best practices for navigating ethical dilemmas when using AI in therapy and brainstorm innovative solutions.

Describe how to generate website and blog content utilizing AI to benefit the public but also prevent misinformation and biases inherent in AI-generated content.

Discuss where and how therapists might want to add information about AI to their Informed Consent to Treatment.

Assess the impact of AI on the client-therapist relationship, by exploring the role of trust, empathy, and the human experience in delivering effective mental health care, and answer the question of whether or not bots will be replacing us anytime soon.
Workshop Description:
The age of artificial intelligence (AI) is here whether we like it or not, and it's already changing the landscape of therapy as we know it. Join us for an engaging and thought-provoking workshop as we delve into the world of Artificial Intelligence and its impact on psychological practice. In this interactive session, we will explore the ethical considerations surrounding the use of AI technologies in therapy. From client privacy to bias mitigation, we'll examine the potential benefits and limitations of AI while keeping a keen eye on the principles outlined in the ethics codes of our profession.
Gain insights on how to ethically and responsibly integrate AI to enhance therapeutic outcomes and assist us with administrative duties without compromising our ethics. Don't miss this opportunity to expand your understanding of AI ethics and ensure that technology remains a valuable ally in providing compassionate and effective mental health support.
Presented by: Becky Beaton-York, Ph.D.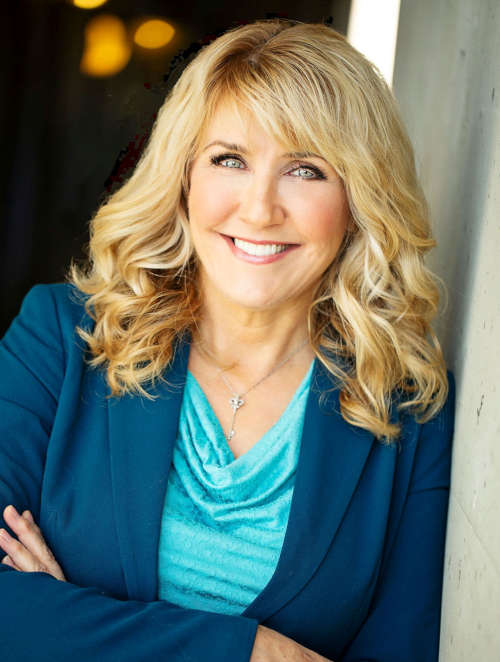 Dr. Beaton-York has provided behavioral health services since 1991, and she has a true passion for ethics. She's been on the Georgia Psychological Association's Ethics Committee since 2010 and their Ethics Chair for eight of those years. She was also the Ethics Chair for the Licensed Professional Counselor's Association of Georgia (LPCA-GA) from 1999-2001. Early in her career, Dr. Beaton-York taught at Georgia State University and has been adjunct faculty for Emory's Department of Psychology since 2016, primarily providing ethics training for their faculty. She has also served as an ethics expert on several malpractice cases.
Dr. Beaton-York founded a large anxiety and OCD practice in Atlanta that she ran from 2004-2019 until she sold it. Many of her ethics examples come from these 15 years of managing up to 40 clinicians and answering ethical dilemmas nearly daily. She has also coached numerous group practice owners since 2010. Literally, she has taught tens of thousands of therapists how to manage ethical issues in one form or another for the past 25 years. In other words, navigating ethical dilemmas is Becky's jam. :-) Since she loves ethics, teaching, and mentoring, this inspired her to start The Knowledge Tree. Furthermore, Dr. Beaton-York was voted Counselor Educator of the Year by LPCA-GA in 2005 and received their Lifetime Achievement Award in 2015.
Lastly, you may have seen "Dr. Becky" on one of the 60 episodes that she filmed as the featured psychologist on TLC's "Hoarding: Buried Alive." She has also made appearances on The Anderson Cooper Show, Good Morning America, CNN Headline News, and other media.
What people are saying about this workshop:
"Wow. Great job Becky, as usual. Exceeded my expectations and relaxed my anxieties about AI." - PF, Psychologist

"Presenter was excellent. New information went a long way in informing me about AI." - JJP, Psychologist

"Always love Becky's presentations! Delightful energy and very knowledgeable! Loved the treatment plan examples. WOW!" - SL, Ph.D.

"The workshop was all I was hoping for and more. Becky is a true teacher who knows how to present information in an informative and interesting manner. I especially liked her demonstration of ChatGPT4 and now have a much better appreciation of what it can do and how I might use it. Thank you for another thoughtful, professional presentation that was well worth my time today." - LM, LPC

"Becky is always an amazing presenter and offers a wealth of timely information." - LS, LPC

"Becky is obviously a seasoned professional and the best of The Best! I plan on fulfilling all of my CEs with Knowledge Tree courses! Thank you!" - KJ, LPC

"Dr. Beaton-York is amazing! Love her personality and her ability to make the information interesting, which can be hard in an online CE. I also really appreciate not being forced to have the camera or microphone on, which I think that lack of pressure makes people more willing to participate and it's authentic. I will definitely take more CEs from TKT!" - HN, APC

"Very engaging presenter - news stories of current AI issues were great." - LLW, LPC

"I always enjoy Becky's workshops - they are interesting and informative. Love the animals!" - SJ, LPC

"Very interesting workshop. Hope to learn more from this presenter in the future." - AM
3 Ethics, Core, or Related "Asynchronous" CE Clock Hours Included - Details by License Type Below:
PSYCHOLOGISTS: The Knowledge Tree (TKT) is approved by the American Psychological Association (APA) to sponsor continuing education for psychologists. TKT maintains responsibility for this program and its content. For more detailed information on the current CE ruling in Georgia, or if you are licensed in another state or country, please click here.
COUNSELORS:

The Knowledge Tree has been approved by the National Board for Certified Counselors (NBCC) as an Approved Continuing Education Provider (ACEP), ACEP No. 7153. Programs that do not qualify for NBCC credit are clearly identified. The Knowledge Tree is solely responsible for all aspects of the programs.

Please click here

for more detailed information.

Counselors Licensed in Canada: This workshop is approved for 3 credit hours through the Canadian Counseling and Psychotherapy Association (CCPA), event code: 64964292.
SOCIAL WORKERS: This workshop is approved for 3 core CE hours through the Georgia Society for Clinical Social Work (GSCSW), approval #071223. If you are licensed in another state or country, please click here for more detailed information.
MARRIAGE & FAMILY THERAPISTS: Many states will accept APA and/or NBCC-approved continuing education hours for Marriage & Family Therapists, but please check your specific state's rules & regulations. For Georgia-specific information regarding MFT approval, please go to our CE Information page by clicking here and scroll down to the map of Georgia.
To view our various workshop policies, including our multi-workshop discount & refund policy, please click here.
We are an approved vendor for the U.S. Department of Veteran's Affairs for easy reimbursement of educational expenses for VA employees.
Blank Page Issues? We have received some reports about compatibility issues with our website while attempting to pay for a workshop resulting in blank pages. According to our website host, this is a known security issue with Internet Explorer (particularly when someone is about to use a credit card). Microsoft stopped supporting Internet Explorer in January 2016, and they updated it to Microsoft Edge. Our website is updated constantly to offer the highest level of security. If you experience issues while using Internet Explorer, we recommend updating your browser to Edge or using another browser (e.g., Google Chrome, Safari, or FireFox). This should fix the issue and be more secure for you in general. Or, you may always enroll another way here. We apologize for any inconvenience.
For information about our Continuing Education Workshops, please contact our Continuing Education
Workshop Coordinator at: