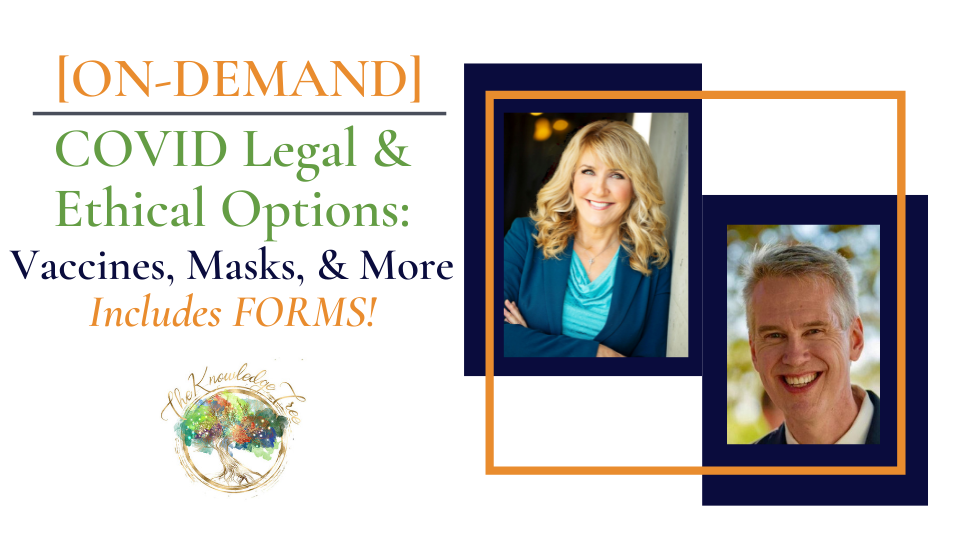 On-Demand: COVID Legal & Ethical Options: Vaccines, Masks, Forms, CDC Guidelines for Healthcare Workers, Etc. - 1.5 CEUs
To access the discount form for registering for multiple workshops or participants, please click here.
CE Hours Included: 1.5 Ethics, Core or Related (please see below for more details)
Format: On-Demand Webinar ("Asynchronous") ~ At your leisure to be viewed at your own pace. You may pause, rewind, and fast forward at any point during the videos. You are in complete control of how you view this workshop. However, you are required to watch at least 90% of the videos to receive CEs. The PowerPoint handout will be displayed in the video along with the presenter, and there is also a separate document for printing as well as multiple forms and handouts. There is a quiz at the end to ensure comprehension and is required by all CE approval organizations for on-demand workshops.
Investment: $49 (provides lifetime access!)
Presented by: Becky Beaton-York, Ph.D. & Chris J. York, Attorney at Law

Educational Objectives:

Review the latest CDC guidelines around COVID-19 for healthcare workers & if they apply to your circumstances.

Discuss the updated clinical, ethical, legal, and risk management issues around in-person therapy during COVID-19 pandemic.

Define the legal/ethical guidelines around asking clients to be vaccinated before in-office therapy without masks. Is it legal/ethical to ask for "proof?"

Identify the Standard of Care for in-person therapy.

Describe best COVID practice according to recent research and CDC guidelines and review who drives the decision-making process - is it the client or the therapist?

Formulate a solid plan with clients/staff/co-workers going forward with the forms provided to you as part of this workshop.

Determine what is best for the client, the therapist, and their loved ones and choose which option to take with your forms.

What is the ethical and/or public health requirement if you find out an infected person was in your office?

Will my malpractice or liability cover me if I or someone in my office infects a client/staff member/family member, etc.? We'll discuss what insurance carriers term "reservation of rights" and how they could apply during COVID-19.
Forms Included: These forms were created by the presenters ($80 value that's included!):
COVID In-Person Therapy Critical Forms: COVID Informed Consent & Waiver for In-Office Therapy, COVID Informed Consent & Waiver for Outside Therapy, COVID Office Protocol & COVID Meeting Outside Protocol, Liability Waiver for Meeting Off-Premises.

Georgia 1013 and 2013 COVID fillable digital forms for involuntary hospitalization done via telemental health or in-person.

Pertinent CDC office signs.

State law sign to place on the front door of your office.

Questionnaire for clients to fill out each time they enter your office to reduce liability and increase safety.
Workshop Description:
This workshop will address several ethical and legal topics that seem to be particularly relevant to therapists right now during COVID-19 based on how many questions Dr. Beaton-York and Mr. York have been receiving since the CDC changed their mask guidelines and vaccinations are more accessible. They will discuss clinical, ethical, legal, and risk management issues around in-person care and will address issues that have emerged through case examples. Finally, they will walk you through the legally and ethically sound forms they have created to help you navigate these unpredictable times. While Dr. Beaton-York will address the ethical side of such dilemmas, Mr. York will address the legal side and risk management strategies.
Presented by: Becky Beaton-York, Ph.D.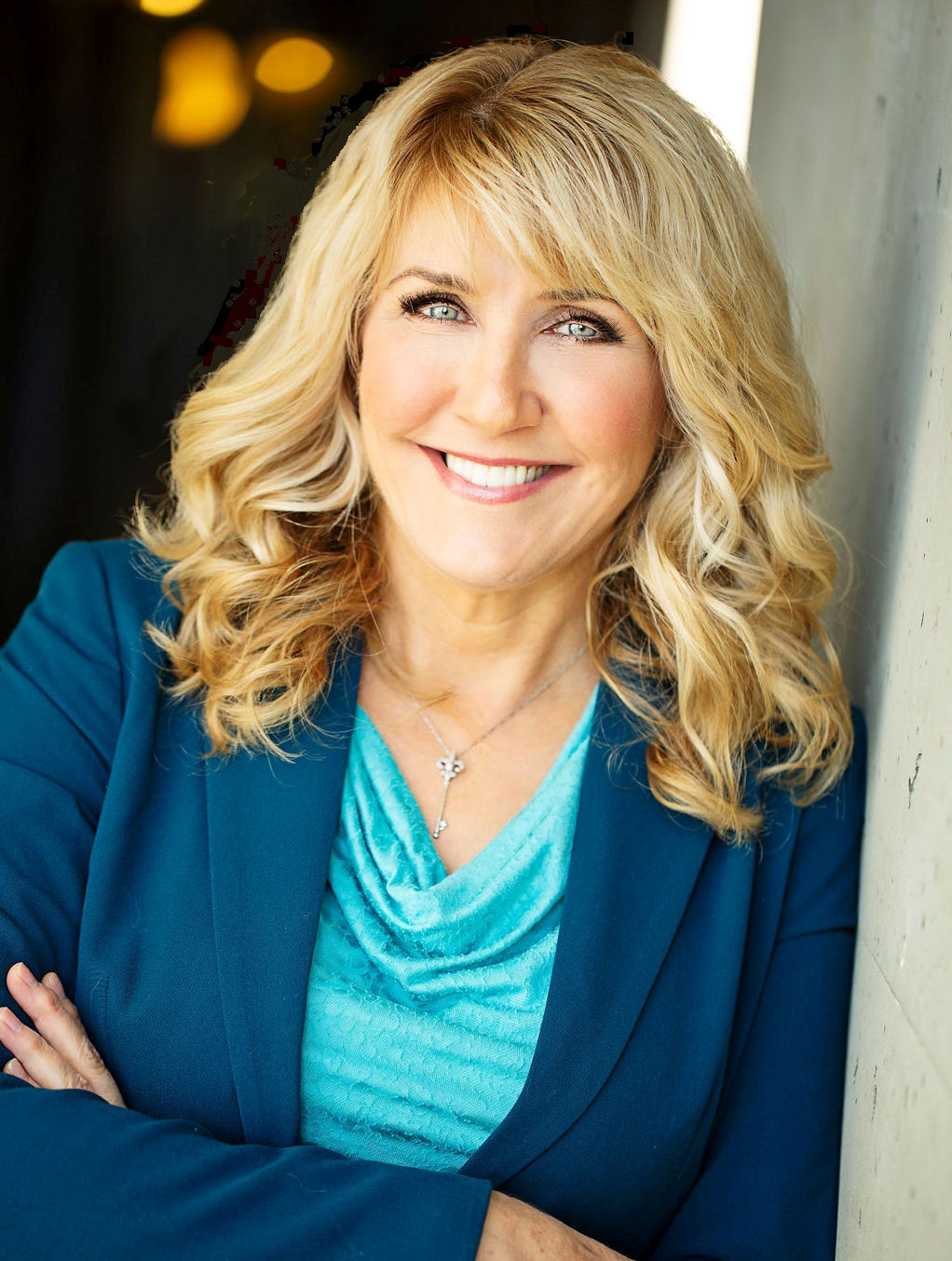 Dr. Beaton-York has been on the Georgia Psychological Association's Ethics Committee since 2010 and the Ethics Chair since 2014. She was also previously the Ethics Chair for the Licensed Professional Counselor's Association of Georgia (LPCA-GA) for two years before becoming licensed as a Psychologist. Dr. Beaton-York has taught hundreds of ethics workshops over the past 25 years and has served as an expert witness in ethics malpractice suits. She was also the Founder and Clinical Director of The Anxiety & Stress Management Institute for 15 years, the Co-Founder of the nonprofit OCD Georgia, Inc. and, recently, the Founder and Director of The Knowledge Tree. In 2005, Dr. Beaton was voted Counselor Educator of the Year by LPCA-GA and received their Lifetime Achievement Award in 2015. She is currently an Adjunct Professor in the Department of Psychology at Emory University. Lastly, you may have seen her on the television series "Hoarding: Buried Alive" as the treating psychologist on over 60 episodes.
Chris J. York, Attorney at Law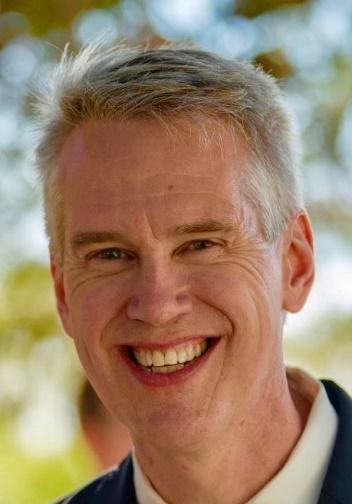 Mr. York attended Bowdoin College in Maine for undergrad and is a 1991 graduate of Emory University Law School. As an Atlanta-based litigator, in his career he tried numerous medical malpractice jury trials and handled many licensure Board complaints and peer reviews on behalf of defendant physicians. Later, he focused more on product liability, business and corporate practice and served as Senior Vice President and General Counsel to an Atlanta medical device company. In 2003, he formed his own firm which he still runs. His law partner, Chip Gaskill, is a Vanderbilt Law School graduate who specializes in corporate matters in addition to family law, trusts and estates. Their firm is York Gaskill, LLC. Today, Mr. York primarily specializes in helping small businesses with practically any legal matter they may face.
What people are saying about Dr. Beaton-York's and Mr. York's workshops:
"I love watching them interact together. They offer the best of both worlds with covering both the ethical and legal side of our profession! Thank you so much!!!" S.T.

This workshop was easily the very best use of my CEU money ever! I've only gone to Becky's ethics workshops for the past decade because she's so good. However, adding Chris' legal expertise is the crème de la crème!!! F.S.

"I love how Becky is able to ask Chris the legal questions we need answers to in layman's terms and how helpful he is. After the workshop, he was incredibly kind about answering questions that were pertinent to my practice." C.R.

"I usually brace myself for ethics being boring, but Becky was able to make it engaging and even enjoyable. The time actually flew by." J.M.

"Their handouts are incredible. I'm leaving with a great resource to refer back to." D.R.
1.5 Ethics, Core, or Related CE Clock Hours:
Psychologists: The Knowledge Tree (TKT) is approved by the American Psychological Association to sponsor continuing education for psychologists. TKT maintains responsibility for this program and its content.

Georgia Psychologists: All online webinars (both real-time "synchronous" and on-demand "asynchronous") count the same as "live" throughout 2022 (including ethics). There is also a proposed Board rule to make this change permanent. Please stay tuned for updates.
Licensed in another state: The Knowledge Tree is a Continuing Education Sponsor Approved (CESA) by APA, so all of our workshops should satisfy your CE requirements, but please check your state rules.

Counselors: The Knowledge Tree has been approved by the National Board for Certified Counselors (NBCC) as an Approved Continuing Education Provider, ACEP No. 7153. Programs that do not qualify for NBCC credit are clearly identified. The Knowledge Tree is solely responsible for all aspects of the programs.

Georgia Counselors: This workshop has been approved for 1.5 Core Hours as an "On-Demand - asynchronous" course by NBCC (ACEP # above). NBCC hours satisfy the requirements of the Georgia Composite Board. They do not need to be approved by LPCA. This 1.5 CE course needs to be "Core" because the Georgia Composite Board requires that all Ethics hours be obtained either live or via a live synchronous webinar.
Licensed in another state as a Counselor: The Knowledge Tree is approved by NBCC as an Approved Continuing Education Provider, so all of our workshops should satisfy your CE requirements, but please check your specific state rules to be certain.
Licensed in Canada as a Counselor: This workshop is approved for 1.5 credit hours through CCPA, event code 64957757.

Social Workers and Marriage & Family Therapists: The Knowledge Tree (TKT) is approved by the American Psychological Association (APA) to sponsor continuing education for psychologists.

Georgia: Because we have national approval for all our courses through APA, this workshop would be part of your option for up to 15 "Related Hours." For Masters Licensed Therapists in Georgia, "Related" hours are allowed to comprise up to 15 hours of the total 35 hours required per renewal period (10 hours of On-Demand are expressly permitted, and the extra five would be your optional Independent Study hours). "Ethics" hours must be obtained via a live "Synchronous" event (either in-person or Live Webinars). Please see our Live Webinars for Ethics options.
Licensed in another state as a Social Worker or MFT: The Knowledge Tree has national approval for all our courses through APA. Many states will accept APA-approved continuing education hours, but please check your specific state rules & regulations.
To view our various workshop policies, including our multi-workshop discount & refund policy, please click here.
Blank Page Issues? We have received some reports about compatibility issues with our website while attempting to pay for a workshop resulting in blank pages. According to our website host, this is a known security issue with Internet Explorer (particularly when someone is about to use a credit card). Microsoft stopped supporting Internet Explorer in January 2016, and they updated it to Microsoft Edge. Our website is updated constantly to offer the highest level of security. If you experience issues while using Internet Explorer, we recommend updating your browser to Edge or using another browser (e.g., Google Chrome, Safari, or FireFox). This should fix the issue and be more secure for you in general. Or, you may always enroll another way here. We apologize for any inconvenience.
For information about our Continuing Education Workshops, please contact our Continuing Education
Workshop Coordinator at: