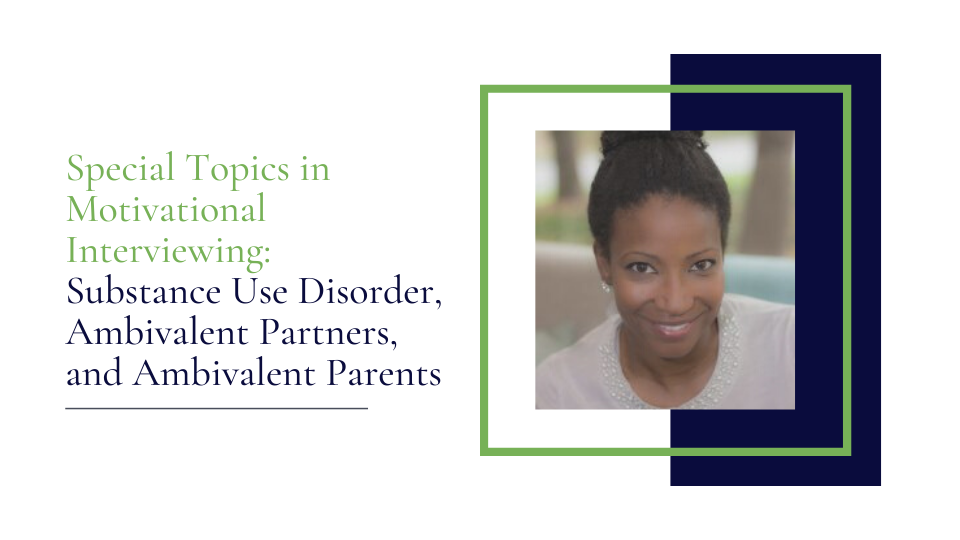 To access the discount form for registering for multiple workshops, please click here.

When & Where:
August 7, 2020
9:00 a.m. - 3:30 p.m.
5 Core Continuing Education Clock Hours (For Psychologists, Counselors, Social Workers, and Marriage and Family Therapists)
Location: Live Webinar. Both the Georgia Board of Psychology (Emergency Rule OCGA § 43-39-15) and the Georgia Board of Professional Counselors, Social Workers and Marriage & Family Therapists

(Emergency Board Rule 135-9-0.3-.01)

have approved Live-Streaming Webinars and Online Pre-recorded Webinars to be counted the same as a live training (even for Ethics) due to COVID-19 for the remainder of this renewal period. Both emergency bills have been signed by the Governor and are official!
Investment: $115 before July 24, $130 after
Prerequisite: Must have taken an introductory course or have knowledge in Motivational Interviewing prior to registering for this workshop
Educational Objectives:
Identify the benefits of MI with ambivalent individuals or in response to relationship discord as well as specific issues people are facing with COVID-19 stressors.
Review how the "Spirit" and method of MI can be used to strategically influence a client's decision to change in ways that are consistent with their values/goals, while respecting autonomy.
Utilize 3 MI principles or interviewing skills to cultivate change talk specific to ambivalent relationships and substance misuse and relevant issues facing individuals, couples and parents during COVID-19.
Practice strategies to respond effectively to clients' reluctance or "resistance" to change.
Observe and discuss videotaped demonstrations of MI.
Develop a plan for how to integrate MI into clinical practice with these populations in particular.
Workshop Description:
This workshop is designed for individuals who have completed introductory Motivational Interviewing (MI) training and who have practiced MI in applied settings. Dr. Bethea-Walsh will discuss use of MI to increase motivation to change for different clinical populations: individuals engaging in substance misuse and use disorder; ambivalent parents of children receiving treatment; and ambivalent partners in couples therapy. This workshop will review how the "Spirit" and method of MI can be used to strategically influence a client's decision to change in ways that are consistent with their values/goals, while respecting autonomy. Participants will be guided through small group practice to facilitate a progression from intermediate- to advanced-level of clinical skill development. This workshop will also include video demonstration and live demonstration of MI methods.
Presented by: Angela Bethea-Walsh, Ph.D.

Angela R. Bethea-Walsh, Ph.D., is a Licensed Psychologist in Georgia. She received her doctoral degree in Counseling Psychology from Lehigh University. She completed a 3-year Postdoctoral Fellowship in Clinical Health and Addictions Psychology at Mount Sinai St. Luke's-Roosevelt Hospital Center, Columbia University College of Physicians and Surgeons.
She is currently the owner of Bethea Consulting and Psychological Services, P.C. (Bethea CPS), a private practice located in Atlanta, Georgia. As a Psychologist, she specializes in delivering evidence-based, culturally-sensitive interventions to treat problematic substance use, substance use disorders, stress related to racial and sexual identity development, relationship concerns, depression, anxiety (including performance anxiety), insomnia, weight loss, chronic pain and illness management.
She conducts substance use evaluations with collegiate and professional athletes. She provides psychological screens for medical interventions, such as bariatric surgery and fertility/reproduction treatment including 3rd party reproduction (i.e., gestational surrogates). She also provides clinical supervision and consultation.
Dr. Bethea-Walsh is a member of the international Motivational Interviewing Network of Trainers (MINT). For almost 15 years, she has been practicing Motivational Interviewing (MI). She has been training health care providers in MI practice for over 10 years. She has conducted MI training in a wide variety of clinical settings, mandated programs for professional athletes and programs providing support for women involved in sex trafficking. She provides a monthly online consultation group, "MI Change Cre8tors" for healthcare providers feeling stuck in work with ambivalent or "resistant" clients. She is also the Chief Behavioral Officer for Corporate Health Partners, where she provides MI coaching for health coaches, program directors and other administrators. Dr. Bethea-Walsh's trainings are fast-paced, highly informative and interactive.
Agenda:
8:30 - 9:00 Registration
9:00 - 10:30 Welcome and Morning Session
10:30 - 10:45 Break
10:45 - 12:00 Morning Session (Cont.)
12:00 - 1:00 Lunch Break
1:00 - 2:00 Afternoon Session
2:00 - 2:15 Break
2:15 - 3:30 Afternoon Session (Cont.)
3:30 - 3:45 Continuing Education Certificates Distributed
5 Core CE Clock Hours:
Ph.D.s: The Knowledge Tree (TKT) is approved by the American Psychological Association to sponsor continuing education for psychologists. TKT maintains responsibility for this program and its content.
LPCs: This workshop is approved for 5 core hours through the Licensed Professional Counselor's Association (LPCA) of Georgia, approval #2020-06-18-039AW.
SWs: This workshop is approved for 5 core hours through the Georgia Society for Clinical Social Work, approval #060920.
MFTs: This workshop is approved for 5 core hours through the Georgia Association for Marriage and Family Therapy, approval #089-2020.
To view our various workshop policies, including our multi-workshop discount & refund policy, please click here.
This course is closed for enrollment.
For information about our Continuing Education Workshops, please contact our Continuing Education
Workshop Coordinator at: