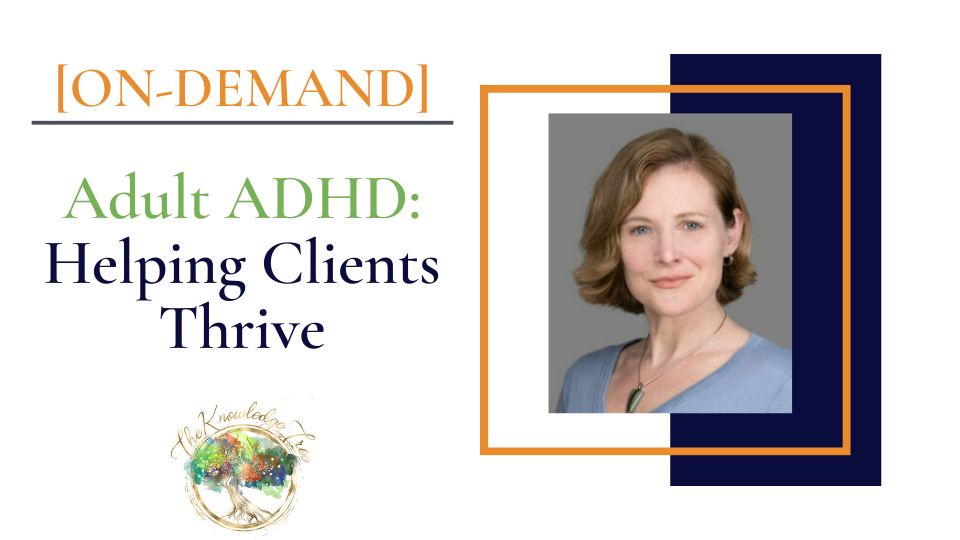 On-Demand: Adult ADHD: Helping Clients Thrive - 5 CEUs
To access the discount form for registering for multiple workshops or participants, please click here.
CE Hours Included: 5 Core (please see below for more details)
Format: On-Demand Webinar ("Asynchronous") ~ At your leisure to be viewed at your own pace. You may pause, rewind, and fast forward at any point during the videos. You are in complete control of how you view this workshop. It also comes with a PowerPoint and references. There is a quiz at the end to ensure viewing and required by all CE approval organizations.
Investment: $120
Presented by: Christina Noble, Ph.D., LPC (see bio below)
Instruction Level: Intermediate
Target Audience: Psychologists, Counselors, Social Workers, Marriage & Family Therapists, Psychotherapists, Other Mental Health Professionals
Educational Objectives:
In this workshop, you will learn how to:
Explain ADHD as a diagnosis, how it manifests in adulthood, as well as the biological and neurological underpinnings of ADHD and Executive Functioning disorders, such as Variable Attention Stimulus Trait (VAST).

Diagnose ADHD, VAST, Executive Functioning disorders and differentiate between these and other psychological presentations to aid in differential diagnosis.

Discuss how to provide psychoeducation to clients regarding Adult ADHD treatments, both psychopharmacological and behavioral.

Design an owner's manual for our clients' own, amazing ADHD brains using functional analysis, medication, and pulling from a broad knowledge of effective interventions for the range of Executive Functioning concerns.

Describe how to be a neurodivergent-affirming therapist to assist clients in embracing their identities as neurodivergent superstars with creative interventions, behavioral experiments, workarounds and hacks.
Workshop Description:
In this workshop, we will review cutting-edge information on the treatment of Adult ADHD, centering on ways to shift our clients' understanding of ADHD and Executive Functioning concerns to reduce shame and gain anunderstanding of their challenges around "getting things done." This workshop seeks to assist clinicians in becoming neurodivergent-affirming therapists, working alongside our clients to assist them in embracing their unique brains and leaning into their lived experiences through collaborative coaching, functional analysis, and treatment approaches such as CBT and second-generation CBT approaches like ACT, MBSR and DBT. Clinicians will learn about designing hacks, creating external structures, and utilizing curated, stimulating, and motivating interventions.
Presented by: Christina Noble, Ph.D., LPC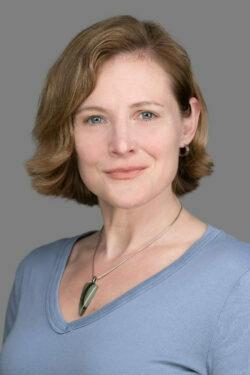 Dr. Christina Noble is a Licensed Psychologist, a Licensed Professional Counselor, and Certified Professional Counselor Supervisor who specializes in treating OCD, Body Focused Repetitive Behaviors (Trichotillomania, Dermatillomania), Self-injurious behaviors, anxiety disorders, simple and complex PTSD, dissociation, personality disorders, executive functioning issues and ADHD. She served previously as the Clinical Director at The Anxiety and Stress Management Institute, and is currently serving as the Director of Clinical Supervision at Anxiety Specialists of Atlanta. Dr. Noble's academic research experiences have focused on Trichotillomania, Shame, Perfectionism, Giftedness, Trauma and Attachment. She also has served as an adjunct professor at Georgia State University, teaching doctoral coursework on Ethics and Professional Issues and Psychopharmacology and Psychophysiology.
What people are saying about this workshop:
"Excellent workshop, probably my best experience over all the workshops and conference sessions I've attended! I appreciated Dr. Noble's personal disclosure and sense of humor!" - KMC, LPC

"Hands down, the most well-rounded training on the rapidly changing ADHD dynamics in treating adult clients. Rock star presenter!" - ML

"Excellent presenter. Loved her honesty and all the examples she shared." - JM, LCSW

"Excellent, so knowledgeable, funny, authentic, captivating. Knowledge Tree has offered a top-notch learning opportunity once again. Congrats." - MWB, Psychologist

"Presenter definitely knows this subject and adds great "stories" to help keep the lesson in memory. Thank you for having Dr. Noble present. It was my first professional training on treating adults with ADHD, and the concept and structure will be very helpful." - CMW, LPC

"I really enjoyed the presenter/workshop. The information was comprehensive, she was able to answer questions as were the moderators, and the PowerPoint/recording/transcript will be useful to review." - AH

"She was terrific! Extremely knowledgeable and full of information." - WM, LCPC

"This was such a good training. An absolute wealth of information, which I very much loved." - KW, LPC

"I enjoyed the specific steps to help clients, including hacks and strategies, that can be implemented instead of high-level statements of therapy goals." - PS, LPC

"This workshop, and Dr. Noble, was great! I'm SO glad that I signed up for this!" - BF

"Chris is so knowledgeable and was able to keep my interest throughout the whole presentation." - RP, LPC
5 Core CE Clock Hours Included - Details by License Type Below:
PSYCHOLOGISTS: The Knowledge Tree (TKT) is approved by the American Psychological Association (APA) to sponsor continuing education for psychologists. TKT maintains responsibility for this program and its content. For more detailed information on the current CE ruling in Georgia, or if you are licensed in another state or country, please click here.
COUNSELORS: The Knowledge Tree has been approved by the National Board for Certified Counselors (NBCC) as an Approved Continuing Education Provider (ACEP), ACEP No. 7153. Programs that do not qualify for NBCC credit are clearly identified. The Knowledge Tree is solely responsible for all aspects of the programs. Please click here

for more detailed information.

Counselors Licensed in Canada: This workshop is approved for 5 credit hours through the Canadian Counseling and Psychotherapy Association (CCPA), event code: 64962741.
SOCIAL WORKERS: This workshop is approved for 5 core CE hours through the Georgia Society for Clinical Social Work (GSCSW), approval #033323. If you are licensed in another state or country, please click here for more detailed information.
MARRIAGE & FAMILY THERAPISTS: This workshop is approved for 5 core CE hours through the Georgia Association for Marriage & Family Therapy (GAMFT), approval #052-2023. If you are licensed in another state or country, please click here for more detailed information.
To view our various workshop policies, including our multi-workshop discount & refund policy, please click here.
We are an approved vendor for the U.S. Department of Veterans Affairs for easy reimbursement of educational expenses for VA employees.
Blank Page Issues? We have received some reports about compatibility issues with our website while attempting to pay for a workshop resulting in blank pages. According to our website host, this is a known security issue with Internet Explorer (particularly when someone is about to use a credit card). Microsoft stopped supporting Internet Explorer in January 2016, and they updated it to Microsoft Edge. Our website is updated constantly to offer the highest level of security. If you experience issues while using Internet Explorer, we recommend updating your browser to Edge or using another browser (e.g., Google Chrome, Safari, or FireFox). This should fix the issue and be more secure for you in general. Or, you may always enroll another way here. We apologize for any inconvenience.
For information about our Continuing Education Workshops, please contact our Continuing Education
Workshop Coordinator at: