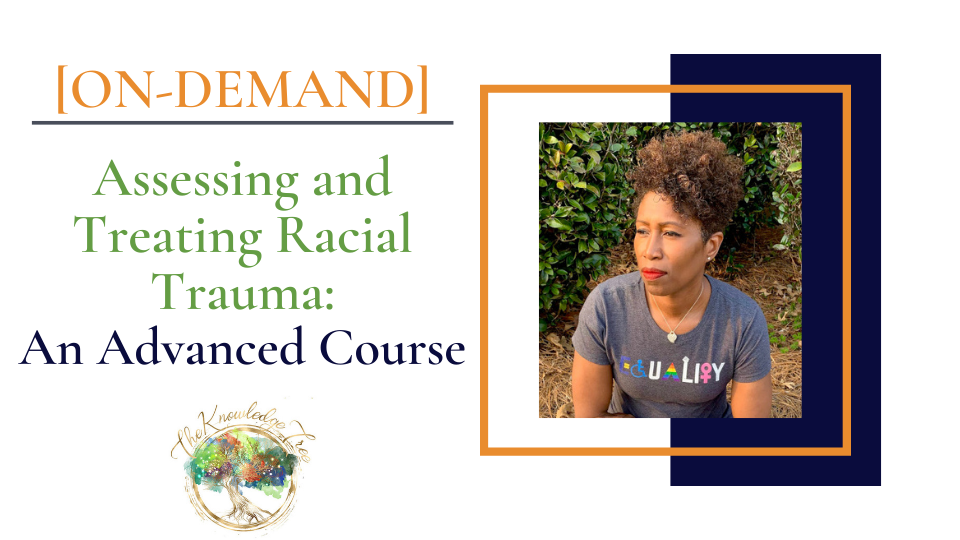 On-Demand: Assessing and Treating Racial Trauma: An Advanced Course - 6 CEUs
To access the discount form for registering for multiple workshops or participants, please click here.
CE Hours Included:

6 Core (see below for more information)

Format: On-Demand Webinar ("Asynchronous") ~ At your leisure to be viewed at your own pace. You may pause, rewind, and fast forward at any point during the videos. You are in complete control of how you view this workshop. It also comes with a PowerPoint and references. There is a quiz at the end to ensure viewing and required by all CE approval organizations.
Investment: $140 (provides lifetime access!)
Presented by: Telsie Davis, Ph.D. (see bio below)
Target Audience: Psychologists, Counselors, Social Workers, Marriage & Family Therapists, Psychotherapists, Other Mental Health Professionals
Instruction Level: Advanced
Educational Objectives:
In this workshop, you will learn how to:
Introduce a rationale for the assessment of racial trauma to the client

Describe at least two validated assessment measures of racial discrimination

Explain considerations for diagnosing PTSD secondary to racial trauma according to the DSM-5/ICD-10

Identify when the clinical treatment of racial trauma is indicated

Identify characteristics of culturally responsive therapy for racial trauma

List culturally responsive and antiracist modifications for the treatment of racial trauma when using cognitive-behavioral interventions for PTSD
Workshop Description:
Even after the height of the Black Lives Matter movement in 2020, racism continues to be a significant source of psychological harm and trauma for many clients in our clinical care. Inexcusably, their suffering often goes undertreated or untreated because most clinicians have not received training on how to assess and treat racial trauma. Dr. Telsie Davis returns to deliver an advanced training that uses case examples, didactics, and experiential exercises to describe:
The assessment of racial trauma, highlighting the Trauma Symptoms Discrimination Scale (Williams, Printz, & DeLapp, 2018) and

The treatment of racial trauma, highlighting Cognitive Processing Therapy (CPT) for PTSD (Resick, Monson, & Chard, 2016)* modified with Therapy for Racist-Incident-Based Trauma (RIBT) (Bryant-Davis & Ocampo, 2005)*.
Dr. Davis will review strengths and limitations of these interventions for the assessment and treatment of racial trauma with Black clients based on her experience. Though much of the content may be applicable to other Black, Indigenous, and People of Color (BIPOC) communities, Dr. Davis recommends engaging in training specific to these communities as best practice.
This is an advanced training. It is strongly advised that participants be knowledgeable about CPT and the following before participating:
The concepts of racism, antiracism, microaggressions, privilege, and unconscious bias

Strategies to minimize the negative impact of the clinician's privilege, power, and unconscious bias on the client

Strategies to increase working alliance development with African Americans

Clinical considerations for addressing racism and using an antiracist lens in clinical practice
If you need to increase or refresh your knowledge before participation in this training, relevant introductory trainings are available as on-demand CE programs at The Knowledge Tree:
For clinicians interested in CPT training:
https://cptforptsd.com/ is the official CPT website managed by the treatment developers that offers CPT-approved workshops and consultation that can lead to achieving status as a CPT Provider or Quality-Rated CPT Provider
https://cpt2.musc.edu/ is the website for The Medical College of South Carolina's self-paced, online, 13-module CPT training course
*Disclaimer: This training is educational in nature and participants are encouraged to use caution and consultation when using CPT and Therapy for RIBT for the treatment of racial trauma because they have not been empirically investigated for this use. This training does not provide or lead to certification or provider status for CPT or any other therapeutic intervention.
Presented by: Telsie Davis, Ph.D.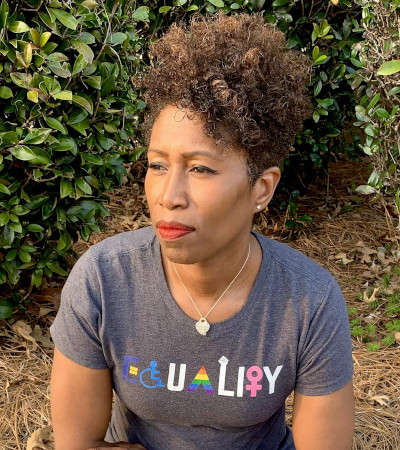 Telsie A. Davis is 19-year veteran clinician who has presented in over 60 international, national, state, and local invited talks and workshops. She specializes in culturally equitable and evidence-based treatment for African American women, and is founder of The Cultural Equity Institute, formerly, The Davis Center. Dr. Davis earned a B.S. in Applied Psychology from Georgia Tech and her Ph.D. in Counseling Psychology from Georgia State University. She completed her predoctoral internship and two years of postdoctoral fellowship training in trauma and substance use among African American women at Emory University School of Medicine. Dr. Davis also works as a psychologist at the Atlanta VA and is Co-Chair of the Diversity Rotation for the APA-accredited Internship and Postdoctoral Training Program. She is also an Assistant Professor and Assistant Vice Chair for Faculty Development-Diversity and Inclusion in the Department of Psychiatry and Behavioral Sciences at Emory University School of Medicine.
Resources:
Trauma Symptoms Discrimination Scale

Citation: Williams, M. T., Printz, D., & DeLapp, R. C. (2018). Assessing racial trauma with the Trauma Symptoms of Discrimination Scale. Psychology of Violence, 8(6), 735. doi: 10.1037/vio0000212

The Modified Perceived Racism Scale

Citation: Chakraborty, A. T., McKenzie, K., Leavey, G., & King, M. (2009). Measuring perceived racism and psychosis in African-Caribbean patients in the United Kingdom: The modified perceived racism scale. Clinical Practice and Epidemiology in Mental Health, 5(1), 1-6.

Cognitive Processing Therapy for PTSD: A Comprehensive Manual

Citation: Resick, P. A., Monson, C. M., & Chard, K. M. (2016). Cognitive processing therapy for PTSD: A comprehensive manual. Guilford Publications.
Official website for CPT training: https://cptforptsd.com/

Flexible Applications of Cognitive Processing Therapy

Citation: Galovski, T., Nixon, R. D., & Kaysen, D. (2020). Flexible applications of cognitive processing therapy: Evidence-based treatment methods. Academic Press.

Therapy for Racist-Incident-Based Trauma

Citation: Bryant-Davis, T., & Ocampo, C. (2005). Racist incident–based trauma. The Counseling Psychologist, 33(4), 479-500. doi:10.1177/0011000005276465
What people are saying about this workshop:
"It was all wonderful and I wouldn't change a thing. I have taken CEUs with Dr. Davis before and they are always just extraordinary. Any time I see her offer something I will sign up for it. Next licensure period I would even sign up for this same one again if it's offered! I think repeated return to this training on a regular basis would be very helpful." - RH, Psychologist

"TELSIE IS AMAZING!!!!!! It reaffirms what I was trying to already do, but now have more of an understanding, especially academically and statistically, as well as the different scales which were unbeknownst to me. Did I already say that Telsie was AMAZING?!?!" - AMJ, LMSW

"This was the best workshop I have attended. I loved the videos and the breathing afterwards. I loved the practical examples as well and the honesty of the presenter. Excellent job." - JG, Psychologist

"As a white woman I sometimes feel fearful that my very presence may be toxic to clients who are experiencing racial stress/trauma- that I am doomed to cause harm and invalidation in working with this topic. I finally feel like I have a vocabulary that allows me to make moves with humility but without superstition. Thank you." - LS, Psychologist

"The best training to help white clinicians be more racially and ethnically aware, attuned and humble. The trauma treatment sections are vital for all trauma therapists." - LG, Psychologist

"Excellent information that is applicable in treatment with clients. I loved the videos and mindful breathing following them. I appreciate that Dr. Davis shared her raw emotion and allowed space for herself rather than trying to push through it and not show vulnerability. Absolutely loved the presentation and I'd say it is the most valuable CE I have ever taken. I will definitely refer co-workers to take this training." - AJ, LMSW

"I have seen Dr. Davis present multiple times now and every time I feel so honored to have her work made available to me. She is an outstanding presenter and pours her heart and soul into what she does. Today (as always when she presents) I felt very emotional at times, but also felt that I was receiving critical knowledge so that I could help things to change. I can not think of anything that needed improvements. I got what I came for. I learned what I can do as a white provider to express my care and compassion for my veterans and my passion for this work in a way that may help to break down well founded defenses. I also learned how to assess race based trauma with validated measures, and how to integrate a racially informed approach with CPT. I plan to assess for race based trauma, and when indicated utilize concepts from TRIBT while doing trauma focused work. Thank you Dr. Davis for your work!! It is so important and your passion and commitment shines through and is infectious." - JG, Clinical
Psychologist

"Honestly, one of the best workshops I have ever attended virtually. The presenter was so knowledgeable and engaging. The content was great and I so appreciated the applicable and practical skills that were given." – EF

"Excellent presenter and training. Helpful tools and information. Videos were also very powerful. The most engaging presentation I have attended. Extremely thoughtful. She is incredible and her authenticity is appreciated." - MS, LCSW

"I was so grateful for how Dr. Davis brought her whole self--mind, body, and heart--to the presentation. I think that takes so much courage and vulnerability and a willingness to sit with suffering. I feel honored." - JM, LCSW

"Challenging, informative, inspiring - vital to practice. More training on this please." - KB

"Amazing presentation and workshop. More of this!" - JM

"I believe Dr. Davis does a fantastic job of presenting an emotional subject with love, compassion, and wisdom. Dr. Davis was amazing and I will be taking any and all classes she gives in the future!" - SA, LPC

"This was another excellent presentation by Dr. Davis. I appreciated her demonstration of vulnerability with grace. The video clips were impactful and enhanced the learning experience." - JJP, LCSW

"Absolutely wonderful material presented in a very engaging matter." - DPT, Psychologist
6 "Asynchronous" Core CE Clock Hours Included - Details by License Type Below:
To view our various workshop policies, including our multi-workshop discount & refund policy, please click here.
We are an approved vendor for the U.S. Department of Veterans Affairs (VA) for easy reimbursement of educational expenses for VA employees.
Blank Page Issues? We have received some reports about compatibility issues with our website while attempting to pay for a workshop resulting in blank pages. According to our website host, this is a known security issue with Internet Explorer (particularly when someone is about to use a credit card). Microsoft stopped supporting Internet Explorer in January 2016, and they updated it to Microsoft Edge. Our website is updated constantly to offer the highest level of security. If you experience issues while using Internet Explorer, we recommend updating your browser to Edge or using another browser (e.g., Google Chrome, Safari, or FireFox). This should fix the issue and be more secure for you in general. Or, you may always enroll another way here. We apologize for any inconvenience.
For information about our Continuing Education Workshops, please contact our Continuing Education
Workshop Coordinator at: