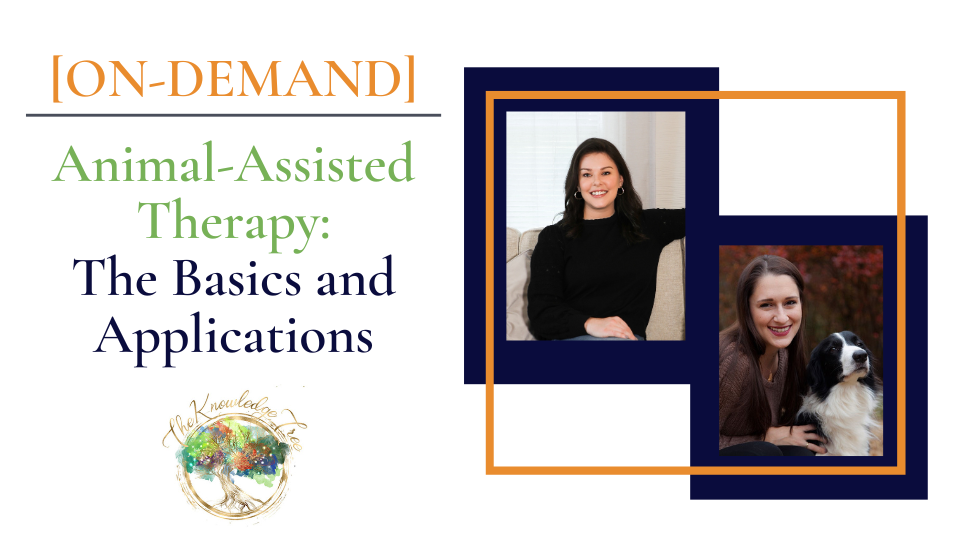 On-Demand: Animal-Assisted Therapy: The Basics and Applications - 3 CEUs
To access the discount form for registering for multiple workshops or participants, please click here.
CE Hours Included: 3 Core (please see below for details)

Format: On-Demand Webinar ("Asynchronous") ~ At your leisure to be viewed at your own pace. You may pause, rewind, and fast forward at any point during the videos. You are in complete control of how you view this workshop. It also comes with a PowerPoint and references. There is a quiz at the end to ensure viewing and required by all CE approval organizations.
Investment: $87 (provides lifetime access!)
Presented by: Ashley Tolleson, Ph.D. & Taylor Chastain, Ph.D. (see bios below)
Instruction Level: Intermediate
Target Audience: Psychologists, Counselors, Social Workers, Marriage & Family Therapists, Psychotherapists, Other Mental Health Professionals
This workshop is not yet available; by pre-registering, you will receive immediate access when it becomes available in November.
Educational Objectives:
In this workshop, you will learn how to:
Explain the differences between therapy animals and other working animals, such as service animals and emotional support animals.

Summarize the 5 domains of competencies required of a counselor who incorporates a therapy animal into practice.

Describe the process of obtaining the title of a "Therapy Animal Team."
Workshop Summary:
Are you interested in incorporating therapy animals into your practice, but you don't know where to start? Whether you're partnering with your own animal or recruiting registered volunteers, this interactive workshop will provide all the information you need to ethically and safely begin using animal-assisted therapy to help your clients reach their therapy goals. We will highlight the important differences between therapy animals and other working animals and provide an overview of the field's current standards of practice. Presenters will also explore animal-assisted intervention (AAI) tools that can be adapted to your work with a variety of populations and mental health concerns. Through case studies and discussion, participants will practice conceptualizing clients through a Human-Animal Bond (HAB) framework.
Presented by: Ashley Tolleson, Ph.D., LPC, NCC, CPCS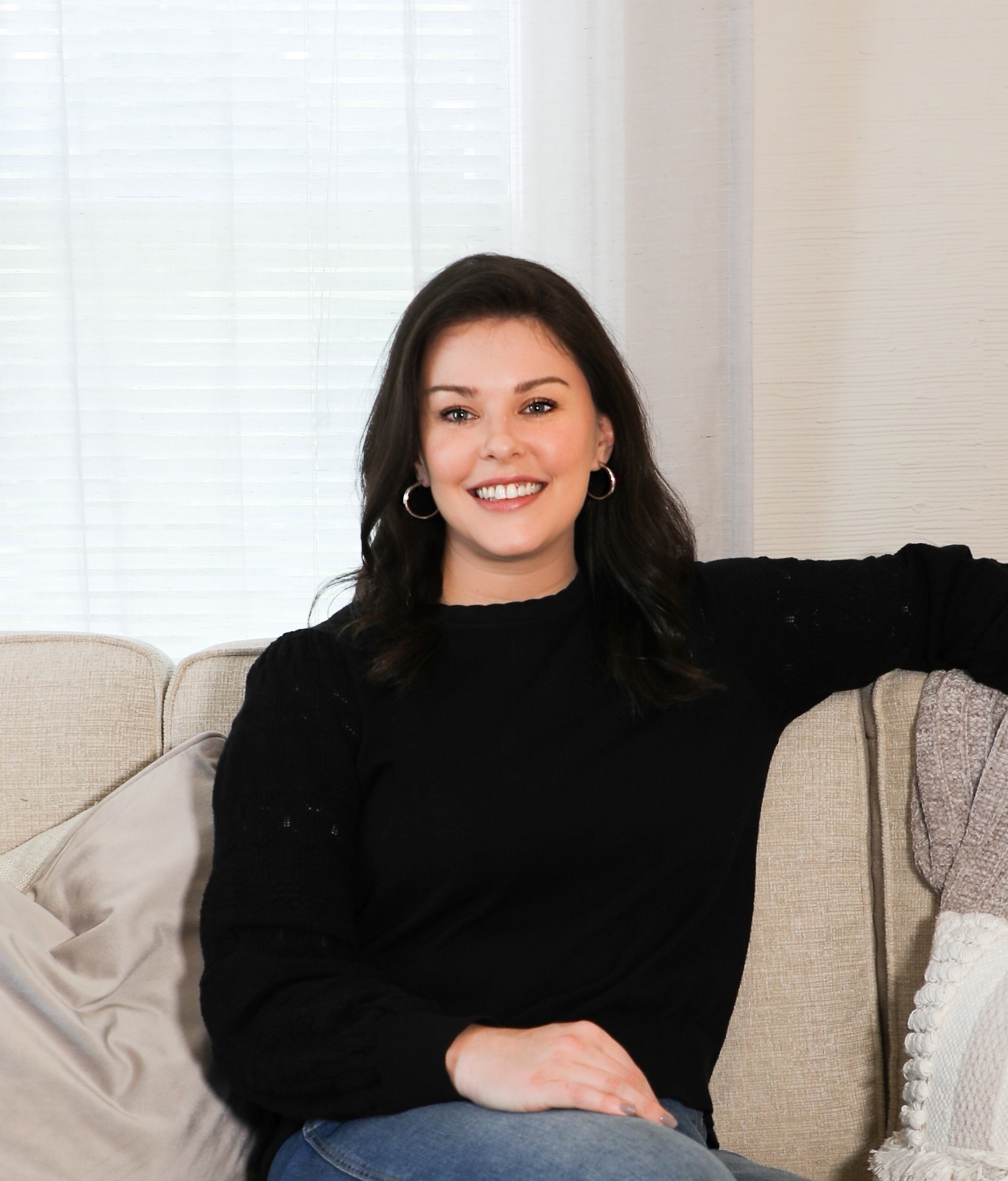 Dr. Ashley Tolleson is a Board-Certified Licensed Professional Counselor specializing in trauma-informed and creative approaches to counseling children, teens, and adults. She is the Founder and Clinical Director of Tolleson Counseling & Consulting in Marietta, GA, which focuses on helping clients with anxiety, stress management, trauma, and issues related to neurodiversity. Dr. Tolleson has developed a passion for counseling high-achieving girls and women looking to learn different ways to come back from the brink of burnout and challenge perfectionistic tendencies. She also hosts workshops on burnout and stress management for cross-discipline associations and she serves as a mental health consultant for the Georgia Veterinary Medical Association.
Dr. Tolleson holds a Ph.D. in Counselor Education and Practice, M.S. in Mental Health Counseling, and B.S. in Psychology from Georgia State University. As a Certified Professional Counselor Supervisor, Dr. Tolleson has experience supervising both mental health and school counselors-in-training seeking to gain competency in counseling kids, teens, and young adults. She has extensive training in Play Therapy, child and adolescent counseling, and trauma-informed care and regularly guest lectures in counseling graduate programs across the country on these topics. Her published work on creativity in counseling has been presented at local, national, and international conferences and she was recognized as an Emerging Leader in the counseling profession by the Association for Creativity in Counseling in 2017.
Taylor Chastain, Ph.D.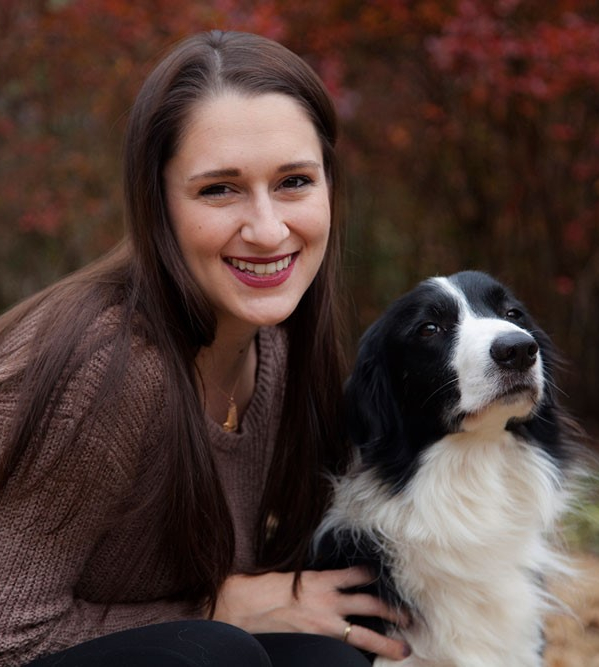 In her roles as National Director of Animal-Assisted Intervention (AAI) Advancement for Pet Partners and Executive Director of the Association of Animal-Assisted Intervention Professionals, Taylor Chastain Griffin, Ph.D. focuses on supporting research and professional development within the therapy animal arena. Having witnessed hundreds of interactions between her own therapy animals and the people with whom they've visited, she is passionate about bolstering the intervention with empirical investigation. Dr. Griffen obtained her doctorate in research psychology in 2018, with her studies focusing on the human-animal bond as it is experienced in contexts of shared traumatic experiences. From her undergraduate education in Psychology and Animal Behavior to her graduate work to become a mental health counselor, she has always strived to shape her educational and professional endeavors with the foundational goal of promoting AAI. She is also a published author, dog trainer, and Pet Partners team evaluator.
What people are saying about this workshop:
"Phenomenal presenters. You two are amazing, and I am so grateful for your presence in the field of counseling and with our animals!!" - AF, LPC

"Clear, concise, powerful, and empowering knowledge and video clips. Affirming, powerful, and a great starting point! Beautifully done!" - ML, LCSW

"Presenters were very knowledgeable and provided information I had never heard." - TD

"Great information. Wonderful presentation." - XL, Psy

"Very knowledgeable. Excellent as usual." - HAO
3 Core "Asynchronous" CE Clock Hours Included - Details by License Type Below:

PSYCHOLOGISTS: The Knowledge Tree (TKT) is approved by the American Psychological Association (APA) to sponsor continuing education for psychologists. TKT maintains responsibility for this program and its content. For more detailed information on the current CE ruling in Georgia, or if you are licensed in another state or country, please click here.
COUNSELORS: The Knowledge Tree has been approved by the National Board for Certified Counselors (NBCC) as an Approved Continuing Education Provider (ACEP), ACEP No. 7153. Programs that do not qualify for NBCC credit are clearly identified. The Knowledge Tree is solely responsible for all aspects of the programs. Please click here

for more detailed information.

Counselors Licensed in Canada: This workshop is approved for 3 credit hours through the Canadian Counseling and Psychotherapy Association (CCPA), event code: 64965413.
SOCIAL WORKERS: This workshop is approved for 3 core CE hours through the Georgia Society for Clinical Social Work (GSCSW), approval #093823. If you are licensed in another state or country, please click here for more detailed information.
MARRIAGE & FAMILY THERAPISTS: This workshop is approved for 3 core CE hours through the Georgia Association for Marriage & Family Therapy (GAMFT), approval #161-2023. If you are licensed in another state or country, please click here for more detailed information.
To view our various workshop policies, including our multi-workshop discount & refund policy, please click here.
We are an approved vendor for the U.S. Department of Veterans Affairs for easy reimbursement of educational expenses for VA employees.
Blank Page Issues? We have received some reports about compatibility issues with our website while attempting to pay for a workshop resulting in blank pages. According to our website host, this is a known security issue with Internet Explorer (particularly when someone is about to use a credit card). Microsoft stopped supporting Internet Explorer in January 2016, and they updated it to Microsoft Edge. Our website is updated constantly to offer the highest level of security. If you experience issues while using Internet Explorer, we recommend updating your browser to Edge or using another browser (e.g., Google Chrome, Safari, or FireFox). This should fix the issue and be more secure for you in general. Or, you may always enroll another way here. We apologize for any inconvenience.
For information about our Continuing Education Workshops, please contact our Continuing Education
Workshop Coordinator at: