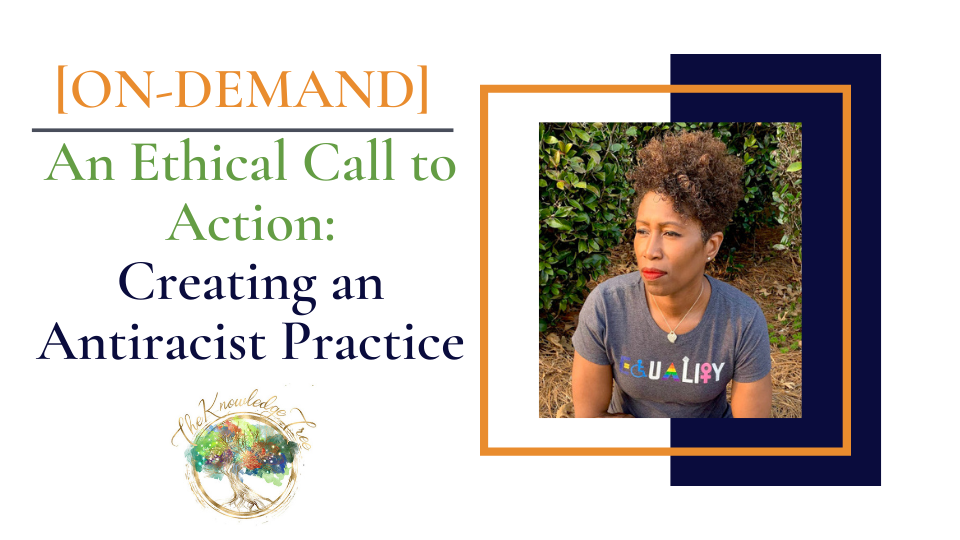 On-Demand: An Ethical Call to Action: Creating an Antiracist Practice - 6 CEUs
To access the discount form for registering for multiple workshops or participants, please click here.
CE Hours Included: 6 Ethics, Core, or Related (please see below for more details)
Format: On-Demand Webinar ("Asynchronous") ~ At your leisure to be viewed at your own pace. You may pause, rewind, and fast forward at any point during the videos. You are in complete control of how you view this workshop. However, you are required to watch at least 90% of the videos to receive CEs. The PowerPoint handout will be displayed in the video along with the presenter, and there is also a separate document for printing as well as multiple handouts and forms. There is a quiz at the end to ensure comprehension and is required by all CE approval organizations for on-demand workshops.
Investment:

$135

Presented by: Telsie Davis, Ph.D.

Educational Objectives:
Define racism, antiracism, and other antiracist terminology

Describe characteristics of an antiracist clinician and practice

Identify ethical principles, standards, values, and/or codes relevant to antiracist practice

Evaluate extent of own racially equitable action on individual, organizational, and systemic levels

Summarize ethical and clinical considerations for addressing racism within clinical practice

List three steps to addressing racist comments made by clients in the context of therapy
Workshop Description:
Clinicians are committed to healing the clients in our care and to do so ethically. However, our commitment to healing often falls short of ethical care and has not been enough to eliminate mental health treatment disparities endured by clients who are BIPOC. To truly heal and be ethical, we must be antiracist. Dr. Davis will utilize didactics, self-assessments, clinical vignettes, and experiential exercises to help clinicians construct an antiracist lens to identify and dismantle racist actions by self and systems and create an ethical antiracist practice.
Presented by: Telsie Davis, Ph.D.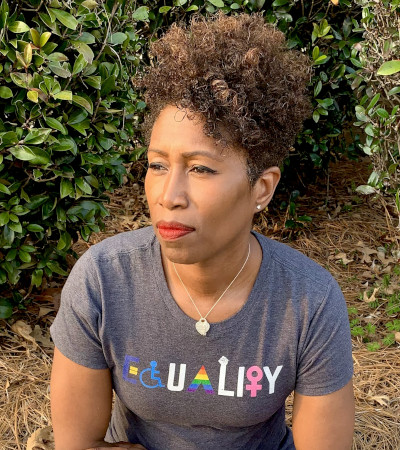 Telsie A. Davis is 19-year veteran clinician who has presented in over 60 international, national, state, and local invited talks and workshops. She specializes in culturally equitable and evidence-based treatment for African American women, and is founder of The Cultural Equity Institute, formerly, The Davis Center. Dr. Davis earned a B.S. in Applied Psychology from Georgia Tech and her Ph.D. in Counseling Psychology from Georgia State University. She completed her predoctoral internship and two years of postdoctoral fellowship training in trauma and substance use among African American women at Emory University School of Medicine. Dr. Davis also works as a psychologist at the Atlanta VA and is Co-Chair of the Diversity Rotation for the APA-accredited Internship and Postdoctoral Training Program. She is also an Assistant Professor and Assistant Vice Chair for Faculty Development-Diversity and Inclusion in the Department of Psychiatry and Behavioral Sciences at Emory University School of Medicine.
What people are saying about this workshop:
"Her authenticity and knowledge are commendable. This was the best ethics course I've taken as a professional." - KQ

"The workshop was phenomenal. Dr. Telsie is amazing and I would take more of her CEUs. I was thoroughly enthralled throughout the entire presentation." - JMW

"I seriously hope this program was SOLD OUT because every singly clinician should experience it. The mindfulness pauses were beautiful and her integration of voices of BIPOC was so profound. Such richness and depth. I'm choked up just writing this evaluation! I so appreciated how beautifully she wove together the theoretical and practical." - SD, LPC

"Telsie Davis is incredible! I love her warm and empathic presentation style, addressing what can be a difficult topic in an approachable way. As a white woman, I believe this workshop should be required for all white therapists. No matter how much work we've done, we can always learn more and do better. Particularly if a white therapist works with BIPOC clients, I think it would be tough to practice ethically without reflecting on the information in this workshop." - SS, LPC

"Dr. Davis is brilliant in delivering such an amazing subject matter that often times get lost in translation. Dr. Telsie is amazing." - TA, LMFT

"The presenter was fantastic, extremely engaging, very knowledgeable and I have no comments for improvement!" - JP, LPC


"I appreciated the inclusive approach - other workshops I have attended on antiracism have been blaming, shaming, inflammatory, and polarizing. This approach encouraged me to reflect without defensiveness. I also gained practical advice on specific things to address and add to my practice. I gained practical tips on how to examine my own beliefs and approaches, and how to demonstrate to clients that I am inclusive and working on my biases." - HD, LPC
6 Ethics, Core, or Related CE Clock Hours:
Psychologists: The Knowledge Tree (TKT) is approved by the American Psychological Association to sponsor continuing education for psychologists. TKT maintains responsibility for this program and its content.

Georgia Psychologists: All online webinars (both real-time "synchronous" and on-demand "asynchronous") count the same as "live" throughout 2022 (including ethics). There is also a proposed Board rule to make this change permanent. Please stay tuned for updates.
Licensed in another state: The Knowledge Tree is a Continuing Education Sponsor Approved (CESA) by APA, so all of our workshops should satisfy your CE requirements, but please check your state rules.

Counselors: The Knowledge Tree has been approved by the National Board for Certified Counselors (NBCC) as an Approved Continuing Education Provider, ACEP No. 7153. Programs that do not qualify for NBCC credit are clearly identified. The Knowledge Tree is solely responsible for all aspects of the programs.

Georgia Counselors: This workshop has been approved for 6 Core Hours as an "On-Demand - asynchronous" course by NBCC (ACEP # above). NBCC hours satisfy the requirements of the Georgia Composite Board. They do not need to be approved by LPCA. This 6 CE course needs to be "Core" because the Georgia Composite Board requires that all Ethics hours be obtained either live or via a live synchronous webinar.

Licensed in another state as a Counselor: The Knowledge Tree is approved by NBCC as an Approved Continuing Education Provider, so all of our workshops should satisfy your CE requirements, but please check your specific state rules to be certain.
Licensed in Canada as a Counselor: This workshop is approved for 6 credit hours through CCPA, event code 64957759.


Social Workers and Marriage & Family Therapists: The Knowledge Tree (TKT) is approved by the American Psychological Association (APA) to sponsor continuing education for psychologists.

Georgia: Because we have national approval for all our courses through APA, this workshop would be part of your option for up to 15 "Related Hours." For Masters Licensed Therapists in Georgia, "Related" hours are allowed to comprise up to 15 hours of the total 35 hours required per renewal period (10 hours of On-Demand are expressly permitted, and the extra five would be your optional Independent Study hours). "Ethics" hours must be obtained via a live "Synchronous" event (either in-person or Live Webinars). Please see our Live Webinars for Ethics options.

Licensed in another state as a Social Worker or MFT: The Knowledge Tree has national approval for all our courses through APA. Many states will accept APA-approved continuing education hours, but please check your specific state rules & regulations.
To view our various workshop policies, including our refund policy, please click here.
Blank Page Issues? We have received some reports about compatibility issues with our website while attempting to pay for a workshop resulting in blank pages. According to our website host, this is a known security issue with Internet Explorer (particularly when someone is about to use a credit card). Microsoft stopped supporting Internet Explorer in January 2016, and they updated it to Microsoft Edge. Our website is updated constantly to offer the highest level of security. If you experience issues while using Internet Explorer, we recommend updating your browser to Edge or using another browser (e.g., Google Chrome, Safari, or FireFox). This should fix the issue and be more secure for you in general. Or, you may always enroll another way here. We apologize for any inconvenience.
For information about our Continuing Education Workshops, please contact our Continuing Education
Workshop Coordinator at: