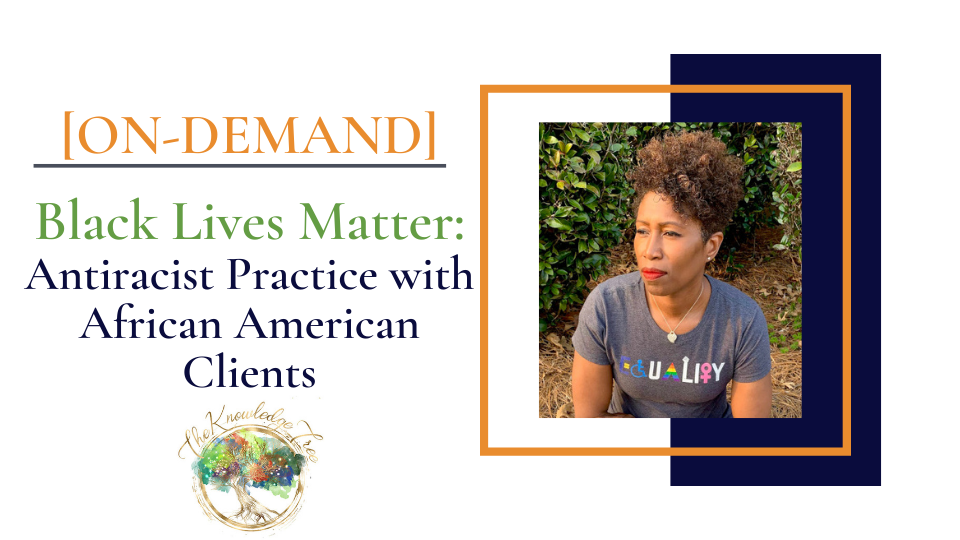 On-Demand: Black Lives Matter: Antiracist Practice with African American Clients - 6 CEs
To access the discount form for registering for multiple workshops or participants, please click here.
CE Hours Included: 6 Core (please see below for more details).
Format: On-Demand Webinar ("Asynchronous") ~ At your leisure to be viewed at your own pace. You may pause, rewind, and fast forward at any point during the videos. You are in complete control of how you view this workshop. However, you are required to watch at least 90% of the videos to receive CEs. The PowerPoint handout will be displayed in the video along with the presenter, and there is also a separate document for printing. There is a quiz at the end to ensure comprehension and is required by all CE approval organizations for On-Demand workshops.
Investment: $140 (provides lifetime access!)
Presented by: Telsie Davis, Ph.D.

Target Audience: Psychologists, Counselors, Social Workers, Marriage & Family Therapists, Psychotherapists, Other Mental Health Professionals
Instruction Level: Intermediate
Educational Objectives:
In this workshop, you will learn how to:

Describe how racism influences mental health treatment disparities experienced by African Americans

Describe cultural characteristics common among African Americans engaging in mental health treatment

Discuss strategies to minimize the negative impact of the clinician's privilege, power, and unconscious bias on clinical practice with African Americans

Identify strategies to increase working alliance development with African Americans

List two validated assessment measures of race-based trauma

Summarize a peer-reviewed model to treat race-based trauma and foster resilience
Workshop Description:
Clinicians want treatment to work for all clients, but the research is clear that African Americans often benefit less from treatment than White Americans. The status quo in mental health often falls short of ethical and effective care for this population. Dr. Davis will utilize didactics, self-assessments, clinical vignettes, case examples, and experiential exercises to assist clinicians in applying an antiracist lens to treat African Americans. This workshop will focus on how to eliminate mental health treatment disparities, develop a stronger working alliance, and treat race-based trauma.
Presented by: Telsie Davis, Ph.D.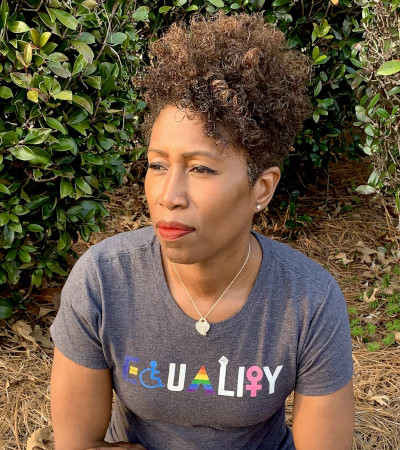 Telsie A. Davis is 19-year veteran clinician who has presented in over 60 international, national, state, and local invited talks and workshops. She specializes in culturally equitable and evidence-based treatment for African American women, and is founder of The Cultural Equity Institute, formerly, The Davis Center. Dr. Davis earned a B.S. in Applied Psychology from Georgia Tech and her Ph.D. in Counseling Psychology from Georgia State University. She completed her predoctoral internship and two years of postdoctoral fellowship training in trauma and substance use among African American women at Emory University School of Medicine. Dr. Davis also works as a psychologist at the Atlanta VA and is Co-Chair of the Diversity Rotation for the APA-accredited Internship and Postdoctoral Training Program. She is also an Assistant Professor and Assistant Vice Chair for Faculty Development-Diversity and Inclusion in the Department of Psychiatry and Behavioral Sciences at Emory University School of Medicine.
What people are saying about this workshop:
"One of the best CE experiences I have attended." - MEV, LCSW

"It was great! Dr. Davis is incredibly knowledgable, authentic, and thoughtful. I've done several anti-racist trainings and this certainly helped continue my antiracist work, but was particularly valuable in understanding antiracism specific to providing care as a psychotherapist." - JJ, LCSW

"Dr. Davis was very knowledgeable. I appreciated the videos she showed us. I'm a visual learner and some of those videos I intend to show in some of my Zoom classes." - MC, LMSW

"Dr. Davis is an exceptional presenter - warm, engaging, attuned to the group; made it feel safe to ask questions and to not know. I will sign up for her future workshops anytime she offers them. She has much to teach us - she leads us to awareness...the best way to learn. Masterful." - FA, LPC

"Dr. Davis is knowledgeable, sensitive, transparent, a great role model. I love listening to her." - EG, LMFT
6 "Asynchronous" Core CE Clock Hours Included - Details by License Type Below:
To view our various workshop policies, including our multi-workshop discount & refund policy, please click here.
We are an approved vendor for the U.S. Department of Veterans Affairs (VA) for easy reimbursement of educational expenses for VA employees.
Blank Page Issues? We have received some reports about compatibility issues with our website while attempting to pay for a workshop resulting in blank pages. According to our website host, this is a known security issue with Internet Explorer (particularly when someone is about to use a credit card). Microsoft stopped supporting Internet Explorer in January 2016, and they updated it to Microsoft Edge. Our website is updated constantly to offer the highest level of security. If you experience issues while using Internet Explorer, we recommend updating your browser to Edge or using another browser (e.g., Google Chrome, Safari, or FireFox). This should fix the issue and be more secure for you in general. Or, you may always enroll another way here. We apologize for any inconvenience.
For information about our Continuing Education Workshops, please contact our Continuing Education
Workshop Coordinator at: