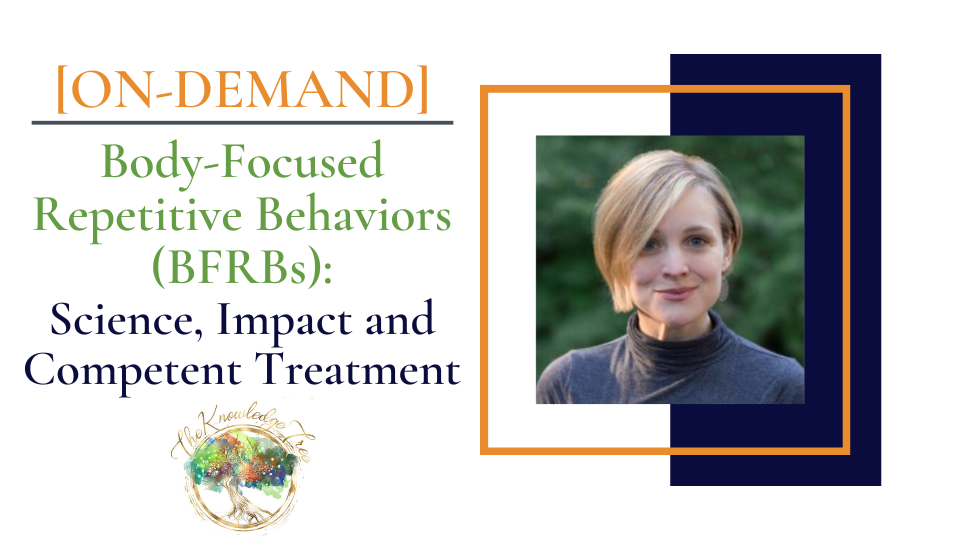 On-Demand: Body-Focused Repetitive Behaviors: Science, Impact and Competent Treatment - 5 CEUs
To access the discount form for registering for multiple workshops or participants, please click here.
CE Hours Included:

5 Core (see below for more information)

Format: On-Demand Webinar ("Asynchronous") ~ At your leisure to be viewed at your own pace. You may pause, rewind, and fast forward at any point during the videos. You are in complete control of how you view this workshop. It also comes with a PowerPoint and references. There is a quiz at the end to ensure viewing and required by all CE approval organizations.

Investment:

$120 (provides lifetime access!)

Presented by: Christina Noble, Ph.D., LPC (see bio below)
Target Audience: Psychologists, Counselors, Social Workers, Marriage & Family Therapists, Psychotherapists, Other Mental Health Professionals
Instruction Level: Intermediate
Educational Objectives:
In this workshop, you will learn how to:

Provide an overview of past and present theories and empirical data on what BFRBS are and why they manifest

Explain the importance of understanding the biological and neurochemical underpinnings that underlie BFRBs and how these processes make them so challenging to "just stop!"

Describe the major subtypes of BFRBs as well as the many nuances and variations therein

Differentiate between BFRBs and other types of self-injurious behaviors

Review common comorbidities with other psychological diagnoses and how they may intersect and feed off of each other

Identify both internal and environmental barriers to treatment for BFRBs

Describe effective and informed ways to assess for BFRBs as well as other personality traits and factors commonly linked to these diagnoses that may be important to consider for conceptualization and treatment planning purposes

Review the latest evidence regarding empirically-supported treatments for BFRBs including psychopharmalogical and naturopathic treatments

Educate and demonstrate the Comprehensive Model for Behavioral Treatment of Trichotillomania and BFRBs, a gold-standard treatment for BFRBs (Mansueto et al., 1999) using case studies and interactive learning

Review products, resources, interactive technology and apps to assist your clients in data collection and treatment of their BFRBs

Recognize the importance of treatment-interfering factors such as shame, social and relational pressure and therapist's own biases

Discuss the power of the therapeutic relationship in treatment as well as potential ethical issues that therapist's treating BFRBs must attend to in order to ensure competent care
Workshop Description:
Body-Focused Repetitive Behaviors (BFRBs), including Trichotillomania, Dermatillomania (Compulsive Skinpicking/Excoriation Disorder), Compulsive Nail-Biting and Cheek-Biting, impact numerous clients in therapeutic settings, but sadly remain a footnote in many clinical training programs. The unfortunate end result is that a scant few clinicians have been properly trained and educated on these disorders, despite their significant functional impact on clients, comorbidity with numerous other disorders and limiting nature on the wellbeing of those who struggle with them. This workshop will help fill in these gaps by providing education, reviewing conceptual and empirical data on BFRBs, their subtypes and nuances, and reviewing diagnosis, assessment and guidelines for competent treatment of these lesser understood, but significantly impactful family of disorders.
Presented by: Christina Noble, Ph.D., LPC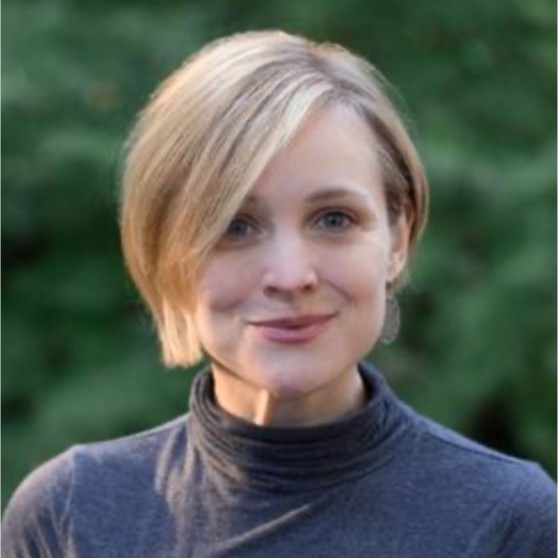 Dr. Christina Noble is a Licensed Psychologist, a Licensed Professional Counselor, and Certified Professional Counselor Supervisor who specializes in treating OCD, Body Focused Repetitive Behaviors (Trichotillomania, Dermatillomania), Self-injurious behaviors, anxiety disorders, simple and complex PTSD, dissociation, personality disorders, executive functioning issues and ADHD. She served previously as the Clinical Director at The Anxiety and Stress Management Institute, and is currently serving as the Director of Clinical Supervision at Anxiety Specialists of Atlanta. Dr. Noble's academic research experiences have focused on Trichotillomania, Shame, Perfectionism, Giftedness, Trauma and Attachment. She also has served as an adjunct professor at Georgia State University, teaching doctoral coursework on Ethics and Professional Issues and Psychopharmacology and Psychophysiology.
What people are saying about this workshop:
"I appreciated having the ppt and handouts ahead of time. I loved that you offered 2 formatting options (2 or 6 slides) for me to use. Theday was smooth and I think you handled and facilitated comments and questions very well. Dr Noble's expertise was highly valuable. I appreciated how many research studies were included in her presentation. It points me in the right direction to learn more on my own." - HD, LCSW

"The workshop was very well organized; the presenter was informed, a tenured practitioner in studying, researching and working with BFRB clients; and passionate about her work and teaching. I am much, much more educated in this arena now. Thank you!" - SH, LPC

"I was very impressed with Dr. Noble's presentation. She did an excellent job." - CB, LMFT

"Very detailed and informative. Appreciated that it was very topic-based with no unneeded filler content" - TP

"Thorough Comprehensive Expert-level training" - RSG, Psy

"She is very knowledgeable." - NM, LPC
5 "Asynchronous" Core CE Clock Hours Included - Details by License Type Below:
To view our various workshop policies, including our multi-workshop discount & refund policy, please click here.
We are an approved vendor for the U.S. Department of Veterans Affairs (VA) for easy reimbursement of educational expenses for VA employees.
Blank Page Issues? We have received some reports about compatibility issues with our website while attempting to pay for a workshop resulting in blank pages. According to our website host, this is a known security issue with Internet Explorer (particularly when someone is about to use a credit card). Microsoft stopped supporting Internet Explorer in January 2016, and they updated it to Microsoft Edge. Our website is updated constantly to offer the highest level of security. If you experience issues while using Internet Explorer, we recommend updating your browser to Edge or using another browser (e.g., Google Chrome, Safari, or FireFox). This should fix the issue and be more secure for you in general. Or, you may always enroll another way here. We apologize for any inconvenience.
For information about our Continuing Education Workshops, please contact our Continuing Education
Workshop Coordinator at: