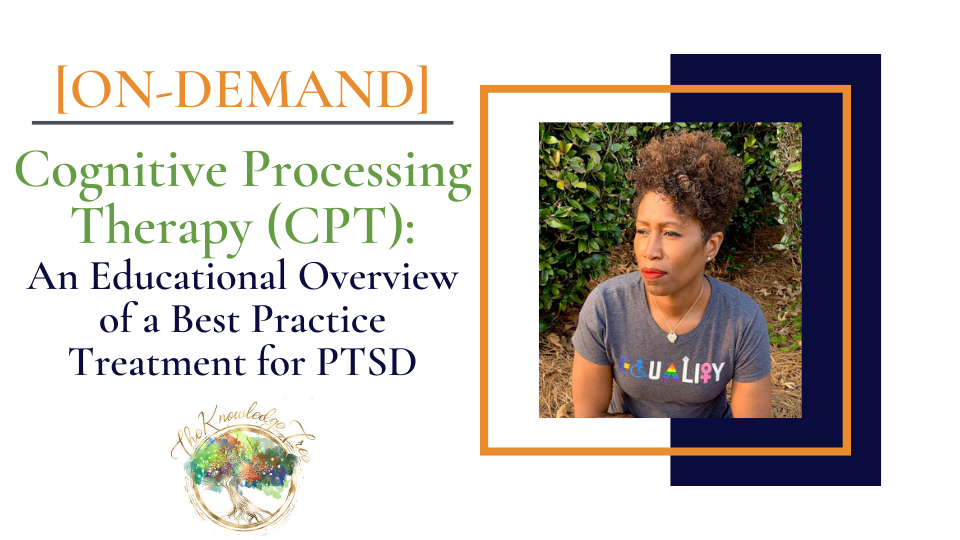 On-Demand: Cognitive Processing Therapy (CPT): An Educational Overview of a Best Practice Treatment for PTSD - 6 CEUs
To access the discount form for registering for multiple workshops or participants, please click here.
CE Hours Included:

6 Core (see below for details)

Format: On-Demand Webinar ("Asynchronous") ~ At your leisure to be viewed at your own pace. You may pause, rewind, and fast forward at any point during the videos. You are in complete control of how you view this workshop. It also comes with a PowerPoint and references. There is a quiz at the end to ensure viewing and required by all CE approval organizations.
Investment: $140 (provides lifetime access!)
Presented by: Telsie Davis, Ph.D. (see bio below)
Target Audience: Psychologists, Counselors, Social Workers, Marriage & Family Therapists, Psychotherapists, Other Mental Health Professionals
Instruction Level: Intermediate
Educational Objectives:
In this workshop, you will learn how to:
Explain the research support and client populations appropriate for CPT

Describe the symptoms of PTSD and core principles of cognitive theory

Communicate a summary of the CPT protocol and delivery method

Identify clinician tasks that can increase clients' ability to be successful in CPT

Define fundamental treatment components of CPT

Describe primary treatment objectives and homework assignment(s) for each session of the CPT protocol
Workshop Description
Cognitive Processing Therapy (CPT) is an empirically supported, manualized treatment for Posttraumatic Stress Disorder (PTSD) that is endorsed as a best practice for PTSD by the U.S. Departments of Veterans Affairs and Defense and the International Society of Traumatic Stress Studies. In this educational workshop, Dr. Telsie A. Davis will use didactics, clinically and culturally diverse clinical examples, and videos to provide an overview of CPT for PTSD. This 6-hour workshop is educational in nature and does not provide or lead to certification or provider status for CPT. Please review the resources below for more information on CPT training, consultation, and resources.
CPT Training:
https://cptforptsd.com/ is the official CPT website managed by the treatment developers that offers CPT-approved workshops and consultation that can lead to achieving status as a CPT Provider or Quality-Rated CPT Provider
https://cpt2.musc.edu/ is the website for The Medical College of South Carolina's self-paced, online, 13-module CPT training course
Free CPT Consultation:
CPT Resources:
Citation: Resick, P. A., Monson, C. M., & Chard, K. M. (2016). Cognitive processing therapy for PTSD: A comprehensive manual. Guilford Publications.
Official website for CPT training: https://cptforptsd.com/
Citation: Galovski, T., Nixon, R. D., & Kaysen, D. (2020). Flexible applications of cognitive processing therapy: Evidence-based treatment methods. Academic Press.
Presented by: Telsie Davis, Ph.D.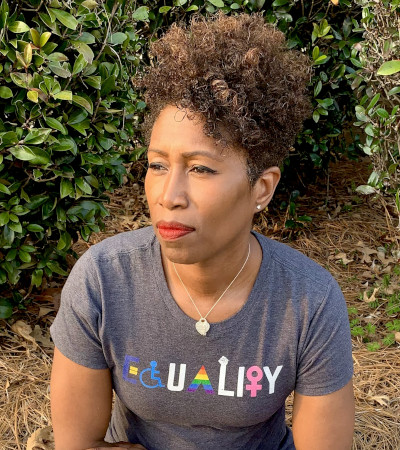 Telsie A. Davis is 19-year veteran clinician who has presented in over 60 international, national, state, and local invited talks and workshops. She specializes in culturally equitable and evidence-based treatment for African American women, and is founder of The Cultural Equity Institute, formerly, The Davis Center. Dr. Davis earned a B.S. in Applied Psychology from Georgia Tech and her Ph.D. in Counseling Psychology from Georgia State University. She completed her predoctoral internship and two years of postdoctoral fellowship training in trauma and substance use among African American women at Emory University School of Medicine. Dr. Davis also works as a psychologist at the Atlanta VA and is Co-Chair of the Diversity Rotation for the APA-accredited Internship and Postdoctoral Training Program. She is also an Assistant Professor and Assistant Vice Chair for Faculty Development-Diversity and Inclusion in the Department of Psychiatry and Behavioral Sciences at Emory University School of Medicine.
What people are saying about this workshop:
"I learned important cultural considerations and how to tailor the approach to specific populations to make the modality more accessible. This presenter was engaging and very informed." - AB, Psychologist

"Excellent delivery and her knowledge was amazing. I liked the practical ideas she demonstrated in working with clients. Examples were good and I liked having each session clearly defined. Really better than I had anticipated since I was not familiar with CPT. Love your workshops-content and easy access!" - MUM, LCSW

"I thought Dr. Davis did an excellent job - knew the content well, kept us engaged by polls and Q&A, has excellent voice inflection which is easy to listen to. PP was helpful. Very well-organized. Thank you!" - BS, LCSW

"My overall impression of the presenter/workshop is an A+!! I never heard of CPT and I'm very excited to use the worksheets with my clients. I'm so happy I attended. I feel rejuvenated!" - TS, LCSW

"Very informative! I loved how inclusive the presenter was. She was very aware of how social structures and social positionality affects trauma." - DS, LMSW

"Well-informed and clearly communicated. I didn't know much about the CPT approach at all; now I can't wait to gain further training on it." - CH

"I appreciate the format of CPT...will definitely implement with some clients. Always a wonderful workshop with The Knowledge Tree!" - HAO

"Dr. Davis is an excellent presenter! I was unfamiliar with CPT prior to this workshop. I learned a lot from Dr. Davis." - LB, LPC

"Excellent workshop. Knowledgeable presenter. I appreciated her obvious care and compassion for her clients, as well." - VFP, Social Worker

"Dr. Davis teaching was down to earth, comprehensive and understandable. Her delivery made it possible for me to take away on how to present to my clients in a cohesive fashion. I really enjoyed the whole workshop." - CT, APC

"Excellent. One of the best workshops and presenters." - AP, Psychologist

"I loved the structure for the target agenda for each session. I know this will be based on the client's willingness to change, but I need that structure and am thankful for that. Great presentation!" - MK, APC

"Great presentation! Dr. Davis held my attention. She's very knowledgeable. It was awesome!" - AS, LCSW

"Fantastic. Presenter was awesome - held attention and knew her stuff." - JT, LCSW

"I think the presenter engaged us well with videos and explicit examples throughout the workshop. She was well-versed in the information and took in cultural/ethical considerations." - JB, LMSW
6 "Asynchronous" Core CE Clock Hours Included - Details by License Type Below:
To view our various workshop policies, including our multi-workshop discount & refund policy, please click here.
We are an approved vendor for the U.S. Department of Veterans Affairs (VA) for easy reimbursement of educational expenses for VA employees.
Blank Page Issues? We have received some reports about compatibility issues with our website while attempting to pay for a workshop resulting in blank pages. According to our website host, this is a known security issue with Internet Explorer (particularly when someone is about to use a credit card). Microsoft stopped supporting Internet Explorer in January 2016, and they updated it to Microsoft Edge. Our website is updated constantly to offer the highest level of security. If you experience issues while using Internet Explorer, we recommend updating your browser to Edge or using another browser (e.g., Google Chrome, Safari, or FireFox). This should fix the issue and be more secure for you in general. Or, you may always enroll another way here. We apologize for any inconvenience.
For information about our Continuing Education Workshops, please contact our Continuing Education
Workshop Coordinator at: