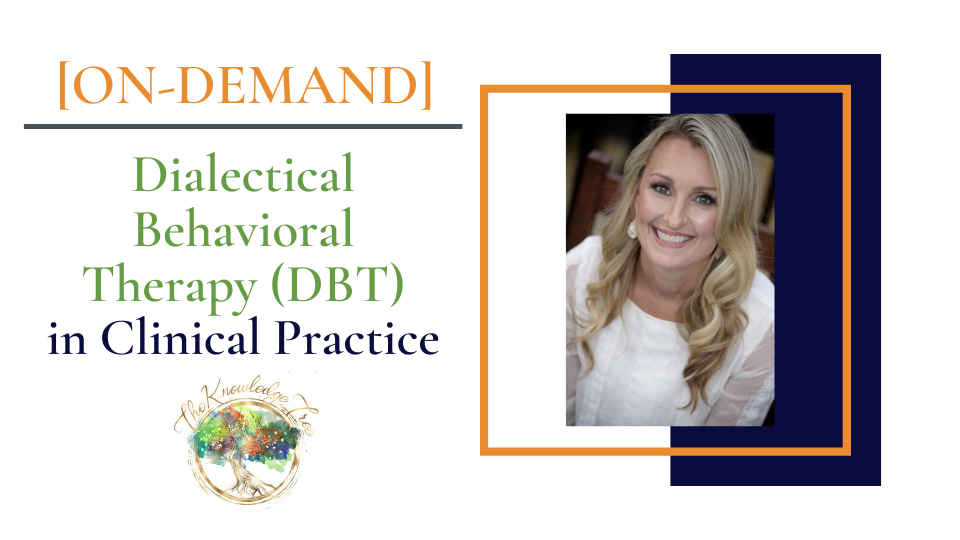 On-Demand: Dialectical Behavioral Therapy (DBT) in Clinical Practice - 5 CEUs
To access the discount form for registering for multiple workshops or participants, please click here.
CE Hours Included: 5 Core (please see below for details)
Format: On-Demand Webinar ("Asynchronous") ~ At your leisure to be viewed at your own pace. You may pause, rewind, and fast forward at any point during the videos. You are in complete control of how you view this workshop. It also comes with a PowerPoint and references. There is a quiz at the end to ensure viewing and required by all CE approval organizations.
Investment:

$120 (provides lifetime access!)

Presented By: Tara Arnold, Ph.D., LCSW
Target Audience: Psychologists, Counselors, Social Workers, Marriage & Family Therapists, Psychotherapists, Other Mental Health Professionals
Instruction Level: Intermediate
Educational Objectives:

In this workshop, you will learn how to:

Define basic Dialectical Behavioral Therapy (DBT) terminology.

Discuss DBT concepts and their utilization in clinical practice.

Describe the four skills training modules of DBT.

Identify several DBT skills training exercises to be used in a group format.

Apply validation strategies to help increase a client's readiness to change.
Workshop Description:
The DBT in Clinical Practice presentation will explore mindfulness, emotional regulation, distress tolerance, radical acceptance, and interpersonal effectiveness. We will review the basic concepts and terminology of DBT. Participants will learn how to apply DBT principles in their personal clinical practice settings. Examples of group exercises and content application will be provided.
By attending this presentation, the participants will have a better understanding of DBT concepts and terminology. Ways to apply the therapy to individual practice will be illuminated, which are the techniques that are best practices with people who have come from invalidating or abusive environments. Participants will have a strong foundation of DBT concepts as a result of this workshop.
Presented by: Tara Arnold, Ph.D., LCSW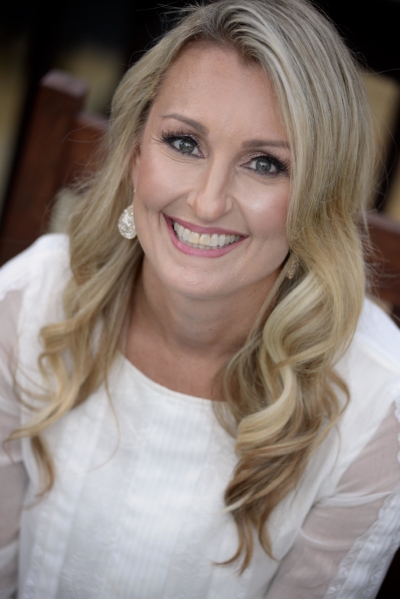 Tara Arnold, PhD, LCSW, CEDS-S is the Clinical Director and co-founder of WholeHeart Psychotherapy, a practice specializing in healing relationships with food, sex, and body. Dr Arnold is intensively trained in DBT an d a renowned speaker in Dialectical Behavior Therapy (DBT) and has presented nationally educating clinicians on DBT techniques since 1999. In her practice at WholeHeart Psychotherapy in Atlanta, Dr Arnold conducts individual therapy and group therapy in body image, DBT, interpersonal dynamics, and healing eating disorders.
What people are saying about Dr. Arnold's workshops:
"Excellent Workshop! Presenter was clear and concise. Well planned! She provided practical skills to use with clients. Lastly Tara Knows her stuff! Expert!" - D.L.M.

"The workshop was practical, stayed on task while remaining engaging. I loved the experiential aspects and believe this really helped solidify the information presented." - L.B.

"Love all the skills. I actually loved that most of the things said were included in the slides. In this case, the wordier the better. So many physical tools and the tapping skills were really impressive." - D.E.

"I like how she used videos to help explain her points. She was very engaging!" - S.M.H.

"Seasoned teacher with great examples and different opportunities/ways to learn content." - J.D.S.

"Presenter is fantastic; excellent training." - R.A.

"The presenter was very prepared and the videos were perfectly chosen." - C.L.

"Presenter is expert in her knowledge and skills. There are those that have the knowledge but can not teach but Dr. Arnold has the knowledge and CAN teach." - K.T.

"Dr. Arnold was very impressive. The information presented gave me the language that I try to verbalize in notes and to my clients. I believe my imagination was stirred to convey my ideas and opinions. The concept came to life for me from the workshop. Thank you" - CT, APC

"I think it was great information. The presenter was knowledgedable and shared appropriate visual aids." - CW, LMSW

"Outstanding workshop. Recruited me to the DBT perspective! Gained lots of overview information on DBT that motivated me to dive deeper." - MG, Clinical Psychologist

"I feel the entire presentation was well done from the instructor to the handouts. I especially enjoyed the inclusion of video segments." - AWE

"enjoyed the workshop-kept my interest throughout! competent, presentation was well thought out" – JG

"I enjoyed the webinar approach versus your standard zoom meeting where videos and mute is accessible by attendees. Also the Q&A option made the information more streamlined and focused the flow of the information being shared and when. The presenter was very knowledgeable and explained content clearly and thoroughly given time constraints." - MP, APC
5 "Asynchronous" Core CE Clock Hours Included - Details by License Type Below:
To view our various workshop policies, including our multi-workshop discount & refund policy, please click here.
We are an approved vendor for the U.S. Department of Veterans Affairs (VA) for easy reimbursement of educational expenses for VA employees.
Blank Page Issues? We have received some reports about compatibility issues with our website while attempting to pay for a workshop resulting in blank pages. According to our website host, this is a known security issue with Internet Explorer (particularly when someone is about to use a credit card). Microsoft stopped supporting Internet Explorer in January 2016, and they updated it to Microsoft Edge. Our website is updated constantly to offer the highest level of security. If you experience issues while using Internet Explorer, we recommend updating your browser to Edge or using another browser (e.g., Google Chrome, Safari, or FireFox). This should fix the issue and be more secure for you in general. Or, you may always enroll another way here. We apologize for any inconvenience.
For information about our Continuing Education Workshops, please contact our Continuing Education
Workshop Coordinator at: