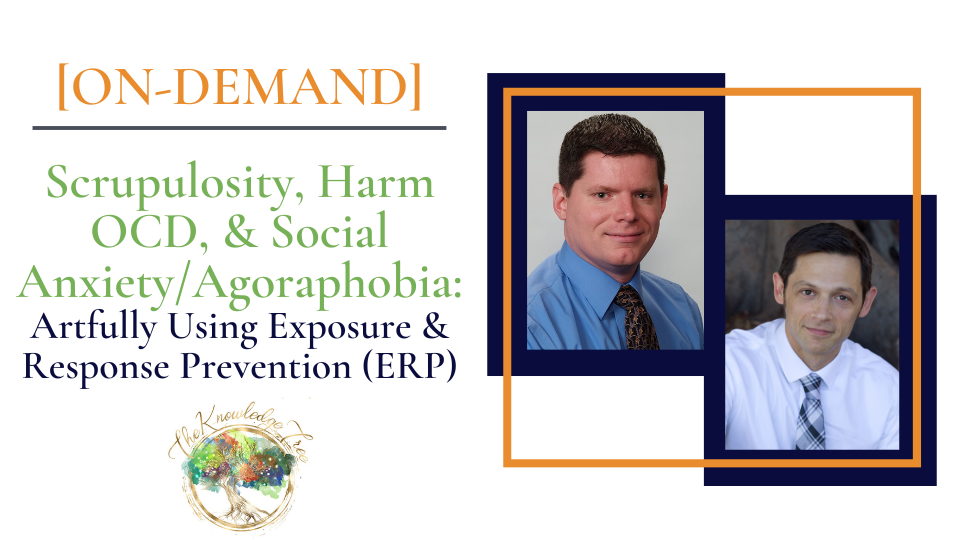 On-Demand: Scrupulosity, Harm OCD, & Social Anxiety/Agoraphobia: Artfully Using Exposure & Response Prevention (ERP) - 5 CEUs
To access the discount form for registering for multiple workshops, please click here.
CE Hours Included:

5 Core (see below for more information)

Format: On-Demand Webinar ("Asynchronous") ~ At your leisure to be viewed at your own pace. You may pause, rewind, and fast forward at any point during the videos. You are in complete control of how you view this workshop. It also comes with a PowerPoint and references. There is a quiz at the end to ensure viewing and required by all CE approval organizations.
Investment: $120 (provides lifetime access!)
Presented by: Patrick McGrath, Ph.D. & Jon Hershfield, LMFT (see bios below)
Target Audience: Psychologists, Counselors, Social Workers, Marriage & Family Therapists, Psychotherapists, Other Mental Health Professionals
Instruction Level: Intermediate
Previous training in ERP strongly suggested
Educational Objectives:
In this workshop, you will learn how to:

Define Harm OCD, Moral Scrupulosity, Social Anxiety, & Agoraphobia and how this cluster of disorders has increased since COVID-19.

Describe Exposure & Response Prevention (ERP) exercises that can be used to help people with Harm OCD.

Identify creative ways to approach ERP that can be used to help people with Moral Scrupulosity.

Apply ERP techniques to the treatment of Social Anxiety and Agoraphobia, particularly since the absence of regular social contact for so many people during COVID-19 has worsened their fears and phobias.

Explain the use of Interoceptive-based ERP to clients to combat fears of panic sensations and the importance of leaning into them vs. trying to relax them away.

Contrast the provision of safety behaviors for anxiety and OCD in regular talk therapy to the use of response prevention in the use of ERP for these conditions.
Workshop Description:
While Exposure & Response Prevention (ERP) may have changed in the way it is delivered during COVID-19, the reasons and ways that it works have remained the same. To put it another way, we can know the science, but it is the art of it that can be difficult at times, particularly if you're utilizing telemental health.
Join anxiety and OCD experts Jon Hershfield and Dr. Patrick McGrath as they take you through the experience of the art of Exposure and Response Prevention therapy for Harm OCD, Moral Scrupulosity, Social Anxiety, and Agoraphobia. Now, at first glance, you may say, "That is an interesting collection of specific diagnoses to review!" And you are correct; it is interesting, but it also makes great sense. Due to COVID-19, people have become more and more concerned about harming other people, have been stuck in making the right decisions about how to act, have become more isolated, and have shown more anxiety as we get back into navigating the "in-person" world. Since these themes are likely to be quite prevalent amongst the clients you are seeing, join this talk to learn the best ways to manage their fears with ERP and avoid falling into the traps of safety-seeking behaviors that, while they feel good in the moment, keep people trapped in the long term.
Presented by: Patrick McGrath Ph.D.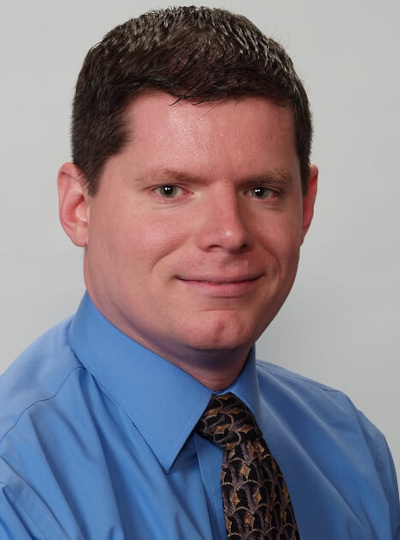 Patrick B. McGrath, Ph.D., is a licensed Clinical Psychologist in the states of Illinois, Michigan, and Missouri. Dr. McGrath specializes in the treatment for Anxiety, OCD, and PTSD. To treat these disorders, he utilizes Cognitive Behavioral Therapy and Exposure and Response Prevention.
Dr. McGrath has given over 800 presentations on the treatment of Anxiety Disorders, OCD, and PTSD at schools, hospitals, private practices and universities, as well as local, national, and international conferences. He has trained therapists national and internationally for PESI and the TATRA training corporations.
Dr. McGrath has supervised over 50 students in his career through practicum, internship, and postdoctoral fellowships. He is the author or co-author of numerous peer reviewed journal articles, and has also authored a book on OCD (The OCD Answer Book) and a stress management manual (Don't Try Harder, Try Different).
Dr. McGrath currently serves as the Head of Clinical Services for NOCD, leading their teletherapy services across the United States to help people with OCD. He is also a Lead Psychologist at AMITA Health, where he opened Intensive Outpatient, Partial Hospital, and Residential Treatment Programs for Anxiety Disorders, OCD, and PTSD. He is also the President of Anxiety Centers of Illinois, a private practice group, and a member of the Scientific and Clinical Advisory Boards of the International OCD Foundation. He is a Fellow of the Association for Behavioral and Cognitive Therapies, and the President of OCD Midwest.
Jon Hershfield, LMFT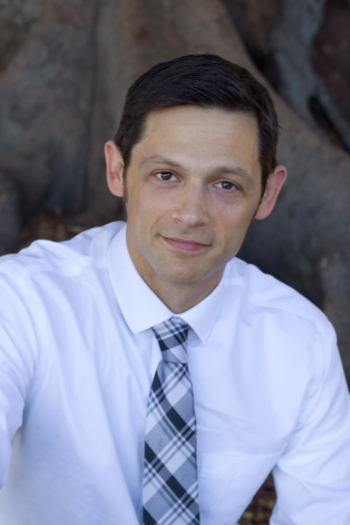 Jon Hershfield, MFT is a psychotherapist and director of The Center for OCD and Anxiety at Sheppard Pratt, which provides evidence-based outpatient care for individuals and families with OCD and related disorders. He also directs the OCD Program at the Retreat, Sheppard Pratt's private pay residential program. Prior to joining Sheppard Pratt, Jon was Director of The OCD and Anxiety Center of Greater Baltimore, Associate Director of the UCLA Pediatric OCD Intensive Outpatient Program at Resnick Neuropsychiatric Hospital, and psychotherapist at the OCD Center of Los Angeles. He is co-author of The Mindfulness Workbook for OCD and Everyday Mindfulness for OCD and author of When a Family Member Has OCD, Overcoming Harm OCD, and The OCD Workbook for Teens. Jon is a frequent speaker at International OCD Foundation events and webinars and the annual conference of the Anxiety and Depression Association of America.
What people are saying about this workshop:
"I was trained in ERP about 7 years ago, so it was really nice to get an intensive refresher and to realize where my practice has veered. the both of you are such knowledgeable and easy presenters. thanks! this was wonderful!" - MW, LCSW

"I loved the interaction between Jon and Patrick! I gained knowledge about a method (ERP) that I have never used in the past. I love the Knowledge Tree workshops with all their variety and excellent speakers. I could not "think up" anything better." - MEH, LCSW

"The presenters were knowledgeable, engaging, and relatable." - LL, LCSW

"Loved having the 2 presenters." - JW, LCSW
5 "Asynchronous" Core CE Clock Hours Included - Details by License Type Below:
To view our various workshop policies, including our multi-workshop discount & refund policy, please click here.
We are an approved vendor for the U.S. Department of Veterans Affairs (VA) for easy reimbursement of educational expenses for VA employees.
Blank Page Issues? We have received some reports about compatibility issues with our website while attempting to pay for a workshop resulting in blank pages. According to our website host, this is a known security issue with Internet Explorer (particularly when someone is about to use a credit card). Microsoft stopped supporting Internet Explorer in January 2016, and they updated it to Microsoft Edge. Our website is updated constantly to offer the highest level of security. If you experience issues while using Internet Explorer, we recommend updating your browser to Edge or using another browser (e.g., Google Chrome, Safari, or FireFox). This should fix the issue and be more secure for you in general. Or, you may always enroll another way here. We apologize for any inconvenience.
For information about our Continuing Education Workshops, please contact our Continuing Education
Workshop Coordinator at: