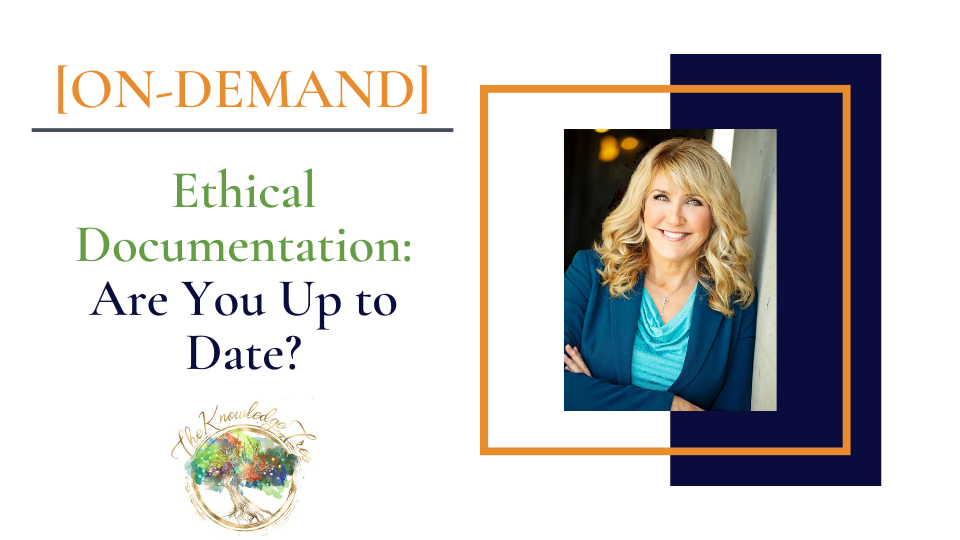 On-Demand: Ethical Documentation: Are You Up to Date? - 3 CEUs
To access the discount form for registering for multiple workshops or participants, please click here.
CE Hours Included: 3 Ethics, Core, or Related (please see below for CE details)

Format: On-Demand Webinar ("Asynchronous") ~ At your leisure to be viewed at your own pace. You may pause, rewind, and fast forward at any point during the videos. You are in complete control of how you view this workshop. It also comes with a PowerPoint and references. There is a quiz at the end to ensure viewing and required by all CE approval organizations.
Investment: $87 (provides lifetime access!)

Presented by: Becky Beaton-York, Ph.D. (see bio below)
Educational Objectives:
In this workshop you will learn how to:

Explain the essentials of clinical documentation: what needs to be in a client record; how to write progress notes from a risk management perspective; who has access to records; who owns the records, and the difference between psychotherapy notes and the medical record.

Identify the three keys to ethically terminate with a client while preventing abandonment & the importance of documenting termination thoroughly.

Describe how to document sensitive information such as abortion, HIV, affairs, etc. that will protect both the client and the therapist.

Explain the importance of educating your clients about your policies regarding social media, technology and other essential components of TeleMental Health.

Review the necessary requirements for the No Surprises Act.

Discuss disclosure to clients regarding where & how charts are stored, retention of records, and ways to go over a chart with a client if appropriate.

Describe the importance of a Collateral Informed Consent to Treatment when working with family members, partners, or friends other than the identified client.

Discuss the frequently overlooked ingredients needed in an informed consent to treatment that will help you maintain an ethical practice and prevent future malpractice claims as well as prevent going to court (that is, unless you want and plan to do forensic work).

Explain the HIPAA Business Associate Agreement as well as the importance of a solid contract between therapists practicing together.
Workshop Description:
This workshop addresses multiple ethics issues that all center around documentation and risk management strategies. In addition to her work on ethics committees, Dr. Beaton-York has served as an ethics expert in several malpractice cases. She also founded and managed a large group practice for 15 years where she encountered insurance audits, records requests, custody disputes, court orders, subpoenas, sticky termination issues, and so much more. She utilizes these experiences to discuss what clinicians need to do to protect themselves as well as their clients by establishing documentation policies and maintaining appropriate records.
Dr. Beaton-York is known for providing the most up-to-date information in a very relaxed, down to earth style. She uses interesting examples and humor to keep the audience engaged - yes, even in an ethics workshop!
Bonus: Members who enroll in this course will receive a 25% discount on all of Dr. Beaton-York's attorney-approved forms packages to make your life easier!
Presented by: Becky Beaton-York, Ph.D.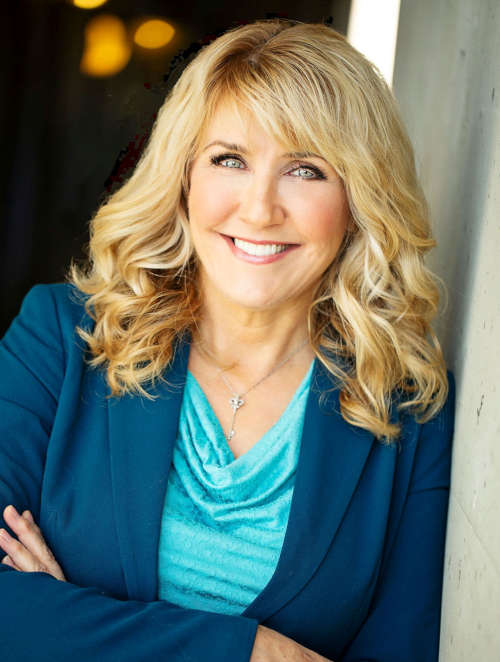 Dr. Becky Beaton-York was the Ethics Chair for the Georgia Psychological Association (GPA) for eight years, and she has been on their Ethics Committee since 2010. She was honored to receive a special award from GPA for her work on helping educate members about the No Surprises Act (NSA). Regarding the NSA, she was also an invited speaker for the American Mental Health Counselors Association of America on the matter. Prior to becoming licensed as a Psychologist, Dr. Beaton-York was the Ethics Chair for LPCA of Georgia for two years. LPCA voted Dr. Beaton-York Counselor Educator of the Year, and she was also given their Lifetime Achievement Award. She is still Licensed as a Professional Counselor in addition to being a Licensed Psychologist. A fun fact about Dr. Beaton is that she was a regularly featured psychologist on Discovery Studio's "Hoarding: Buried Alive" for four years, and she has also been on the Anderson Cooper Show, CNN Headline News, & Good Morning America.
What people are saying about this workshop:
"Amazing workshop!! I learned so much from Becky's experience as an ethics expert in malpractice cases and her experience in general - this course is a must for every clinician, supervisor, and practice owner!!" R.D.

"I've learned more practical information in this one workshop than all the other ethics workshops I've taken combined – 15 years worth!" N.P.

"I usually brace myself for ethics being boring, but Becky was able to make it engaging and even enjoyable. The time actually flew by." J.M.

"Her handouts are incredible. I'm leaving with a great resource to refer back to." D.R.

"Dr. Becky knew the relevant laws, ethical guidelines, & general best practices that apply to the field & was able to explain complex and "scary" concepts in a really easy to understand manner. I have taken jurisprudence seminars and undergone training where note-writing was addressed, but never "technically" addressed. This is the first time I've ever had someone outline exactly what to put in a note and a termination summary, explain the rationale, and indicate that it should be fact-only. It made so much sense and was very helpful." - TL, Licensed Psychologist

"Outstanding as always - thank you Becky for your attention to detail and organizing how to effectively present this info to other clinicians!" - MSP, LPC

"Clear and concise information. I really appreciate the thought taken into presenting sensitive topics." - AJ

"Love your presentation style and obvious knowledge re subject matter." - LBC, LCSW
3 Ethics, Core, or Related CE Clock Hours:
Psychologists: The Knowledge Tree (TKT) is approved by the American Psychological Association to sponsor continuing education for psychologists. TKT maintains responsibility for this program and its content.

Georgia Psychologists: All online webinars (both real-time "synchronous" and on-demand "asynchronous") count the same as "live" throughout 2022 (including ethics). There is also a proposed Board rule to make this change permanent. Please stay tuned for updates.
Licensed in another state: The Knowledge Tree is a Continuing Education Sponsor Approved (CESA) by APA, so all of our workshops should satisfy your CE requirements, but please check your state rules.

Counselors: The Knowledge Tree has been approved by the National Board for Certified Counselors (NBCC) as an Approved Continuing Education Provider, ACEP No. 7153. Programs that do not qualify for NBCC credit are clearly identified. The Knowledge Tree is solely responsible for all aspects of the programs.

Georgia Counselors: This workshop has been approved for 5 Core Hours as an "On-Demand - asynchronous" course by NBCC (ACEP # above). NBCC hours satisfy the requirements of the Georgia Composite Board. They do not need to be approved by LPCA. This 5 CE course needs to be "Core" because the Georgia Composite Board requires that all Ethics hours be obtained either live or via a live synchronous webinar.

Licensed in another state as a Counselor: The Knowledge Tree is approved by NBCC as an Approved Continuing Education Provider, so all of our workshops should satisfy your CE requirements, but please check your specific state rules to be certain.
Licensed in Canada as a Counselor: This workshop is approved for 3 credit hours through CCPA, event code: 64960719.


Social Workers and Marriage & Family Therapists: The Knowledge Tree (TKT) is approved by the American Psychological Association (APA) to sponsor continuing education for psychologists. The Knowledge Tree has also applied for approval for this workshop through GSCSW. This workshop is also approved for 3 ethics or core CE hours through GSCSW, approval #081222.

Georgia: Because we have national approval for all our courses through APA, this workshop would be part of your option for up to 15 "Related Hours." For Masters Licensed Therapists in Georgia, "Related" hours are allowed to comprise up to 15 hours of the total 35 hours required per renewal period (10 hours of On-Demand are expressly permitted, and the extra five would be your optional Independent Study hours). "Ethics" hours must be obtained via a live "Synchronous" event (either in-person or Live Webinars). Please see our Live Webinars for Ethics options.

Licensed in another state as a Social Worker or MFT: The Knowledge Tree has national approval for all our courses through APA. Many states will accept APA-approved continuing education hours, but please check your specific state rules & regulations.
To view our various workshop policies, including our multi-workshop discount & refund policy, please click here.
We are an approved vendor for the U.S. Department of Veteran's Affairs for easy reimbursement of educational expenses for VA employees.
Blank Page Issues? We have received some reports about compatibility issues with our website while attempting to pay for a workshop resulting in blank pages. According to our website host, this is a known security issue with Internet Explorer (particularly when someone is about to use a credit card). Microsoft stopped supporting Internet Explorer in January 2016, and they updated it to Microsoft Edge. Our website is updated constantly to offer the highest level of security. If you experience issues while using Internet Explorer, we recommend updating your browser to Edge or using another browser (e.g., Google Chrome, Safari, or FireFox). This should fix the issue and be more secure for you in general. Or, you may always enroll another way here. We apologize for any inconvenience.
For information about our Continuing Education Workshops, please contact our Continuing Education
Workshop Coordinator at: