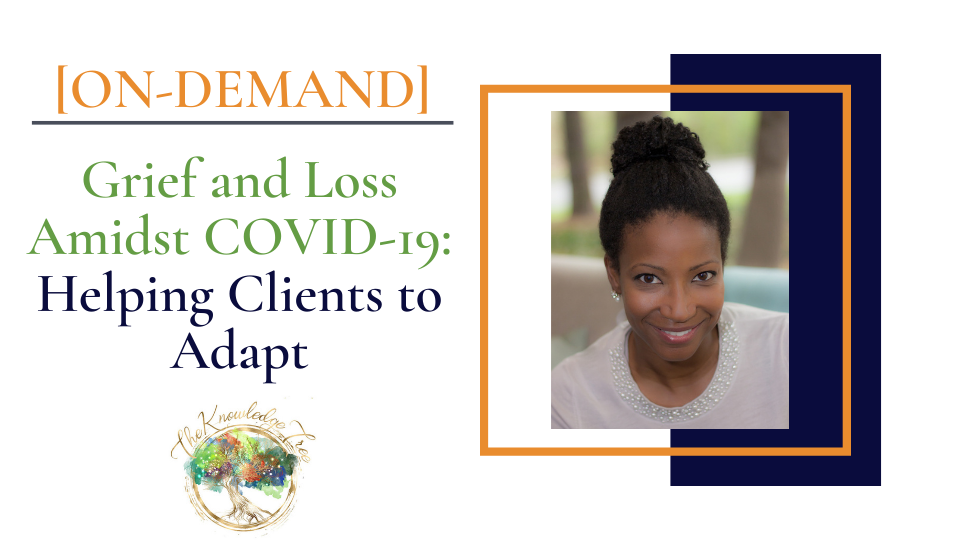 On-Demand: Grief and Loss Amidst COVID-19: Helping Clients to Adapt - 5 CEUs
To access the discount form for registering for multiple workshops or participants, please click here.
CE Hours Included: 5 Core (see below for more information)
Format: On-Demand Webinar ("Asynchronous") ~ At your leisure to be viewed at your own pace. You may pause, rewind, and fast forward at any point during the videos. You are in complete control of how you view this workshop. It also comes with a PowerPoint and references. There is a quiz at the end to ensure viewing and required by all CE approval organizations.
Investment:

$120 (provides lifetime access!)

Presented by: Angela Bethea-Walsh, Ph.D.
Target Audience: Psychologists, Counselors, Social Workers, Marriage & Family Therapists, Psychotherapists, Other Mental Health Professionals
Instruction Level: Intermediate
Educational Objectives:
In this workshop, you will learn how to:

Discuss different theoretical frameworks for grief and loss.

Define the different types of grief and loss.

Analyze grief and loss unique to the COVID-19 pandemic.

Discuss potential mental health outcomes related to pandemic losses.

Utilize 3 interventions to support clients in adapting to multiple losses.

Identify cultural issues that impact the grief process.

Develop a plan for how to integrate skills into clinical practice.
Workshop Description:
The COVID-19 pandemic has become the leading cause of death worldwide. New estimates project that the worldwide death toll will reach almost 3 million by January 1, 2021. Grief and traumatic loss during COVID-19 encompasses more than COVID-related patient death. Rates of death by suicide and drug-related deaths by overdose have increased during the pandemic. Physical distancing and other COVID-19 protocols have engendered ambiguous losses including the absence of traditional/cultural rituals in the grieving process, abrupt separation from friends and loved ones, job and financial loss, and loss of child care. The absence of significant changes in family roles and division of labor cause significant relationship strain, hamper relationship intimacy, and shift identity. Many who have contracted COVID-19 are socially stigmatized. The prolonged nature of these losses place clients at risk for complex bereavement disorder as well as other prolonged psychiatric symptoms and isolation. Dr. Bethea-Walsh will discuss therapeutic tools to support clients to manage suffering and to make meaning in the mourning process.

Presented by: Angela Bethea-Walsh, Ph.D.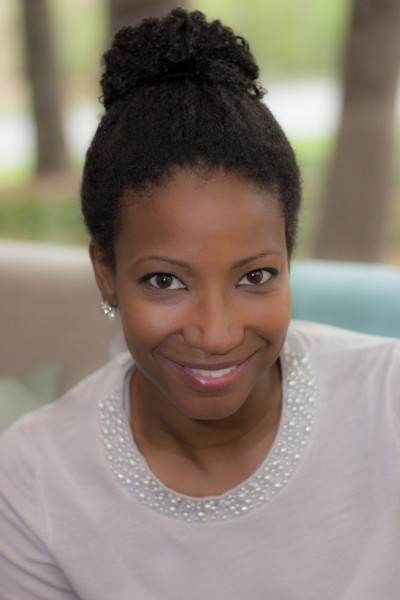 Angela R. Bethea-Walsh, Ph.D., is a Licensed Psychologist in Georgia. She received her doctoral degree in Counseling Psychology from Lehigh University. She completed a 3-year Postdoctoral Fellowship in Clinical Health and Addictions Psychology at Mount Sinai St. Luke's-Roosevelt Hospital Center, Columbia University College of Physicians and Surgeons.
She is currently the owner of Bethea Consulting and Psychological Services, P.C. (Bethea CPS), a private practice located in Atlanta, Georgia. As a Psychologist, she specializes in delivering evidence-based, culturally-sensitive interventions to treat problematic substance use, substance use disorders, stress related to racial and sexual identity development, relationship concerns, grief and loss, depression, anxiety (including performance anxiety), insomnia, weight loss, chronic pain and illness management.
Her trainings are fast-paced, highly informative and interactive. For more information about Dr. Bethea-Walsh, her clinical work and workshop experience, go to: http://www.betheacps.com
What people are saying about this workshop:
"Fantastic presentation. Dr. Bethea-Walsh maintained my interest and I found the information culturally relevant, personally relevant, and clinically useful. I enjoyed the interaction as well." - LM, PsyD

"She kept everyone engaged with the subject matter & was very clear in explaining the concepts presented. Nothing could have been improved. Great presentation!" - MV, LPC

"Highly skilled in the work that she does. Great work!" - SH

"Excellent presenter and excellent material. It was also a good format to allow us to be reminded of and to practice self-compassion for the day. Fresh approach; good questions for exploring / processing with my clients. Thank you!" - PJL, LPC

"She was very engaging and knowledgeable." - AB, Psych

"The presenter was fabulous- incredibly informative, held my attention and her voice was so warm. She had an amazing playlist!" - LM, APC

"Great information on grief, especially during this time." - SS, APC

"The presentation was great! Dr. Bethea-Walsh did a great job presenting the material in a way that was interactive and informative." - MM, LMSW

"Well informed and organized. Thank you so much...very helpful!" - PM, LPC

"This workshop was great and very informative. I really enjoyed the class. This was the first and not the last time taking course with Knowledge Tree." - SB, LPC

"Thank you! It was well worth my time." - ED, LCSW

"Very well organized, researched and useful." - JW, LPC
5 "Asynchronous" Core CE Clock Hours Included - Details by License Type Below:
To view our various workshop policies, including our multi-workshop discount & refund policy, please click here.
We are an approved vendor for the U.S. Department of Veterans Affairs (VA) for easy reimbursement of educational expenses for VA employees.
Blank Page Issues? We have received some reports about compatibility issues with our website while attempting to pay for a workshop resulting in blank pages. According to our website host, this is a known security issue with Internet Explorer (particularly when someone is about to use a credit card). Microsoft stopped supporting Internet Explorer in January 2016, and they updated it to Microsoft Edge. Our website is updated constantly to offer the highest level of security. If you experience issues while using Internet Explorer, we recommend updating your browser to Edge or using another browser (e.g., Google Chrome, Safari, or FireFox). This should fix the issue and be more secure for you in general. Or, you may always enroll another way here. We apologize for any inconvenience.
For information about our Continuing Education Workshops, please contact our Continuing Education
Workshop Coordinator at: