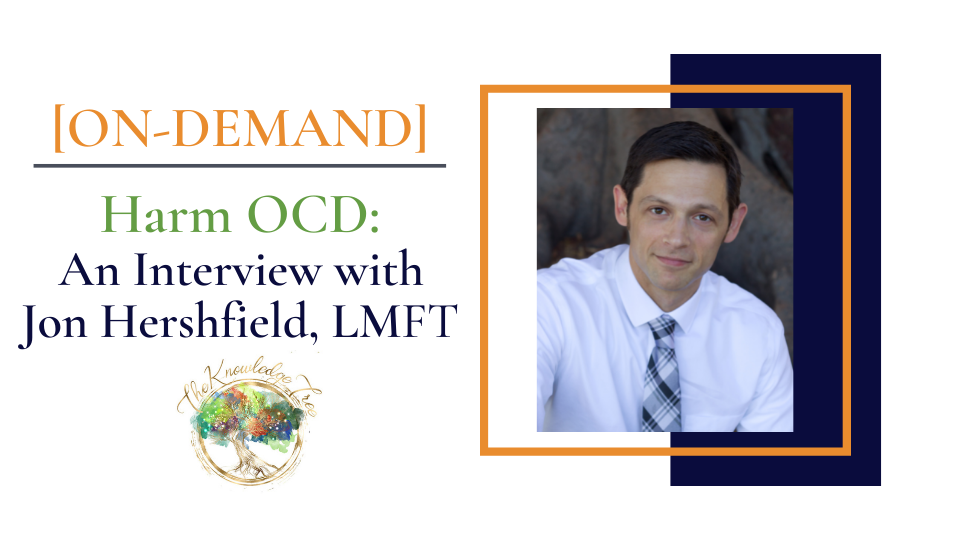 On-Demand: Harm OCD: An Interview with Jon Hershfield, LMFT - 1 CEU
To access the discount form for registering for multiple workshops or participants, please click here.
CE Hours Included: 1 Core or Related (see below for more details)
Format: On-Demand Webinar ("Asynchronous") ~ At your leisure to be viewed at your own pace. You may pause, rewind, and fast forward at any point during the videos. You are in complete control of how you view this workshop. It also comes with a PowerPoint handout and multiple handouts & forms. There is a quiz at the end to ensure viewing and required by all CE approval organizations.
Investment: $24.50 (provides lifetime access!)
Presented by: Jon Hershfield, LMFT
Target Audience: Psychologists, Counselors, Social Workers, Marriage & Family Therapists, Psychotherapists, Other Mental Health Professionals
Instruction Level: Intermediate
Educational Objectives:
In this workshop, you will learn how to:

Define Harm OCD: What it is and what it is not

Discuss how to assess for Harm OCD and rule-out more truly dangerous diagnoses.

Review briefly the Gold Standard in treating OCD, Exposure & Response Prevention (ERP), and how to apply ERP strategies to this often difficult to treat manifestation of OCD.
Workshop Description:
If you work with OCD or would like to learn more about OCD, understanding Harm OCD is a must. Having violent thoughts is a normal human experience -- Yes, it is normal. What a person does with those thoughts and the meaning they assign to them is much more important than the fact that the thoughts exist. For people with Harm OCD, the thoughts can be horrifying and debilitating if left untreated. For people trying to understand and treat Harm OCD, the thoughts can also be pretty darn scary if you're not sure what to do. Please join us for this live-streaming Zoom interview with expert Jon Hershfield, LMFT to receive an hour packed full of helpful information.
Facilitated by: Jon Hershfield, LMFT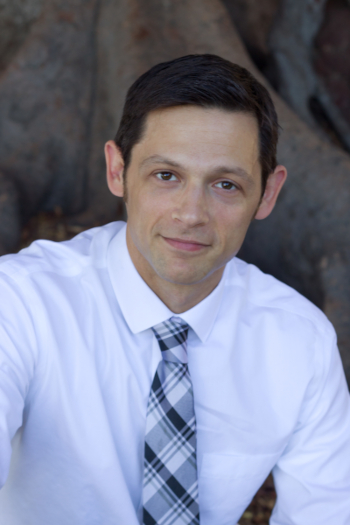 Jon Hershfield, MFT is a psychotherapist and director of The Center for OCD and Anxiety at Sheppard Pratt, which provides evidence-based outpatient care for individuals and families with OCD and related disorders. He also directs the OCD Program at the Retreat, Sheppard Pratt's private pay residential program. Prior to joining Sheppard Pratt, Jon was Director of The OCD and Anxiety Center of Greater Baltimore, Associate Director of the UCLA Pediatric OCD Intensive Outpatient Program at Resnick Neuropsychiatric Hospital, and psychotherapist at the OCD Center of Los Angeles. He is co-author of The Mindfulness Workbook for OCD and Everyday Mindfulness for OCD and author of When a Family Member Has OCD, Overcoming Harm OCD, and The OCD Workbook for Teens. Jon is a frequent speaker at International OCD Foundation events and webinars and the annual conference of the Anxiety and Depression Association of America.
What people are saying about this workshop:
"Presenter was excellent, I liked the interview format, very good choice for this time frame. Dr. Beaton was an excellent interviewer, set a great tone." - LS, LCSW

"Wonderful presentation" - SC, LAPC

"Jon Hershfield is a professional and I could tell he knows what he is talking about. Impressed with him." - KB, LPC

"He was very knowledgeable and I got a lot out of it." - HM, LAPC
1 "Asynchronous" Core or Related CE Clock Hour Included - Details by License Type Below:
To view our various workshop policies, including our multi-workshop discount & refund policy, please click here.
We are an approved vendor for the U.S. Department of Veterans Affairs (VA) for easy reimbursement of educational expenses for VA employees.
Blank Page Issues? We have received some reports about compatibility issues with our website while attempting to pay for a workshop resulting in blank pages. According to our website host, this is a known security issue with Internet Explorer (particularly when someone is about to use a credit card). Microsoft stopped supporting Internet Explorer in January 2016, and they updated it to Microsoft Edge. Our website is updated constantly to offer the highest level of security. If you experience issues while using Internet Explorer, we recommend updating your browser to Edge or using another browser (e.g., Google Chrome, Safari, or FireFox). This should fix the issue and be more secure for you in general. Or, you may always enroll another way here. We apologize for any inconvenience.
For information about our Continuing Education Workshops, please contact our Continuing Education
Workshop Coordinator at: