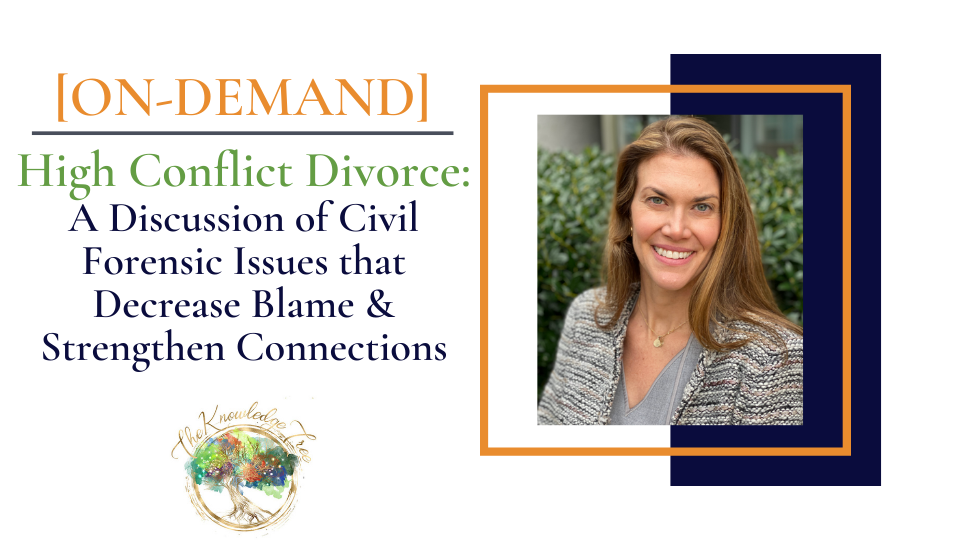 On-Demand: High Conflict Divorce: A Discussion of Civil Forensic Issues that Decrease Blame and Strengthen Connections - 5 CEUs
To access the discount form for registering for multiple workshops or participants, please click here.
CE Hours Included: 5 Core (please see below for details)
Format: On-Demand Webinar ("Asynchronous") ~ At your leisure to be viewed at your own pace. You may pause, rewind, and fast forward at any point during the videos. You are in complete control of how you view this workshop. It also comes with a PowerPoint and references. There is a quiz at the end to ensure viewing and required by all CE approval organizations.
Investment: $120 (provides lifetime access!)
Presented by: Allison Hill, J.D., Ph.D.

Target Audience: Psychologists, Counselors, Social Workers, Marriage & Family Therapists, Psychotherapists, Other Mental Health Professionals
Instruction Level: Intermediate
Educational Objectives:

In this workshop, you will learn how to:

Evaluate the distinction between diagnoses and dynamics in high conflict family systems, and why the diagnostic system does not work in these cases.

Identify cases in which the use of alienation is appropriate, and when it is best to use other language such as estrangement, sabotaging, and counter productive protective parenting.

Recognize ten parental alienation fallacies that compromise clinical decision making, and discuss transference and countertransference issues when serving a clinical role in a case with a polarized child.

Develop an evaluative framework by which to approach and discuss resist-refuse cases, and recognize all of the domains in the family system that require evaluation.

Identify appropriate systemic intervention strategies and techniques in these cases and risk management considerations.
Workshop Description:
You don't have to be a child custody evaluator to find yourself pulled into a polarized family system. Attachments, alignments and enmeshments have all been a part of evaluating families from a systems perspective. This framework is especially important following high conflict divorce proceedings when children may be aligned with one parent or resisting contact with another parent. Formerly known as "alienation cases," these cases are now referred to as "resist/refuse" cases. This change in terminology reflects a shift from a blame-focused perspective to a solution-focused perspective, emphasizing examination of the entire family system.
Additionally, there must be a shift in focus from diagnoses to dynamics when approaching a case with a polarized child. Clinicians who are only dealing with one family member (e.g., a parent or child in individual therapy) need to be mindful of making assumptions in the absence of contact with the entire family system. This presentation will discuss the shifts in research and treatment approaches to these cases and the current research on the resiliency of youth in high-conflict family systems.
Presented by: Allison B. Hill, J.D., Ph.D.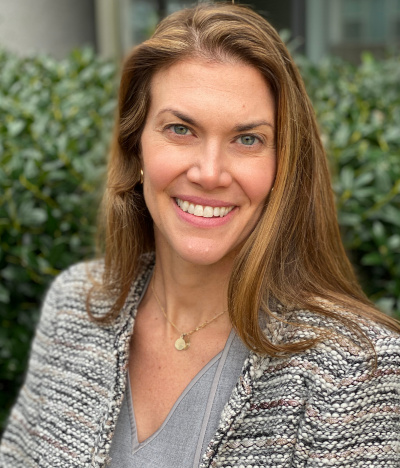 With a law degree from Villanova University and a doctoral degree in Clinical Forensic Psychology from Drexel University, Dr. Allison Hill is uniquely qualified for forensic clinical practice. Indeed, that is how she spends most of her time in her private practice – working with families in transition, couples in high conflict divorce, and conducting parental fitness and child custody evaluations. Dr. Hill is a member of the Georgia Bar, the Georgia Psychological Association, and is a past board member to the American Psychological Association Society for Family Psychology. Dr. Hill is an adjunct faculty member at Emory School of Medicine, and continues to supervise psychiatry residents and psychology students there. Finally, Dr. Hill serves on the Georgia Psychological Association Ethics Committee.
Dr. Hill's practice includes individual therapy for children, adults and families, child custody evaluations, parental fitness evaluations, reunification therapy, parent coordination and co-parenting counseling. She also works as a consultant for individuals in high conflict divorce.
When she isn't working, she is often found running after her two toddlers, playing tennis or getting outside. It is best when all three (sort of) happen at the same time!
What people are saying about Dr. Hill's workshops:
"This was a wonderful training and I am grateful to be able to use Dr. Hill as a resource for clients. Thank you so much." - T.F.F.

"Presenter and workshop was very well organized and the presenter knows her stuff! I love her direct and flexible approach to this work." - T.R.

"Presented in an organized and concise way. I think you clarified many issues in which most therapists are lost." - J.K.

"I enjoyed this workshop. The presenter was well informed, went at a good pace and I liked the use of video to enhance the conversation." - A.N.
5 "Asynchronous" Core CE Clock Hours Included - Details by License Type Below:
To view our various workshop policies, including our multi-workshop discount & refund policy, please click here.
We are an approved vendor for the U.S. Department of Veterans Affairs (VA) for easy reimbursement of educational expenses for VA employees.
Blank Page Issues? We have received some reports about compatibility issues with our website while attempting to pay for a workshop resulting in blank pages. According to our website host, this is a known security issue with Internet Explorer (particularly when someone is about to use a credit card). Microsoft stopped supporting Internet Explorer in January 2016, and they updated it to Microsoft Edge. Our website is updated constantly to offer the highest level of security. If you experience issues while using Internet Explorer, we recommend updating your browser to Edge or using another browser (e.g., Google Chrome, Safari, or FireFox). This should fix the issue and be more secure for you in general. Or, you may always enroll another way here. We apologize for any inconvenience.
For information about our Continuing Education Workshops, please contact our Continuing Education
Workshop Coordinator at: