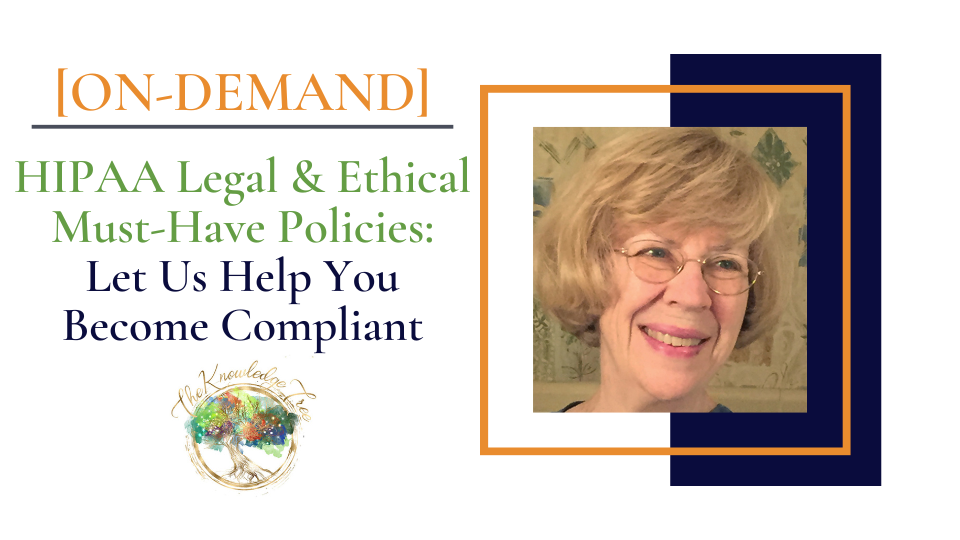 On-Demand: HIPAA Legal & Ethical Must-Have Policies: Let Us Help You Become Compliant - 5 CEUs
To access the discount form for registering for multiple workshops or participants, please click here.
CE Hours Included: 5 Ethics, Core, or Related (please see below for more details)

Format: On-Demand Webinar ("Asynchronous") ~ At your leisure to be viewed at your own pace. You may pause, rewind, and fast forward at any point during the videos. You are in complete control of how you view this workshop. It also comes with a PowerPoint and references. There is a quiz at the end to ensure viewing and required by all CE approval organizations.

Investment:

$120

Presented by: Susan C. Litton, Ph.D. (see bio below)
Instruction Level: Intermediate
Target Audience: Psychologists, Counselors, Social Workers, Marriage & Family Therapists, Psychotherapists, Other Mental Health Professionals
Learning Objectives:
In this workshop, you will learn how to:
Demonstrate a do-it-yourself method for HIPAA compliance.

Explain the difference between integrated vs. standalone tools for your practice.

List three advantages of integrated tools.

Explain why a risk assessment is essential to your HIPAA Security Policy.

Describe one method for conducting a HIPAA risk assessment.

Summarize the findings regarding provider breaches with email.

List three best practices to prevent email breaches.

Explain what is meant by "end-to-end encryption" and why that's important.

Describe how some products that are not end-to-end encrypted can still legally claim HIPAA compliance.

Explain why integrated tools such as Electronic Health Records (EHRs) and Electronic Medical Records (EMRs) make writing and maintaining your Security Policy easier.

Be able to develop procedures for responding to and reporting any security incidents or breaches of Protected Health Information (PHI).

Describe one or more ways to ensure you're using strong encryption protocols to ensure you're transmitting and storing PHI in ways that protect clients' confidentiality.
Workshop Description:
Do you have questions about the legal and ethical issues involved with using technology in mental health? Or maybe you always thought HIPAA didn't apply to you, but you're beginning to feel uneasy twinges about it. Or maybe you KNOW you should be HIPAA compliant, but you don't want to pay a consultant big bucks to ensure you're doing it right. This workshop tackles these issues and more. You will learn that although you ARE likely on the hook for HIPAA, you don't have to hire it done. Most of it can be completed as a one- to two-weekend do-it-yourself project using techniques and information taught in this workshop. This is not a "scare you into compliance" workshop but rather a relaxed and hopefully fun approach that will give you simple tools and information to help you make wise decisions for your practice's unique needs. You'll leave with the knowledge you need to work both ethically and legally, whether you're doing telemental health or in-office appointments. Come with questions! We hope this workshop can be interactive as well as informative. It doesn't HAVE to be boring.
Presented by: Susan C. Litton, Ph.D.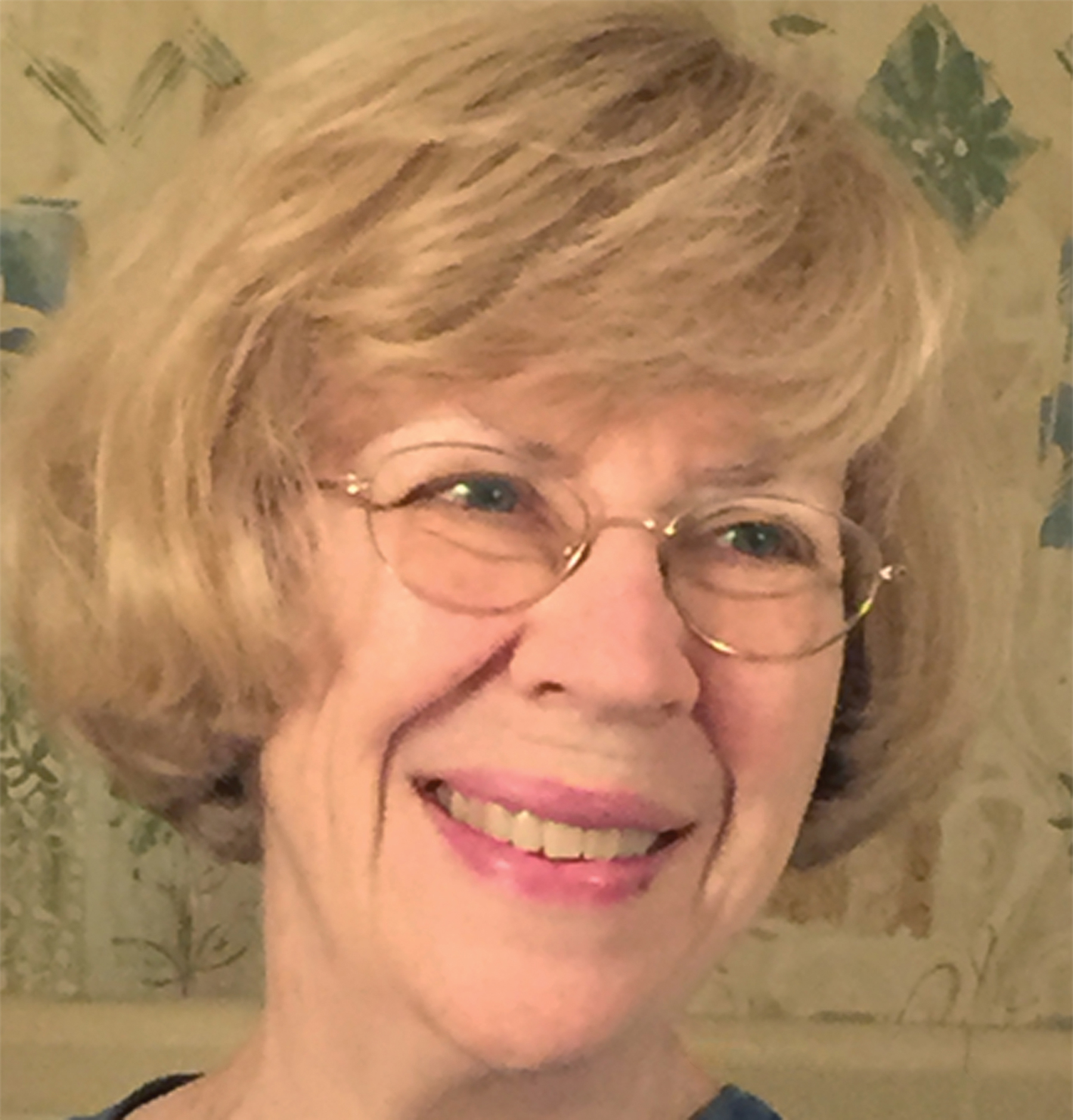 Susan C. Litton, Ph.D., holds degrees in both mental health and IT and is actively engaged with careers in both. She has been a clinical psychologist in private practice in Atlanta, Georgia, since 1985. She is also the owner and creator of the PSYBooks Electronic Health Records (ERH) & Portal for mental health professionals (www.psybooks.com). Dr. Litton's dual careers make her uniquely positioned to understand the ethical and legal needs of our profession. In 2012, when she was first sketching out plans for PSYBooks, she hired a HIPAA attorney to ensure that all I's were dotted and all T's crossed. The two of them worked closely together for months, with her describing the kinds of tools mental health providers would need, and he taught her how to make those tools compliant with HIPAA. Her knowledge of HIPAA has continued to deepen over time.
Additionally, Dr. Litton is an Advisor to Hale Healthcare IT Labs, a tech company devoted to building healthcare products. She was a charter member of the Coalition for Technology in Behavioral Science (CTiBS) and served as a CTiBS representative to the HL7 CBCC Workgroup, which is tasked with developing international standards for EHRs. Dr. Litton is the author of "Telehealth for the Mental Health Professions: Constructive and Evidence-Based Tips for Practicing Safely, Efficiently, and Legally."
What people are saying about this workshop:
"The presenter was energetic, creative, and fun. She made the workshop entertaining and informative." - DFS, Clinical Psychologist

"Fantastic & Informative!!!" - AV, LPC

"Amazing presentation and made something incredibly complicated become digestible." - LR

"It is a complicated and dense topic and she found ways to keep it interesting and fun. She's so knowledgable!!" - EW, LPC

"Dr. Susan was so nice and funny! This is a heavy and boring topic at times but she kept me tuned in the entire time just because she was so funny and great to listen to!!! Hope to see more from her!" - KB

"Presenter was very well-versed in the topic and presented it in-depth and in a lot of detail. A very informative workshop!" - SA, LPC

"Very informative and well-organized workshop with invaluable tools for implementation into practice." - AOR, LPC

"Intelligent, well researched, and just enough humor to keep it from being too dry!" - LRJ, LAPC
5 Ethics, Core, or Related "Asynchronous" CE Clock Hours Included - Details by License Type Below:
To view our various workshop policies, including our multi-workshop discount & refund policy, please click here.
We are an approved vendor for the U.S. Department of Veterans Affairs (VA) for easy reimbursement of educational expenses for VA employees.
Blank Page Issues? We have received some reports about compatibility issues with our website while attempting to pay for a workshop resulting in blank pages. According to our website host, this is a known security issue with Internet Explorer (particularly when someone is about to use a credit card). Microsoft stopped supporting Internet Explorer in January 2016, and they updated it to Microsoft Edge. Our website is updated constantly to offer the highest level of security. If you experience issues while using Internet Explorer, we recommend updating your browser to Edge or using another browser (e.g., Google Chrome, Safari, or FireFox). This should fix the issue and be more secure for you in general. Or, you may always enroll another way here. We apologize for any inconvenience.
For information about our Continuing Education Workshops, please contact our Continuing Education
Workshop Coordinator at: