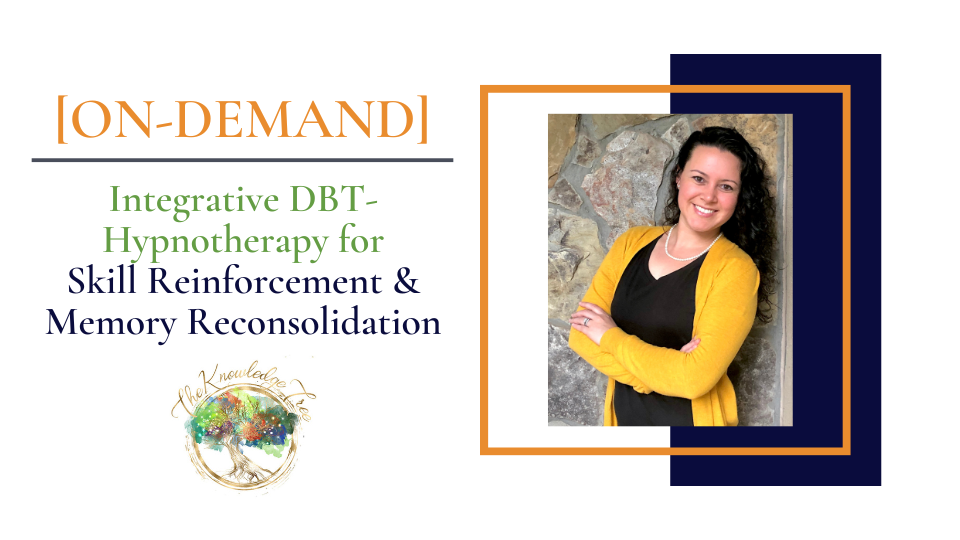 On-Demand: Integrative DBT-Hypnotherapy for Skill Reinforcement & Memory Reconsolidation - 6 CEUs
To access the discount form for registering for multiple workshops or participants, please click here.
CE Hours Included: 6 Core (please see below for more details)

Format: On-Demand Webinar ("Asynchronous") ~ At your leisure to be viewed at your own pace. You may pause, rewind, and fast forward at any point during the videos. You are in complete control of how you view this workshop. It also comes with a PowerPoint and references. There is a quiz at the end to ensure viewing and required by all CE approval organizations.
Investment: $140
Presented by: Ashlenn Von Wiegand, Ph.D. (see bio below)
Target Audience: Psychologists, Counselors, Social Workers, Marriage & Family Therapists, Psychotherapists, Other Mental Health Professionals
Instruction Level: Intermediate
Educational Objectives:
In this workshop, you will learn how to:
Discuss the different personality disorders and how to recognize them in clinical practice.

Describe the cutting-edge research on Dialectical Behavioral Therapy (DBT) and Hypnotherapy as it relates to treating clients.

Define Memory Reconsolidation and its benefits in helping clients who are stuck in their trauma and/or personality disorder.

Identify the importance of scripts to help reinforce the use of skills for clients who are resistant to skills on their own.

Discuss ways to utilize "mini" counting and regressions that lead to containment within clients with difficulty regulating their emotions.

Observe and experience a hypnotic induction for skill reinforcement.

Develop a DBT-Hypno script to use with clients who have difficulty using skills outside of therapy.
Workshop Description:
We all know how difficult it is when we teach clients skills, and they lack the motivation and mindfulness to actually utilize those skills in their life. This workshop helps to equip participants with the resources needed to help clients break free from getting stuck in their ineffective behaviors. You will learn how to help clients bypass the critical mind and get on board with using skills through a hypnotic induction. Participants will also learn how to help their clients create new learning around traumas while helping their clients maintain the strength to tolerate the unwanted emotions. By attending this workshop, participants will have a better understanding of how to use an integration of DBT and Hypnotherapy to reinforce skills in some of the most challenging of clients.
Presented by: Ashlenn Von Wiegand, Ph.D., LPC, CCH, NCC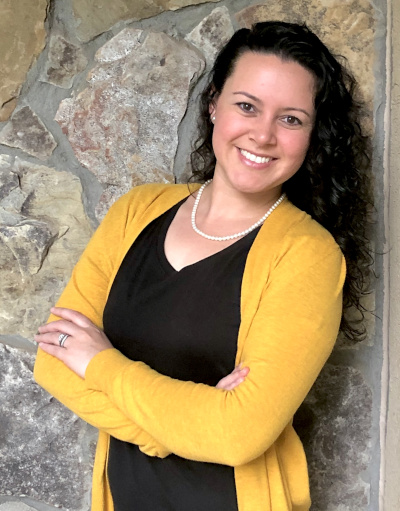 Ashlenn Von Wiegand, Ph.D., LPC, CCH, NCC is the Clinical Director and founder of Liberating Counseling Services, a practice specializing in anxiety disorders, self-harming behaviors, addictions, and behavior change.In her practice at Liberating Counseling Services, Dr. Von Wiegand provides individual and group therapy for OCD spectrum disorders, personality disorders, eating disorders, and addiction for children, adolescents, and adults.Dr. Von Wiegand is intensively trained in Dialectical Behavior Therapy (DBT) and Exposure and Response Prevention (ERP), and is a certified clinical hypnotherapist.She loves presenting and equipping clinicians with tools and resources to help them thrive in their practice.
6 "Asynchronous" Core CE Clock Hours Included - Details by License Type Below:
To view our various workshop policies, including our multi-workshop discount & refund policy, please click here.
We are an approved vendor for the U.S. Department of Veterans Affairs (VA) for easy reimbursement of educational expenses for VA employees.
Blank Page Issues? We have received some reports about compatibility issues with our website while attempting to pay for a workshop resulting in blank pages. According to our website host, this is a known security issue with Internet Explorer (particularly when someone is about to use a credit card). Microsoft stopped supporting Internet Explorer in January 2016, and they updated it to Microsoft Edge. Our website is updated constantly to offer the highest level of security. If you experience issues while using Internet Explorer, we recommend updating your browser to Edge or using another browser (e.g., Google Chrome, Safari, or FireFox). This should fix the issue and be more secure for you in general. Or, you may always enroll another way here. We apologize for any inconvenience.
For information about our Continuing Education Workshops, please contact our Continuing Education
Workshop Coordinator at: