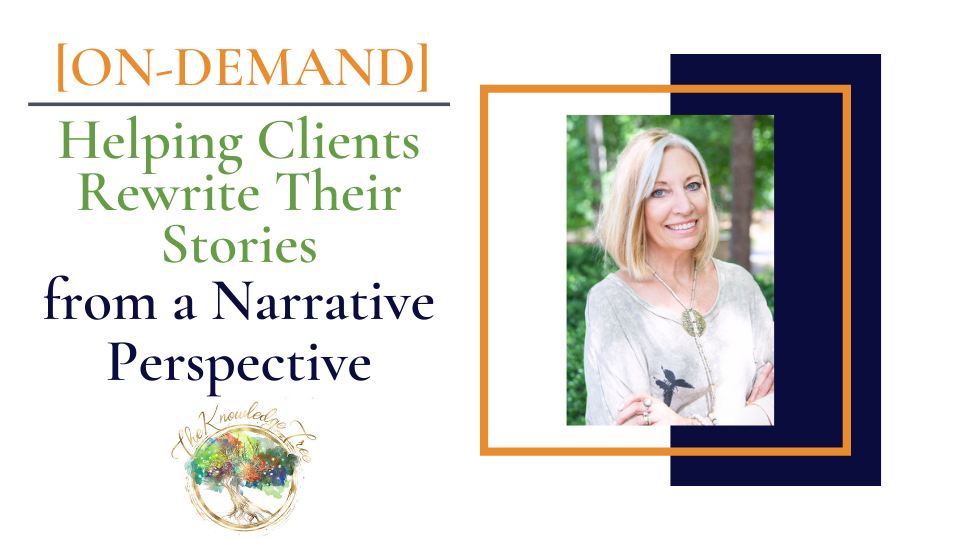 On-Demand: Helping Clients Rewrite Their Stories from a Narrative Perspective - 5 CEUs
To access the discount form for registering for multiple workshops or participants, please click here.
CE Hours Included: 5 Core (please see below for details)
Format: On-Demand Webinar ("Asynchronous") ~ At your leisure to be viewed at your own pace. You may pause, rewind, and fast forward at any point during the videos. You are in complete control of how you view this workshop. It also comes with a PowerPoint and references. There is a quiz at the end to ensure viewing and required by all CE approval organizations.
Investment:

$120 (provides lifetime access!)

Presented by: Linda Buchanan, Ph.D.

Target Audience: Psychologists, Counselors, Social Workers, Marriage & Family Therapists, Psychotherapists, Other Mental Health Professionals
Instruction Level: Intermediate
Educational Objectives:

In this workshop, you will learn how to:

Describe a useful model for differentiating schema, script, and narrative.

Educate your clients on the various factors which affect the nature of their narratives.

Utilize a template designed to enable your clients to increase mindfulness of the false narratives that they have developed, which may be preventing them from having a satisfying life and decreasing their ability to utilize therapy effectively.

Utilize a template designed to enable your clients to re-evaluate their false narratives and write a new narrative, which is more effective and true to their authentic selves.

Utilize specific mindfulness strategies from a variety of sources, such as ACT, DBT, and CBT, for rewiring the old story and replacing it with the new narrative.
Workshop Description:
The narratives of our clients, are often full of fallacy that can negatively impact efforts toward recovery. These narratives are affected by the environment as well as the inherent sensitivity of the child and the age of the child when stressors were experienced. Stories that our clients tell themselves can contain false scripts which interfere with their ability to understand their needs and may create severe ambivalence about getting their needs met (specifically around the needs of comfort and efficacy). Additionally, every time a thought, feeling or behavior is repeated, the neural pathways are strengthened making it very difficult to believe affirmations or truths that others voice to them.
This presentation will provide a step-by-step procedure for dealing with this problem. Useful definitions of schemas, narratives and scripts will be given so that techniques can be chosen to aid in dealing with each of these phenomena. The presentation will also provide very specific strategies for helping people increase awareness of the narratives which they have developed and understand the factors that have combined to influence their narratives. Attendees will be given handouts that clients can fill out to serve as a template for writing their old story in narrative form. Additionally, they will be given handouts which enable their clients to write a new story which utilizes aspects of their authentic self. These strategies will focus on identity and values. Finally, since insight is not enough to change the brain, participants will be given specific strategies that are well-designed for rewiring the brain to be receptive to the new narrative. Strategies will be chosen from ACT, DBT, and CBT.
Presented by: Linda Buchanan, Ph.D.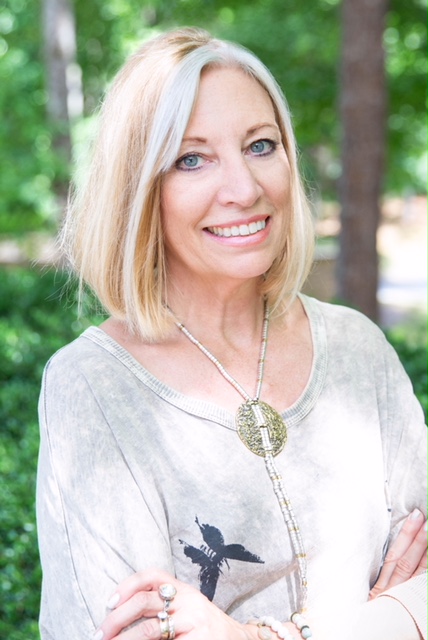 Dr. Linda Buchanan is a psychologist who has been working in the mental health field for over 30 years. She received her master's degree from Georgia State University and a Diploma from the Psychological Studies Institute (now known as Richmont University), from which she received the Distinguished Alumnus Award for her work in founding the Atlanta Center for Eating Disorders (ACE). Dr. Buchanan then went on to receive her Ph.D. from Georgia State University with a specialty in family therapy. Dr. Buchanan founded ACE in 1993, which she sold to Walden Behavioral Care in 2017. She now primarily focuses on consulting and writing. Her book A Clinician's Guide to Pathological Ambivalence was published in 2019, the content of which she has presented at national and international conferences. She has also self-published three workbooks (one serves as a client companion to the Clinician's Guide) which can be found on her website at www.lindapaulkbuchanan.com. Additionally, she has published four research articles on the treatment of eating disorders, including two outcome studies of the treatment provided at ACE and two book chapters. Dr. Buchanan serves as a peer reviewer of American Psychological Association (APA) Journals and writes a blog called From One Therapist to Another, writing about her experience gained in 35 years of clinical practice. She has been married for over 30 years and is the mother of two adopted sons.
What people are saying about this workshop:
"The presenter was an obvious master of Narrative Therapy. She was able to make the concepts available to everyone. I like the experiential exercises." - AOR, LPC

"I loved the connections made to IFS, Polyvagal, DBT, CBT, etc. I also loved the empty chair exercise with the sentence stems! I will be applying this method in my practice." - MK, APC

"This was very informative and practical! I really appreciated the demos and stories to accompany the content." - MM, LCSW

"Well done, instructor was excellent. Will be looking to her for more workshops." - JRM, LPC
5 "Asynchronous" Core CE Clock Hours Included - Details by License Type Below:
To view our various workshop policies, including our multi-workshop discount & refund policy, please click here.
We are an approved vendor for the U.S. Department of Veterans Affairs (VA) for easy reimbursement of educational expenses for VA employees.
Blank Page Issues? We have received some reports about compatibility issues with our website while attempting to pay for a workshop resulting in blank pages. According to our website host, this is a known security issue with Internet Explorer (particularly when someone is about to use a credit card). Microsoft stopped supporting Internet Explorer in January 2016, and they updated it to Microsoft Edge. Our website is updated constantly to offer the highest level of security. If you experience issues while using Internet Explorer, we recommend updating your browser to Edge or using another browser (e.g., Google Chrome, Safari, or FireFox). This should fix the issue and be more secure for you in general. Or, you may always enroll another way here. We apologize for any inconvenience.
For information about our Continuing Education Workshops, please contact our Continuing Education
Workshop Coordinator at: