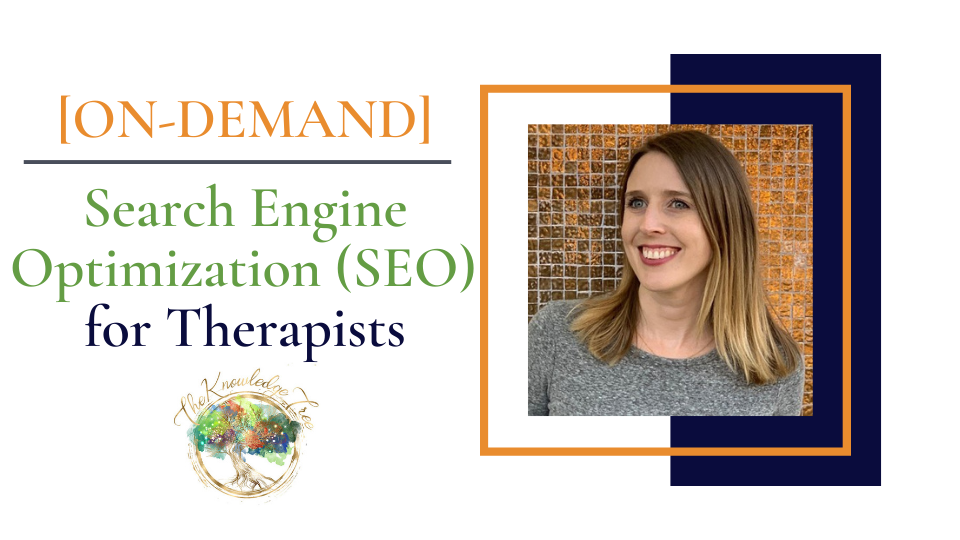 On-Demand: Search Engine Optimization (SEO) for Therapists - 1 CEU
To access the discount form for registering for multiple workshops, please click here.
CE Hours Included: 1 Core or Related (please see below for details)
Format: On-Demand Webinar ("Asynchronous") ~ At your leisure to be viewed at your own pace. You may pause, rewind, and fast forward at any point during the videos. You are in complete control of how you view this workshop. It also comes with a PowerPoint handout and multiple handouts & forms. There is a quiz at the end to ensure viewing and required by all CE approval organizations.
Investment: $24.50 (provides lifetime access!)
Presented by: Kelsi Collins
Target Audience: Psychologists, Counselors, Social Workers, Marriage & Family Therapists, Psychotherapists, Other Mental Health Professionals
Instruction Level: Intermediate
Educational Objectives:

In this workshop, you will learn how to:

Describe how Search Engine Optimization (SEO) works and the best practices to boost your website traffic.

Explain the biggest SEO mistakes people make and easy fixes that can boost your traffic in as little as 30 days.

Summarize how to research and choose the right keywords to describe your therapy specializations and practice.

Identify lucrative keywords for your specializations that can help you rank on search engines like Google.

Demonstrate how to write engaging content that clearly communicates what you do, who you serve, and why potential clients should book a consultation/appointment.

Apply Kelsi's formula for how to write compelling meta titles and descriptions that drive traffic to your site.

Outline technical SEO best practices including URL structure, image files, and page formatting.

Apply the strategies for effective link building by leveraging your social media for SEO and getting listed on mental health directories.

Describe how to write relevant and topical blog posts using your list of keywords and key phrases (blogs are a great way to position yourself as an expert in your field).

Utilize Kelsi's checklist that summarizes everything you need to increase your SEO in as little as 30 days.
Workshop Description:
Now more than ever, people are searching for therapy services online. During COVID-19, a therapist practice website has never been more critical. To appear on search engines like Google, you need to optimize your site using Search Engine Optimization (SEO). By leveraging SEO techniques, you can attract new clients to your website, increase bookings, and grow your practice.
During this SEO course for therapists, marketing expert Kelsi Collins will provide step-by-step strategies to boost organic traffic to your website. You will learn how to identify keywords that relate to your expertise, how to use keywords seamlessly throughout your content, and how to write compelling meta descriptions and titles (the snippets people see on Google). She will also provide easy techniques to write search-friendly content that will attract future clients.
After you have a clear understanding of how to optimize your own site, Kelsi will show you how to use link building to boost your SEO. You will learn how to use social media, guest blogging, and directories to build website authority— a key to your long-term SEO success. To wrap up the course, Kelsi will review the SEO best practices and the steps you need to take to improve your SEO. You will leave the course with a greater understanding of SEO, a formula for writing optimized website content, and a roadmap to increase your SEO in as little as 30 days.
Course Outline:
SEO basics

Why is SEO important?

What are the three types of SEO?

What are SEO keywords?

What are meta descriptions and titles?

Step One - Identify keywords for your practice

How to conduct effective SEO research.

How to identify keywords based on your specializations.

Step Two - How to optimize your website content

How to use keywords throughout your website content.

How to write blogs that boost your SEO and make you stand out as an expert in your field.

How to write compelling meta descriptions and titles that convert.

Step Three - Conduct a technical SEO audit

How to optimize your URLs, images, and make sure your pages are formatted correctly.

Step Four - Practice Link Building

How to leverage social media to increase your SEO.

How to get listed on mental health directories.

How to become a guest blogger on psychology and mental health websites.

30 Day Roadmap to Boost SEO

Step-by-step overview of how to get started with SEO.

A checklist of everything you need to do to boost your SEO traffic in as little as 30 days.

How to achieve long-term SEO success and grow SEO traffic over time.
Facilitated by: Kelsi Collins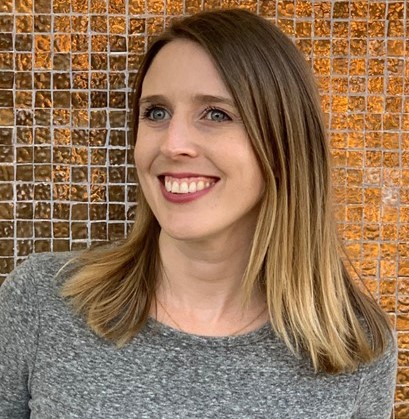 Kelsi Collins is a content marketing expert in the field of Health and Human Services. She has over ten years of experience helping organizations write client-attracting content and achieve high rankings on search engines. Before her current position as the communications lead for the College of Health and Human Services at the University of California, Long Beach, she managed the content marketing efforts for an addiction and mental health center. In the first two months of working at the center, she increased SEO by 20% using best practices. Kelsi Collins graduated with a Bachelor's Degree in Media Studies from the University of California, Berkeley, where she took classes in psychology, sociology, communications, and business. As an advocate of mental health, her goal is to help therapists connect with the clients that need their services the most.
What people are saying about this workshop:
"Well organized and well-presented webinar." - TW

"She was excellent: pleasant, upbeat, knowledgeable, clear, concise, and well organized." - JIM, Psychologist

"Kelsi is definitely very knowledgeable in SEO and could clearly explain it so that my knowledge quickly increased." - JB, Psychologist

"Wonderful presentation with lots of information." - MP, LPC

"I've always scoffed at SEO, but I'm going to take it more seriously from now on." - AB
1 "Asynchronous" Core or Related CE Clock Hours Included - Details by License Type Below:
To view our various workshop policies, including our multi-workshop discount & refund policy, please click here.
We are an approved vendor for the U.S. Department of Veterans Affairs (VA) for easy reimbursement of educational expenses for VA employees.
Blank Page Issues? We have received some reports about compatibility issues with our website while attempting to pay for a workshop resulting in blank pages. According to our website host, this is a known security issue with Internet Explorer (particularly when someone is about to use a credit card). Microsoft stopped supporting Internet Explorer in January 2016, and they updated it to Microsoft Edge. Our website is updated constantly to offer the highest level of security. If you experience issues while using Internet Explorer, we recommend updating your browser to Edge or using another browser (e.g., Google Chrome, Safari, or FireFox). This should fix the issue and be more secure for you in general. Or, you may always enroll another way here. We apologize for any inconvenience.
For information about our Continuing Education Workshops, please contact our Continuing Education
Workshop Coordinator at: