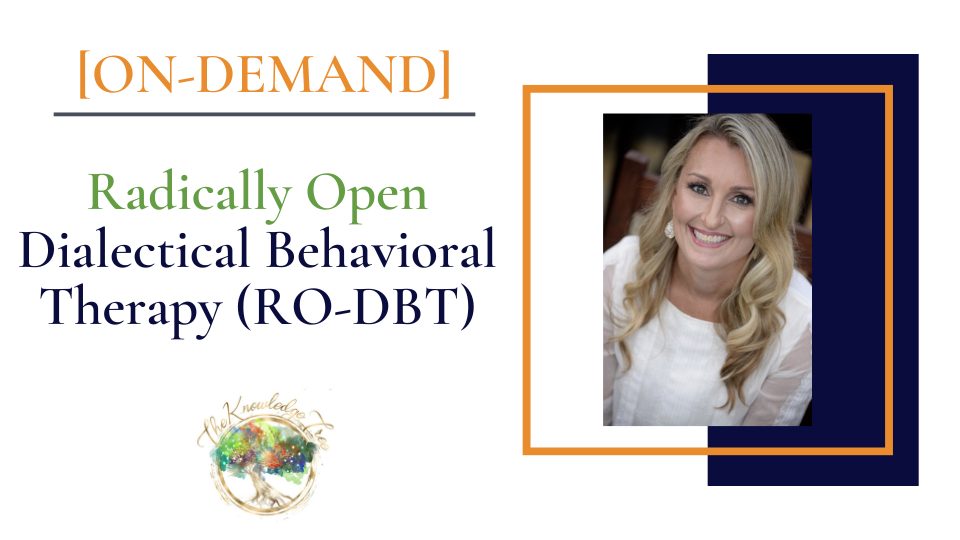 On-Demand: Radically Open Dialectical Behavioral Therapy (RO-DBT): The State-of-the-Art Treatment for Overcontrolled Clients - 5 CEUs
To access the discount form for registering for multiple workshops or participants, please click here.
CE Hours Included:

5 Core (please see below for more details)

Format: On-Demand Webinar ("Asynchronous") ~ At your leisure to be viewed at your own pace. You may pause, rewind, and fast forward at any point during the videos. You are in complete control of how you view this workshop. It also comes with a PowerPoint and references. There is a quiz at the end to ensure viewing and required by all CE approval organizations.
Investment: $120 (provides lifetime access!)
Presented by: Tara Arnold, Ph.D., LCSW (see bio below)
Instruction Level: Intermediate
Target Audience: Psychologists, Counselors, Social Workers, Marriage & Family Therapists, Psychotherapists, Other Mental Health Professionals
Educational Objectives:
In this workshop, you will learn how to:
Describe Radically Open DBT (RO-DBT)

Compare and contract radical openness with over-control and discuss ways to help clients learn to be flexible and tolerate the feeling of vulnerability to create "a life worth sharing."

Discuss self-enquiry and how to help clients find their 'edge' (aka their personal unknown) to pursue growth.

Review the RO DBT diary card

Define key RO DBT skills to help clients in recovery from Anxiety, Depression, Autism Spectrum Disorder, OCD, Anorexia, and more.
Workshop Description:
Over-control is often one of the hardest dynamics to treat in mental health recovery. The rigidity, perfectionism, or extreme anxiety that plague our clients can block important aspects of their deepest work. In the messy world of intimacy and relationships, clients must learn to be flexible and tolerate the feeling of vulnerability to create "a life worth sharing." To this end, we will explore RO-DBT and the skills and methods used in the treatment to help decrease the burden of control that is preventing them from making the progress in life that they seek. RO DBT helps to illuminate the suffering and loneliness experienced by so many of our clients despite them working so hard in life.
In recent years, especially in the pandemic and post-pandemic phases, there was so much loss, and many people were afraid to leave home and remained isolated, stressed, and afraid. By virtue of this unfortunate circumstance, people turned to food, alcohol, avoidance, and over-control for soothing, comfort, connection, attachment, and nurturance, making them feel even further away from their most intimate personal connections. Helping people feel reconnected to their tribes is a huge tenet of RO-DBT that we, as clinicians, can be empowered to utilize to help heal the emotional loneliness so many people face. RO DBT helps clients decrease the over-controlled behaviors that keep them isolated. RO DBT also helps decrease self-judgment, the judgment of others, perfectionism, depression, anxiety, obsessions, and rigidity, all found in our clients' hardest-to-treat aspects.
Join us for this state-of-the-art, evidenced-based treatment for teenagers and adults who cope with their emotions by exercising excessive self-control.
Presented by: Tara Arnold, Ph.D., LCSW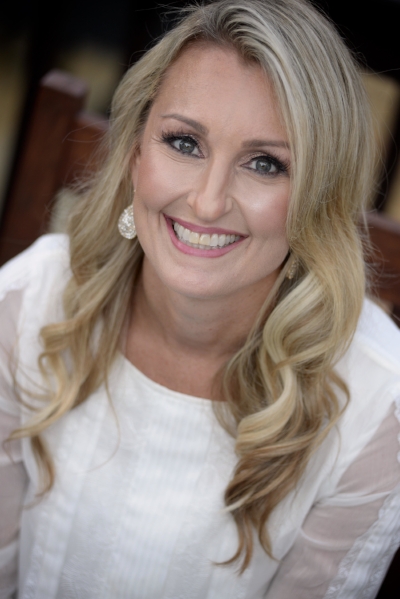 Tara Arnold, PhD, LCSW, CEDS-S is the clinical director and co-founder of WholeHeart Psychotherapy, a practice specializing in healing relationships with food, sex, and body. Dr. Arnold is intensively trained in DBT and a renowned speaker in Dialectical Behavior Therapy (DBT) and has presented nationally educating clinicians on DBT techniques since 1999. In her practice at WholeHeart Psychotherapy in Atlanta, Dr. Arnold conducts individual therapy and group therapy in body image, DBT, interpersonal dynamics, and healing eating disorders.
What people are saying about this workshop:
"The presenter did a great job presenting the material and the workshop was exceptional!" - WC, LCSW

"Tara was a very engaging and informed presenter and was able to clearly communicate the material in an engaging way." - DF, LPC

"Excellent in all areas!" - CC

Very well organized and I appreciate the personal examples. - BK

"This was a very good workshop, beneficial to my practice!" - JWJ, LCSW

"I enjoyed the workshop overall and I am looking forward to using some of the skills discussed to enhance treatment for my clients. This was really great, thank you!" - MP, APC
5 "Asynchronous" Core CE Clock Hours Included - Details by License Type Below:

To view our various workshop policies, including our multi-workshop discount & refund policy, please click here.
We are an approved vendor for the U.S. Department of Veterans Affairs (VA) for easy reimbursement of educational expenses for VA employees.
Blank Page Issues? We have received some reports about compatibility issues with our website while attempting to pay for a workshop resulting in blank pages. According to our website host, this is a known security issue with Internet Explorer (particularly when someone is about to use a credit card). Microsoft stopped supporting Internet Explorer in January 2016, and they updated it to Microsoft Edge. Our website is updated constantly to offer the highest level of security. If you experience issues while using Internet Explorer, we recommend updating your browser to Edge or using another browser (e.g., Google Chrome, Safari, or FireFox). This should fix the issue and be more secure for you in general. Or, you may always enroll another way here. We apologize for any inconvenience.
For information about our Continuing Education Workshops, please contact our Continuing Education
Workshop Coordinator at: