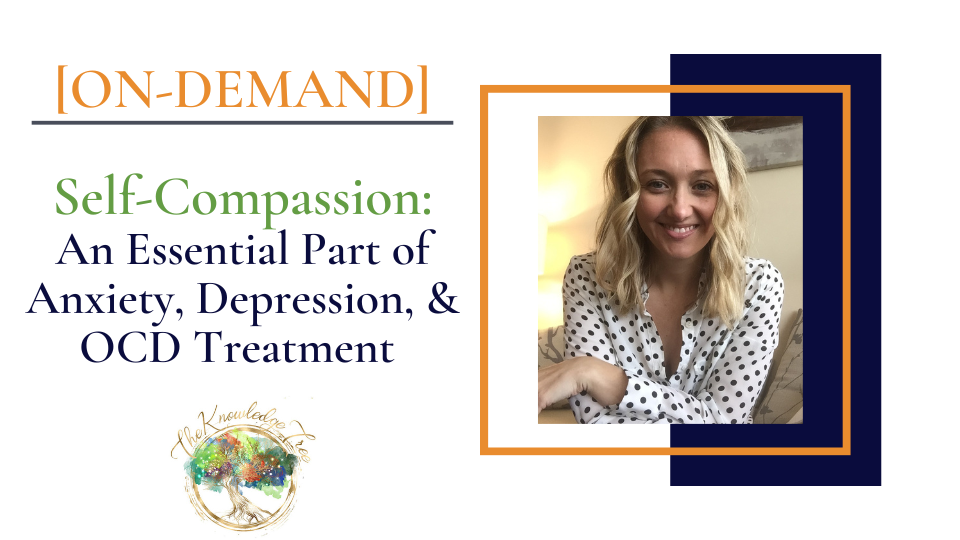 On-Demand: Self-Compassion: An Essential Part of Anxiety, Depression, & OCD Treatment - 3 CEUs
To access the discount form for registering for multiple workshops or participants, please click here.
CE Hours Included: 3 Core (please see below for details)

Format: On-Demand Webinar ("Asynchronous") ~ At your leisure to be viewed at your own pace. You may pause, rewind, and fast forward at any point during the videos. You are in complete control of how you view this workshop. It also comes with a PowerPoint and references. There is a quiz at the end to ensure viewing and required by all CE approval organizations.
Investment: $87

Presented by: Kimberly Quinlan, LMFT (see bio below)
Instruction Level: Intermediate
Target Audience: Psychologists, Counselors, Social Workers, Marriage & Family Therapists, Psychotherapists, Other Mental Health Professionals
Educational Objectives:
In this workshop, you will learn how to:

Identify the differences and similarities among self-compassion, self-esteem, self-worth, and self-confidence.

Discuss the role of self-criticism, self-judgment, and self-punishment in maintaining depression, OCD (including intrusive thoughts), & anxiety disorders (as well as perfectionism).

Compare and contrast how different psychotherapy modalities approach the practice of self-compassion.

Demonstrate how to apply self-compassion skills & practices to depression, OCD, & anxiety disorders.

Identify the roadblocks and challenges of including self-compassion in treating anxiety, depression, and OCD and how to overcome them in therapy.
Workshop Description:
Research shows that self-compassion is not only highly effective at reducing one's anxiety, depression, and stress, but it also improves motivation, positive self-talk, and an overall sense of well-being. Conversely, we also know that failing to identify symptoms of self-criticism, self-judgment, and self-punishment can lead to longer recovery times, increased treatment drop-out, and worsening mental health symptoms.
In this interactive workshop, attendees will learn how to utilize self-compassion as an essential tool in anxiety, depression, and OCD recovery. Kimberley Quinlan, a Licensed Marriage and Family Therapist & Author of The Self-Compassion Workbook for OCD, will demonstrate how powerful self-compassion can be in breaking the cycle of anxiety, OCD & depression as well as perfectionism and intrusive thoughts.
Kimberley will teach the foundations of self-compassion and allow attendees to practice and administer effective, evidence-based practices that will help with your the most challenging cases. This presentation will also cover the common roadblocks to self-compassion, and attendees will have an opportunity to troubleshoot some of their own (or their client's) struggles with self-kindness during a Q&A with the presenter.
Presented by: Kimberly Quinlan, LMFT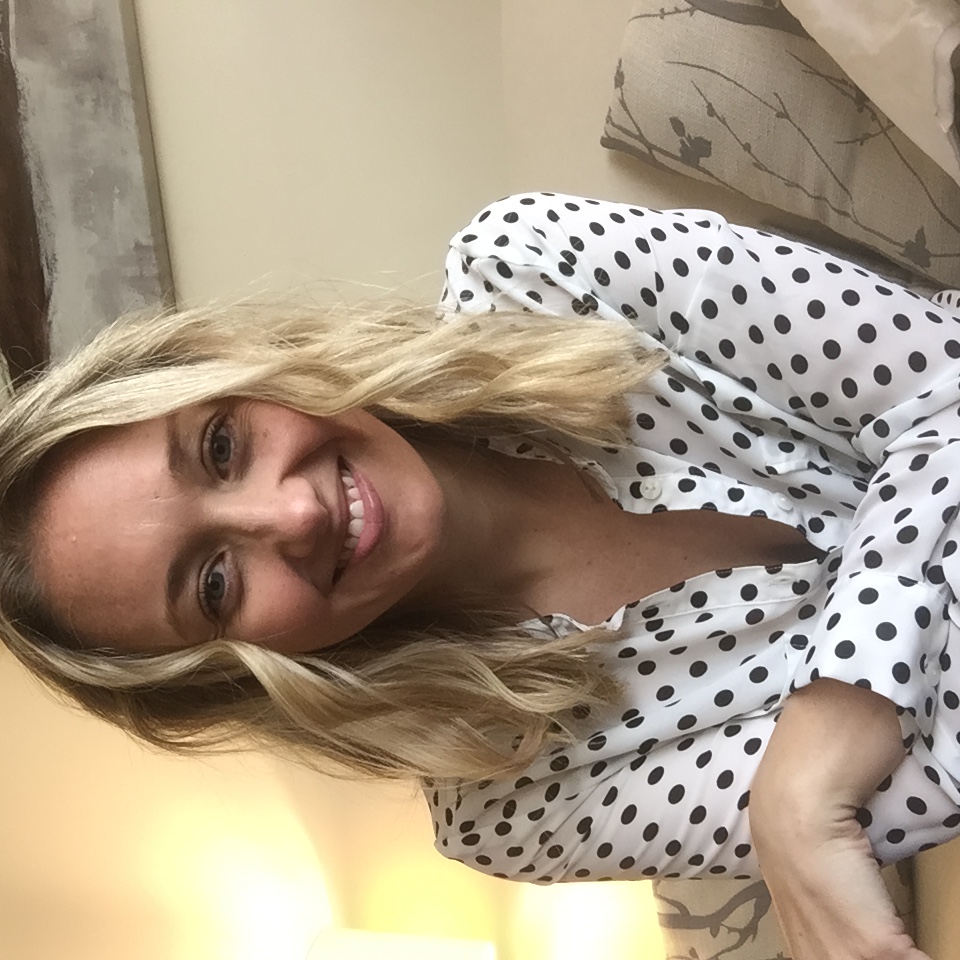 KIMBERLEY QUINLAN is a Licensed Marriage and Family Therapist and has a private practice in Calabasas, California, specializing in Anxiety, OCD and related disorders, and Eating Disorders.
Kimberley is also the founder of CBTschool.com, an online psycho-education platform that provides online courses for those with Obsessive Compulsive Disorder (OCD) and Body-Focused Repetitive Behaviors (BFRBs).
Kimberley is the author of The Self-Compassion Workbook for OCD and the host of Your Anxiety Toolkit Podcast. This podcast provides mindfulness-based tools for Anxiety, OCD, Depression, and BFRBs. She is particularly known for the practical skills she provides her 60,000+ followers!!!
What people are saying about this workshop:
"Well organized and informative. I will implement this approach with with my clients. Specifically those who have anxiety and grief and are struggling with self compassion. Very helpful course and well worth the time and money spent." - TNS

"The presenter was expert in this field and provided relevant and helpful research and tools." - GB, LPC

"I really enjoyed the end where the presenter discussed selling self-compassion as an insurance policy for therapy. It is the underlying tool that if you can create a new pathway to, can dramatically change an entire life. Really enjoy the layout of this program and learnings!" - AC, LCSW

"Thoroughly enjoyed Ms. Quinlan's presentation style and content." - ZR, LPC

"Her expertise in this area was evident. Really enjoyed her way of presenting things." - RW

"The compassion break exercise was new and helpful. I can use it in my practice. It was great!" - MGL

"It was very informative and included research data to support points." - TTC

"The presenter was engaging and highly prepared." - ES, LCSWA
3 "Asynchronous" Core CE Clock Hours Included - Details by License Type Below:
PSYCHOLOGISTS: The Knowledge Tree (TKT) is approved by the American Psychological Association (APA) to sponsor continuing education for psychologists. TKT maintains responsibility for this program and its content. For more detailed information on the current CE ruling in Georgia, or if you are licensed in another state or country, please click here.

The Knowledge Tree has been approved by the National Board for Certified Counselors (NBCC) as an Approved Continuing Education Provider (ACEP), ACEP No. 7153. Programs that do not qualify for NBCC credit are clearly identified. The Knowledge Tree is solely responsible for all aspects of the programs.

For more detailed information regarding CE approvals, please click here.

Counselors Licensed in Canada:

This workshop is approved for 3 credit hours through the Canadian Counseling and Psychotherapy Association (CCPA), event code: 64962604.
SOCIAL WORKERS: This workshop is approved for 3 core CE hours through the Georgia Society for Clinical Social Work (GSCSW), approval #013523. If you are licensed in another state or country, please click here for more detailed information.
MARRIAGE & FAMILY THERAPISTS: This workshop is approved for 3 core CE hours through the Georgia Association for Marriage & Family Therapy (GAMFT), approval #011-2023. If you are licensed in another state or country, please click here for more detailed information.
To view our various workshop policies, including our multi-workshop discount & refund policy, please click here.
We are an approved vendor for the U.S. Department of Veterans Affairs for easy reimbursement of educational expenses for VA employees.
Blank Page Issues? We have received some reports about compatibility issues with our website while attempting to pay for a workshop resulting in blank pages. According to our website host, this is a known security issue with Internet Explorer (particularly when someone is about to use a credit card). Microsoft stopped supporting Internet Explorer in January 2016, and they updated it to Microsoft Edge. Our website is updated constantly to offer the highest level of security. If you experience issues while using Internet Explorer, we recommend updating your browser to Edge or using another browser (e.g., Google Chrome, Safari, or FireFox). This should fix the issue and be more secure for you in general. Or, you may always enroll another way here. We apologize for any inconvenience.
For information about our Continuing Education Workshops, please contact our Continuing Education
Workshop Coordinator at: