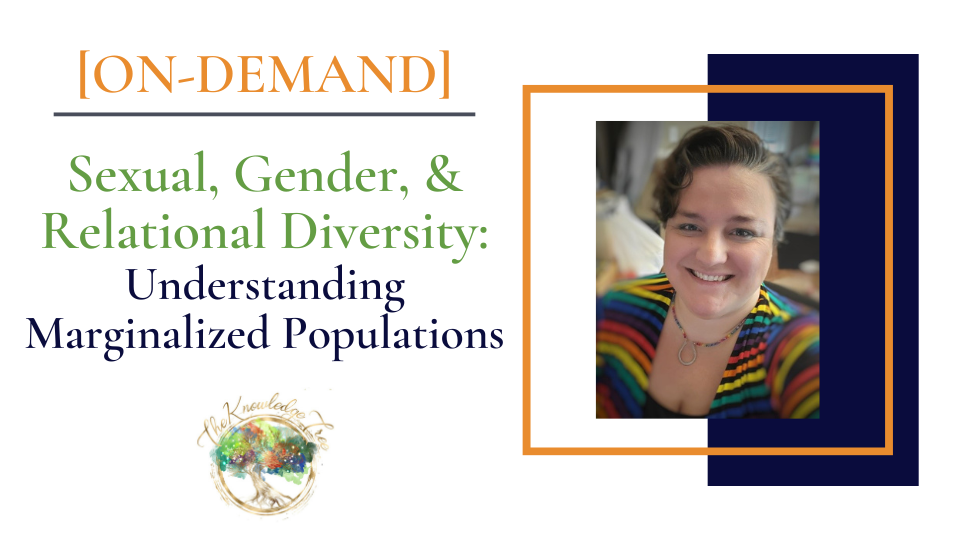 On-Demand: Sexual, Gender, & Relational Diversity: Understanding Marginalized Populations - 4 CEUs
To access the discount form for registering for multiple workshops or participants, please click here.
CE Hours Included: 4 Core (please see below for CE details)

Format: On-Demand Webinar ("Asynchronous") ~ At your leisure to be viewed at your own pace. You may pause, rewind, and fast forward at any point during the videos. You are in complete control of how you view this workshop. It also comes with a PowerPoint and references. There is a quiz at the end to ensure viewing and required by all CE approval organizations.
Investment: $109 (provides lifetime access!)

Presented by: Rachel Anne Kieran, Psy.D. (see bio below)
Instruction Level: Introductory
Target Audience: Psychologists, Counselors, Social Workers, Marriage & Family Therapists, Psychotherapists, Other Mental Health Professionals
Educational Objectives:
In this workshop, you will learn how to:
Describe sexual, gender, and relational diversity as alternatives to heterocentric, monocentric, and gender binary stereotypes promulgated by many social norms.

Identify sexual, gender & relational identities as among a client's multiple intersecting identities.

Discuss how socialization and norms may impact the development and expression of marginalized identities

Discuss the potential impact of minority stress on marginalized sexual, gender & relational identities.

Assess their own level of comfort/discomfort with ideas of sexual, gender & relational diversity and how this may enter the room and impact clients.
Workshop Description:
Sexual, gender, and relational diversity is essential to clinician understanding, as misunderstandings and pathologizing assumptions persist regarding these marginalized populations. Therapists encountering new clients are increasingly encountering terms that encompass a wide spectrum of sexual identities, behaviors, genders, and relationships. Take, for instance, words like polyamory, genderqueer, aromantic, and kink, which have become more prevalent as umbrella terms. However, the richness of human sexual and relational diversity surpasses any single term's capacity to encapsulate it. This is despite progressive revisions of professional standards that depathologized behaviors and identities and specific calls for professions to address stigma and research suggesting authentic self-expression and behavior in these areas are associated with positive psychological outcomes.
This program will provide a broad overview of sexual, gender, and relational diversity, placing these in a framework of intersecting identities and sociocultural influences. The goal of the session will be to focus on understanding the influence of powerful social norms that do not represent an accurate view of human experience and to share research that may help participants recognize and challenge their own preconceptions surrounding each of these areas.
Presented by: Rachel Anne Kieran, Psy.D.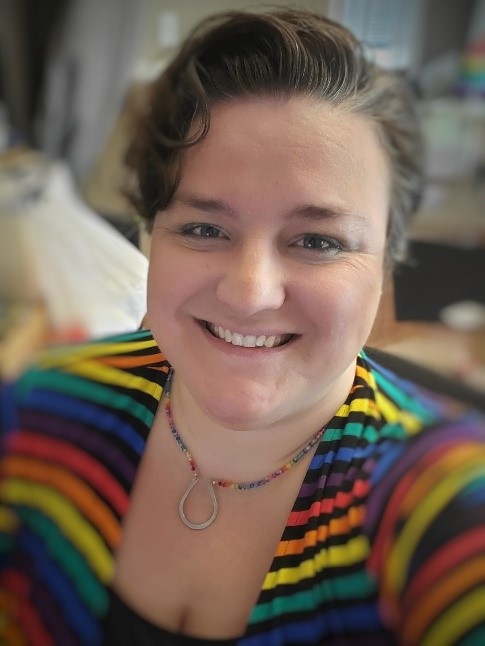 A graduate of Jacksonville University in Jacksonville, Florida with Bachelors degrees in History and Psychology, I received my Masters and Doctorate in Clinical Psychology from the University of Denver. Prior to opening a private practice, I worked for Regis University in Denver and Georgia State University in Atlanta - providing clinical services for students in both positions.
In 2007 I opened a private practice, now known as StorieBrook Therapy & Consulting. The mission of this practice is to provide a range of services specializing in sexual, gender & relational diversity, recognizing that this is an expansive category, intersecting with all other identities and requiring deliberate opportunities for access, cultural humility on the part of providers, and bespoke collaboration with clients to meet their unique needs. Our practice values include access, anti-racism, body liberation, collaboration, cultural humility, public & professional education, inclusion & affirmation, social justice, and trauma-informed care.
In addition to running this practice, I teach in the Department of Psychological Science at Kennesaw State University, and I frequently provide continuing education workshops for other mental health professionals, particularly in the areas of sexual, gender, and relational diversity, locally and nationally. I am also a leader and Past President of the Georgia Psychological Association and a current campaign chair of the APA Division 44 Committee on Consensual Non-Monogamy.
What people are saying about this workshop:
"Knowledgeable, engaging, thoughtful, and willing to challenge. I have new ways to approach my clients and evaluations of myself." - CE, LMFT

"Excellent presentation. Pacing was good. Balance between information and time for questions was excellent." - AOR

"Great presentation! I am interested in attending more trainings by this presenter." - MM
4 "Asynchronous" Core CE Clock Hours Included - Details by License Type Below:
PSYCHOLOGISTS: The Knowledge Tree (TKT) is approved by the American Psychological Association (APA) to sponsor continuing education for psychologists. TKT maintains responsibility for this program and its content. For more detailed information on the current CE ruling in Georgia, or if you are licensed in another state or country, please click here.
COUNSELORS: The Knowledge Tree has been approved by the National Board for Certified Counselors (NBCC) as an Approved Continuing Education Provider (ACEP), ACEP No. 7153. Programs that do not qualify for NBCC credit are clearly identified. The Knowledge Tree is solely responsible for all aspects of the programs. Please click here

for more detailed information.

Counselors Licensed in Canada: This workshop is approved for 4 credit hours through the Canadian Counseling and Psychotherapy Association (CCPA), event code: 64964512.
SOCIAL WORKERS: This workshop is approved for 4 Core CE hours through the Georgia Society for Clinical Social Work (GSCSW), approval #081323. If you are licensed in another state or country, please click here for more detailed information.
MARRIAGE & FAMILY THERAPISTS: This workshop is approved for 4 Core CE hours through the Georgia Association for Marriage & Family Therapy (GAMFT), approval #141-2023. If you are licensed in another state or country, please click here for more detailed information.
To view our various workshop policies, including our multi-workshop discount & refund policy, please click here.
We are an approved vendor for the U.S. Department of Veteran's Affairs for easy reimbursement of educational expenses for VA employees.
Blank Page Issues? We have received some reports about compatibility issues with our website while attempting to pay for a workshop resulting in blank pages. According to our website host, this is a known security issue with Internet Explorer (particularly when someone is about to use a credit card). Microsoft stopped supporting Internet Explorer in January 2016, and they updated it to Microsoft Edge. Our website is updated constantly to offer the highest level of security. If you experience issues while using Internet Explorer, we recommend updating your browser to Edge or using another browser (e.g., Google Chrome, Safari, or FireFox). This should fix the issue and be more secure for you in general. Or, you may always enroll another way here. We apologize for any inconvenience.
For information about our Continuing Education Workshops, please contact our Continuing Education
Workshop Coordinator at: