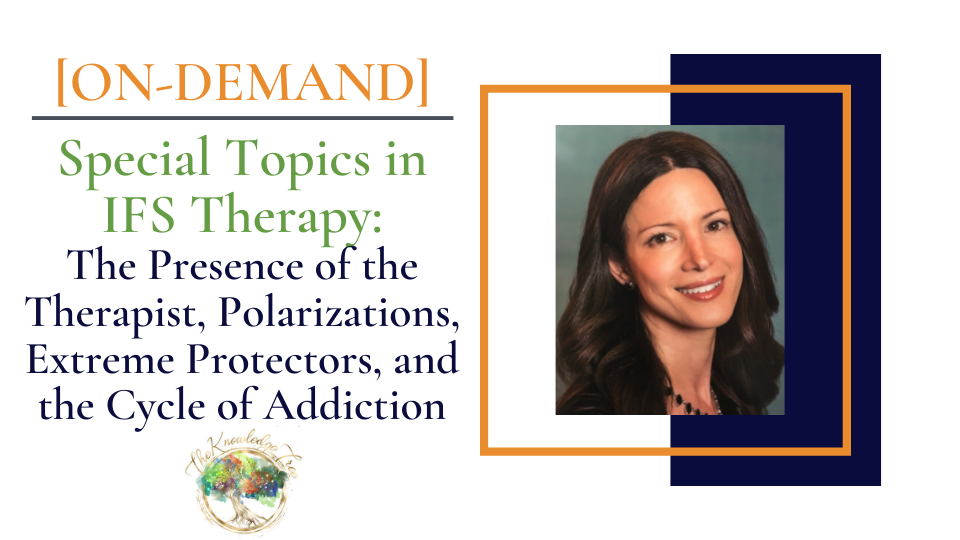 On-Demand: Special Topics in IFS Therapy: The Presence of the Therapist, Polarizations, Extreme Protectors, and the Cycle of Addiction - 6 CEUs
To access the discount form for registering for multiple workshops or participants, please click here.
CE Hours Included: 6 Core (please see below for more information)
Format: On-Demand Webinar ("Asynchronous") ~ At your leisure to be viewed at your own pace. You may pause, rewind, and fast forward at any point during the videos. You are in complete control of how you view this workshop. It also comes with a PowerPoint and references. There is a quiz at the end to ensure viewing and required by all CE approval organizations.
Investment:

$140 (provides lifetime access!)

Presented by: Alexia Rothman, Ph.D.

Target Audience: Psychologists, Counselors, Social Workers, Marriage & Family Therapists, Psychotherapists, Other Mental Health Professionals
Instruction Level: Advanced
Educational Objectives:

In this workshop, you will learn how to:

Review the basic concepts of IFS theory, including Parts, Burdens, the Self, and procedures for getting to know a Part.

Discuss the Self-led presence of the therapist, one of the most crucial elements in achieving maximal effectiveness as an IFS therapist, as well as how to work with our own systems to open space for Self-Energy in treatment.

Describe in more depth how to work with protective Parts, including how to honestly and effectively address their concerns.

Identify polarizations in the internal system and demonstrate how to work with them.

Explain IFS theory and techniques for working with protective Parts in extreme roles, such as suicidality, self-harm, addictive behaviors, and dissociation.

Analyze the IFS perspective on the cycle of addiction, and how to work with the Parts involved.
Workshop Description:
IFS is an evidence-based model of psychotherapy that provides a compassionate, respectful, non-pathologizing approach to understanding the organization and functioning of the human psyche. It provides therapists with a powerful and effective set of tools for empowering clients with a wide range of clinical profiles to heal the wounded and burdened parts of their internal systems, resulting in increased internal harmony, symptom reduction, and improved functioning. In this workshop, participants who are already familiar with the basic principles of IFS will deepen their understanding of the IFS approach to key elements of treatment, including the presence of the therapist, techniques for working with Parts in extreme roles, such as suicidality, self-harm, and dissociation, and working with polarizations between Parts, all of which are essential for effectively treating trauma survivors. Additionally, special focus will be given to conceptualizing and working with the cycle of addiction using IFS techniques.
*Please note that previous exposure to IFS theory (such as through an introductory IFS workshop, readings, or IFS experiential training programs) is strongly suggested before attending this workshop, as basic IFS theory will only be reviewed briefly.
*Also, please be aware that "Internal Family Systems" (IFS) is a very different model from "Family Systems" therapy. There has been some confusion in the past, so we really want to make sure everyone knows this is an IFS training and not Family Systems training. Thank you!
Presented by: Alexia Rothman, Ph.D.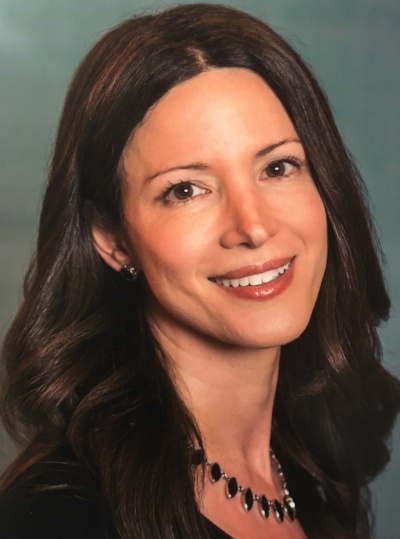 Dr. Alexia Rothman is a clinical psychologist in private practice in Atlanta, GA, since 2004.She is a Certified Internal Family Systems therapist, an international speaker and educator on the IFS model, and a professional consultant for clinicians seeking to deepen their knowledge and practice of IFS through theoretical discussions, case consultation, technique practice, and deep, personal experiential work with their own internal systems. Dr. Rothman has received extensive training in the IFS model, primarily from IFS developer, Dr. Richard Schwartz. She has served as a Program Assistant for multiple Level 1, 2, and 3 experiential IFS trainings, and she offers workshops on the IFS model throughout the United States and abroad. She currently co-hosts an Internal Family Systems-informed podcast, Explorations in Psychotherapy.
Dr. Rothman is a United States Presidential Scholar who graduated summa cum laude from Emory University as a Robert W. Woodruff Scholar. She received her Ph.D. in Clinical Psychology from the University of California, Los Angeles (UCLA), where she was an Edwin W. Pauley Fellow and a National Science Foundation Graduate Research Fellow. She has held adjunct faculty positions at Emory University and Agnes Scott College.
What people are saying about this workshop:
"Very positive. Knowledge Tree made this webinar much more "user friendly" for those like me who are not adept at the internet/PC for continued education. My thanks for your patience and support. Dr. Rothman's command of material in this webinar was very impressive, especially the integration of theory and practice, "use of self" as therapist." - MS, LCSW

"Dr. Rothman is an excellent presenter. She is clear, centered, calm (Lots of Self energy!). She was highly organized. Her slides were easy to follow and allowed me to learn without too much information packed into one slide. The video followed by the discussion and rationale for her interventions was very effective for my learning style. ... Most of all, Dr. Rothman's warm, genuine, kind energy allowed my parts to give me space to be present and helped my nervous system be regulated." - LJ, LCSW

"Dr. Rothman is amazing. I thought the presentation went very well. The pace was good and kept me engaged more than most others are able to. I think what I learned in this workshop will support me in ongoing implementation of IFS therapy techniques in my work with clients and in my own IFS therapy and practice." - MA, LPC

"Video example and breakdown is the absolute best way for me to learn. I have to believe this is invaluable for other therapists as well. We talk about our work w colleagues via consultation, but so rarely get to see others' work and visa versa. Just so grateful for Alexia's gift of teaching. As a teacher turned therapist myself, she is a rarity who excels at both, seemingly with ease." - SF, LPC

"Thank you for these trainings. My practice and clinical skills have been enhanced greatly by your training offerings. I have been able to find nuggets from multiple modalities and use them in unique, personalized ways to serve my clients." - LR, LCSW

"Presenter showed wonderful presence, both in her presentation and in the videos. Wonderful, one of the best courses I've taken. Lovely day all in all, with time for a bike ride at lunch." - KJ, LPC

"Dr. Rothman is an excellent presenter! She is organized, well spoken, and thorough. I truly don't see how this workshop could have been improved." - AME, LMFT

"This is the 3rd workshop of Dr Rothman's I have attended, they are always informative and interesting. I love how she uses actual cases/sessions to present information" - BZJ, LCSW

"Very organized, clear, with a lot of examples. Seeing Dr. Alexia and her thorough process while working has been wonderful and will help me in my work with my clients." - PG, LMFT

"Dr. Rothman is very dedicated and knowledgeable of her craft as it is very noticeable in her teaching of this subject matter." - CL, LPC

"Lexi is one of the best IFS presenters out there!" - AM, LCSW
6 "Asynchronous" Core CE Clock Hours Included - Details by License Type Below:
To view our various workshop policies, including our multi-workshop discount & refund policy, please click here.
We are an approved vendor for the U.S. Department of Veterans Affairs (VA) for easy reimbursement of educational expenses for VA employees.
Blank Page Issues? We have received some reports about compatibility issues with our website while attempting to pay for a workshop resulting in blank pages. According to our website host, this is a known security issue with Internet Explorer (particularly when someone is about to use a credit card). Microsoft stopped supporting Internet Explorer in January 2016, and they updated it to Microsoft Edge. Our website is updated constantly to offer the highest level of security. If you experience issues while using Internet Explorer, we recommend updating your browser to Edge or using another browser (e.g., Google Chrome, Safari, or FireFox). This should fix the issue and be more secure for you in general. Or, you may always enroll another way here. We apologize for any inconvenience.
For information about our Continuing Education Workshops, please contact our Continuing Education
Workshop Coordinator at: