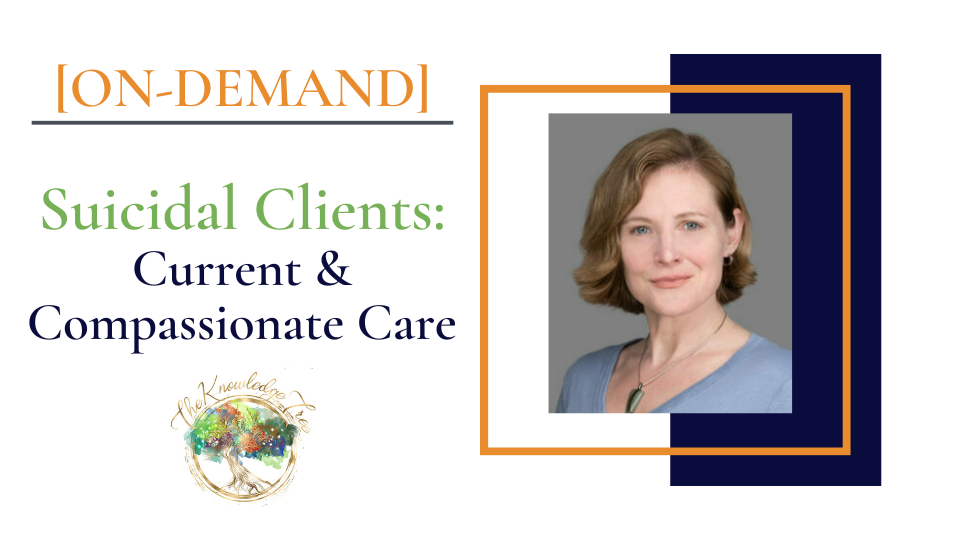 On-Demand: Suicidal Clients: Current & Compassionate Care - 4 CEUs
To access the discount form for registering for multiple workshops or participants, please click here.
CE Hours Included: 4 Core (please see below for details)

Format: On-Demand Webinar ("Asynchronous") ~ At your leisure to be viewed at your own pace. You may pause, rewind, and fast forward at any point during the videos. You are in complete control of how you view this workshop. It also comes with a PowerPoint and references. There is a quiz at the end to ensure viewing and required by all CE approval organizations.
Investment: $109 (provides lifetime access!)

Presented by: Christina Noble, Ph.D., LPC (see bio below)
Instruction Level: Intermediate

Target Audience: Psychologists, Counselors, Social Workers, Marriage & Family Therapists, Psychotherapists, Other Mental Health Professionals
This workshop is not yet available; by pre-registering, you will receive immediate access when it becomes available in December.
Learning Objectives:
In this workshop, you will learn how to:
Learn about major theories for the development of suicidality, as well common myths surrounding suicide.

Identify relevant risk factors that are associated with higher rates of suicide, as well as protective factors that buffer us against suicidality.

Review current understandings of how suicidality intersects with mental health diagnoses.

Learn about current guidelines for the assessment of suicidality, including common warning signs and screening tools.

Review approaches for the competent treatment and management of suicidality in clients, with an emphasis on the Collaborative Assessment and Management of Suicidality (CAMS) approach, an Evidence-based treatment for suicidality.
Workshop Description:
Are you aware of the most recent research, and do you feel truly confident in dealing with suicidal clients? We want to help you feel empowered and prepared because every therapist needs a thorough understanding of this sensitive and stressful topic.
In this workshop, we will explore the latest research and approaches concerning risk factors, successful evaluation, and evidence-supported therapeutic methods, all geared toward aiding mental health professionals in effectively supporting clients grappling with suicidal thoughts. The workshop will delve into contemporary perspectives on crisis intervention, stabilization, and long-term care, equipping clinicians to deliver compassionate, skilled, and empowering assistance to their most vulnerable clients.
Presented by: Christina Noble, Ph.D., LPC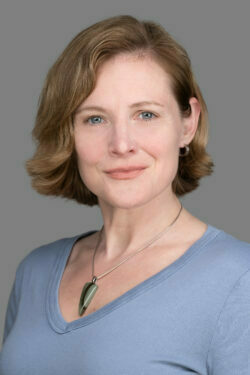 Dr. Christina Noble is a Licensed Psychologist, a Licensed Professional Counselor, and Certified Professional Counselor Supervisor who specializes in treating OCD, Body Focused Repetitive Behaviors (Trichotillomania, Dermatillomania), Self-injurious behaviors, anxiety disorders, simple and complex PTSD, dissociation, personality disorders, executive functioning issues and ADHD. She served previously as the Clinical Director at The Anxiety and Stress Management Institute, and is currently serving as the Director of Clinical Supervision at Anxiety Specialists of Atlanta. Dr. Noble's academic research experiences have focused on Trichotillomania, Shame, Perfectionism, Giftedness, Trauma and Attachment. She also has served as an adjunct professor at Georgia State University, teaching doctoral coursework on Ethics and Professional Issues and Psychopharmacology and Psychophysiology.
4 "Asynchronous" Core CE Clock Hours Included - Details by License Type Below:

To view our various workshop policies, including our multi-workshop discount & refund policy, please click here.
We are an approved vendor for the U.S. Department of Veterans Affairs for easy reimbursement of educational expenses for VA employees.
Blank Page Issues? We have received some reports about compatibility issues with our website while attempting to pay for a workshop resulting in blank pages. According to our website host, this is a known security issue with Internet Explorer (particularly when someone is about to use a credit card). Microsoft stopped supporting Internet Explorer in January 2016, and they updated it to Microsoft Edge. Our website is updated constantly to offer the highest level of security. If you experience issues while using Internet Explorer, we recommend updating your browser to Edge or using another browser (e.g., Google Chrome, Safari, or FireFox). This should fix the issue and be more secure for you in general. Or, you may always enroll another way here. We apologize for any inconvenience.
For information about our Continuing Education Workshops, please contact our Continuing Education
Workshop Coordinator at: