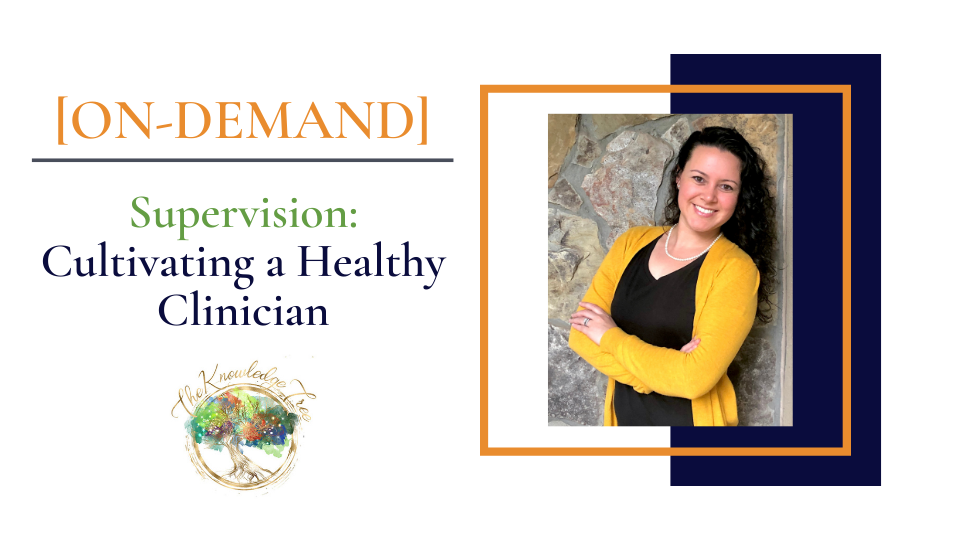 On-Demand: Supervision: Cultivating a Healthy Clinician - 3 CEUs
To access the discount form for registering for multiple workshops or participants, please click here.
CE Hours Included:

3 Core (Also satisfies CPCS & NBCC ACS Supervisor Requirements) (see below for more information)

Format: On-Demand Webinar ("Asynchronous") ~ At your leisure to be viewed at your own pace. You may pause, rewind, and fast forward at any point during the videos. You are in complete control of how you view this workshop. It also comes with a PowerPoint and references. There is a quiz at the end to ensure viewing and required by all CE approval organizations.
Investment: $87 (provides lifetime access!)
Presented by: Ashlenn von Wiegand, Ph.D. (see bio below)
Target Audience: Psychologists, Counselors, Social Workers, Marriage & Family Therapists, Psychotherapists, Other Mental Health Professionals
Instruction Level: Intermediate
Educational Objectives:
In this workshop, you will learn how to:

Discuss the components of burnout and compassion fatigue and the factors that increase their likelihood among clinicians.

Identify skills to help new clinicians maintain their own mental, emotional, and physical well-being while being new in clinical practice.

Identify helpful resources to assess supervisees' well-being and provide guidance for them without becoming their personal therapist.
Workshop Description:
Being a clinician is really hard. If not careful, we quickly find ourselves being burnt out and zapped of our compassion towards ourselves and our clients. As we are molding and developing new clinicians through supervision, it is important to equip new clinicians with the tools and resources to help them thrive. This workshop aims to help supervisors equip their supervisees with the resources to navigate burnout and compassion fatigue while embarking on their new journey as therapists. This workshop will discuss skills and other resources to help new clinicians navigate clinical practice, working with challenging clients, and maintaining their emotional and mental well-being in the process.
Presented by: Ashlenn Von Wiegand Ph.D., LPC, CPCS, CCH, NCC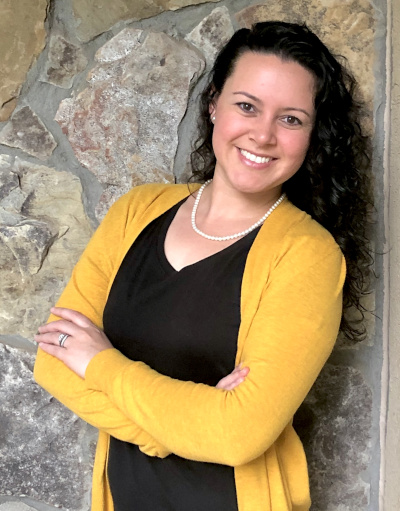 Dr. Ashlenn Von Wiegand is the Clinical Director and founder of Liberating Counseling Services, a practice specializing in anxiety disorders, self-harming behaviors, addictions, and behavior change. In her practice, Dr. Von Wiegand and her clinicians provide individual and group therapy for OCD spectrum disorders, personality disorders, eating disorders, and addiction for children, adolescents, and adults. Dr. Von Wiegand is intensively trained in Dialectical Behavior Therapy (DBT), Exposure and Response Prevention (ERP), and Schema Therapy, and is a certified clinical hypnotherapist. Dr. Von Wiegand is also the founder of a supervision, consultation, and training venture known as Clinician Collaborative. Through Clinician Collaborative, she provides resources and tools for clinicians seeking to expand their understanding of modalities she specializes in. She loves presenting and equipping clinicians with tools and resources to help them thrive in their practice.
3 "Asynchronous" Core CE Clock Hours Included - Details by License Type Below:
To view our various workshop policies, including our multi-workshop discount & refund policy, please click here.
We are an approved vendor for the U.S. Department of Veterans Affairs (VA) for easy reimbursement of educational expenses for VA employees.
Blank Page Issues? We have received some reports about compatibility issues with our website while attempting to pay for a workshop resulting in blank pages. According to our website host, this is a known security issue with Internet Explorer (particularly when someone is about to use a credit card). Microsoft stopped supporting Internet Explorer in January 2016, and they updated it to Microsoft Edge. Our website is updated constantly to offer the highest level of security. If you experience issues while using Internet Explorer, we recommend updating your browser to Edge or using another browser (e.g., Google Chrome, Safari, or FireFox). This should fix the issue and be more secure for you in general. Or, you may always enroll another way here. We apologize for any inconvenience.
For information about our Continuing Education Workshops, please contact our Continuing Education
Workshop Coordinator at: