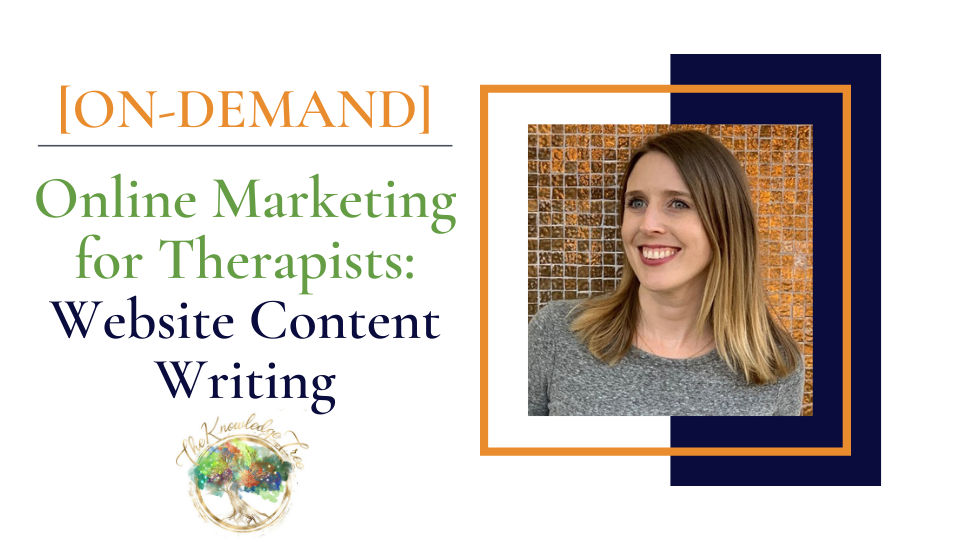 On-Demand: Online Marketing for Therapists: Website Content Writing - 2 CEUs
To access the discount form for registering for multiple workshops or participants, please click here.
CE Hours Included: 2 Core or Related (please see below for more information)
Format: On-Demand Webinar ("Asynchronous") ~ At your leisure to be viewed at your own pace. You may pause, rewind, and fast forward at any point during the videos. You are in complete control of how you view this workshop. It also comes with a PowerPoint handout and multiple handouts & forms. There is a quiz at the end to ensure viewing and required by all CE approval organizations.
Investment: $45 (provides lifetime access!)
Presented by: Kelsi Collins
Target Audience: Psychologists, Counselors, Social Workers, Marriage & Family Therapists, Psychotherapists, Other Mental Health Professionals
Instruction Level: Intermediate
Educational Objectives:

In this workshop, you will learn how to:

Write engaging content that communicates what you do, who you serve, and why potential clients should book a consultation or appointment.

Identify the tone of voice, language, and SEO keywords you should use to attract your ideal client.

Create compelling content for your homepage, specialization pages, about page, FAQ page, and contact page using a fill-in-the-blank content template included in the course.

Write a three-step call-to-action that inspires clients to book a consultation or appointment.

Utilize a simple content formula to write content that gets to the core of your client's biggest issues, concerns, and desires.

Formulate content for popular search engines like Google by incorporating keywords throughout your content.

Create a stand-out Psychology Today profile that showcases your expertise.

Write relevant and captivating blog posts that increase traffic to your website and position you as an expert in your field.
Workshop Description:
Your website content is often the first impression you make. To attract your ideal clients, your content should speak directly to your clients' most pressing mental health issues and therapy goals. Your website should say what you do, who you are, and why they should work with you.
During this course, you will get a simple template to write clear content that will encourage clients to seek out your services. We will go page-by-page through a therapy practice website including the homepage, about page, FAQ page, contact page, and specialization pages. Once you understand how to write compelling content, you will learn how to optimize your content for search engines like Google and Bing using SEO keywords. Finally, you will learn how to simplify the webpage and blog writing process so that you can write content that you are proud of. You will leave the course with a greater understanding of content writing, best practices for SEO content, and how to reach your ideal clients through the words you write.
Facilitated by: Kelsi Collins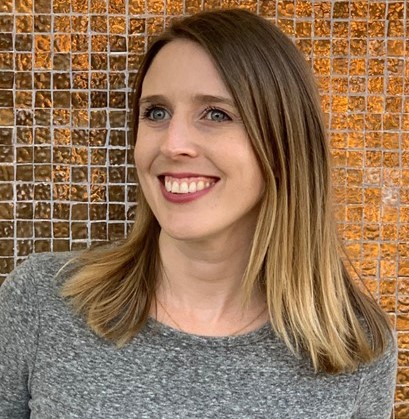 Kelsi Collins is a content marketing expert in the field of Health and Human Services. She has over ten years of experience helping organizations write client-attracting content and achieve high rankings on search engines. Before her current position as the communications lead for the College of Health and Human Services at the University of California, Long Beach, she managed the content marketing efforts for an addiction and mental health center. In the first two months of working at the center, she increased SEO by 20% using best practices. Kelsi Collins graduated with a Bachelor's Degree in Media Studies from the University of California, Berkeley, where she took classes in psychology, sociology, communications, and business. As an advocate of mental health, her goal is to help therapists connect with the clients that need their services the most.
What People are Saying About this Workshop:
"Kelsi's course gifted me with her expertise in content marketing, but kept it simple and digestible. Within a short period of time, she taught me how to plan, write, and optimize my content — I am amazed!" - LS

"Kelsi explains content-writing in a clear and engaging manner. Because this workshop has activities where we pause, write and actually incorporate the concepts in real time as we learn, I feel empowered to apply these concepts on my own." - FS

"Kelsi is exceptional. The organization of the presentation, the handouts, the Q&A, and the activities helped me recognize in real time that I'm capable of revamping my site. I was SO impressed!" - ES, LCSW

"Great workshop and presenter." - AML, LPC
2 "Asynchronous" Core or Related CE Clock Hours Included - Details by License Type Below:
To view our various workshop policies, including our multi-workshop discount & refund policy, please click here.
We are an approved vendor for the U.S. Department of Veterans Affairs (VA) for easy reimbursement of educational expenses for VA employees.
Blank Page Issues? We have received some reports about compatibility issues with our website while attempting to pay for a workshop resulting in blank pages. According to our website host, this is a known security issue with Internet Explorer (particularly when someone is about to use a credit card). Microsoft stopped supporting Internet Explorer in January 2016, and they updated it to Microsoft Edge. Our website is updated constantly to offer the highest level of security. If you experience issues while using Internet Explorer, we recommend updating your browser to Edge or using another browser (e.g., Google Chrome, Safari, or FireFox). This should fix the issue and be more secure for you in general. Or, you may always enroll another way here. We apologize for any inconvenience.
For information about our Continuing Education Workshops, please contact our Continuing Education
Workshop Coordinator at: