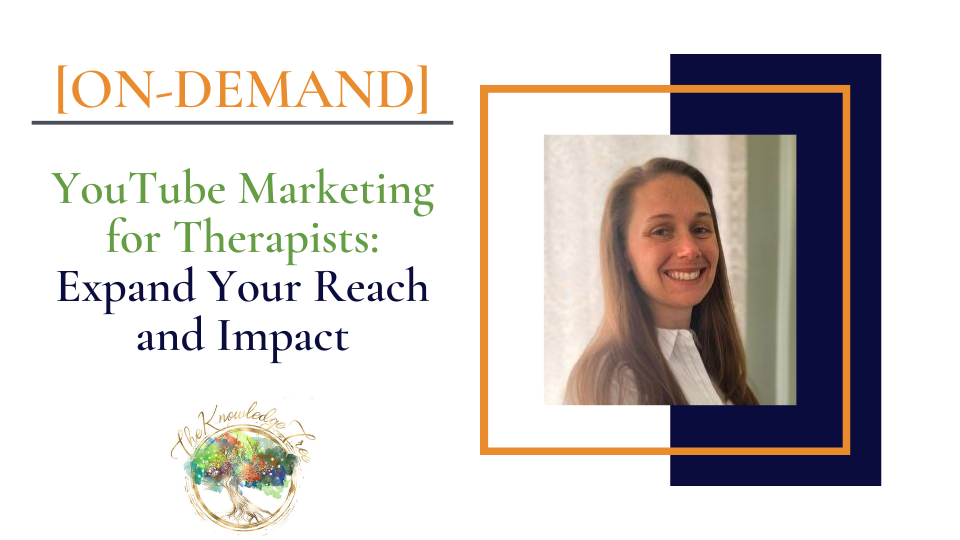 On-Demand: YouTube Marketing for Therapists: Expand Your Reach and Impact - 3 CEUs
To access the discount form for registering for multiple workshops or people, please click here.
CE Hours Included:

3 Core (see below for more information)

Format: On-Demand Webinar ("Asynchronous") ~ At your leisure to be viewed at your own pace. You may pause, rewind, and fast forward at any point during the videos. You are in complete control of how you view this workshop. It also comes with a PowerPoint and references. There is a quiz at the end to ensure viewing and required by all CE approval organizations.
Investment: $87 (provides lifetime access!)
Presented by: Erica Gregory, LMFT (see bio below)
Target Audience: Psychologists, Counselors, Social Workers, Marriage & Family Therapists, Psychotherapists, Other Mental Health Professionals
Instruction Level: Intermediate
Educational Objectives:
In this workshop, you will learn how to:
Identify both the marketing and community impact of using YouTube for your therapy practice

Describe how to succeed using YouTube with your personality & your niche

Explain step by step how to get started and how to manage your time

Review your counseling practice goals and how to use YouTube to achieve them
Workshop Description:
In the saturated digital marketing world, being relevant and searchable is getting harder and harder. If potential clients cannot find you or your website, how can you grow your caseload or a business? Moving beyond a social media presence is becoming a key part to a digital marketing plan, but where does one start? In this training, we will explore how YouTube can help you break through digital marketing barriers, demonstrate professional competency, and support the community all at the same time. This training will walk you through step by step how to get started. It will give you a realistic picture of the time commitment and potential impact you can have. Are you ready to see your website on the first page of a Google search? Sign up today!

Presented by: Erica Gregory, LMFT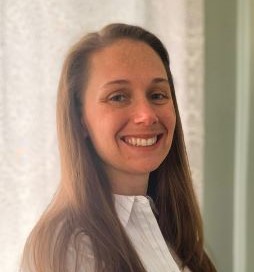 Erica Gregory is a Licensed Marriage and Family Therapist in Alpharetta, Georgia. She is the founder and owner of Johns Creek and Alpharetta Counseling, a private group practice with 22 counselors on staff. She is also the owner and creator of the YouTube channel "JCACounseling," which has over 1300 subscribers and serves as a marketing foundation for her counseling practice. She learned how to leverage YouTube through trial and error, but she wants to make your lives much simpler! In this training, Erica is bringing her experience and knowledge to show you how you can grow your counseling practice and make an impact using this powerful platform.
What people are saying about this workshop:
"If you want to start a YouTube channel - this course is a NECESSITY!! Amazing - Erica's knowledge is mindblowing!"

"She is well informed, generous and admirable while sharing her experience and resources. She was organized and clear. I Loved her

presentation!"
3 "Asynchronous" Core CE Clock Hours Included - Details by License Type Below:
To view our various workshop policies, including our multi-workshop discount & refund policy, please click here.
We are an approved vendor for the U.S. Department of Veterans Affairs (VA) for easy reimbursement of educational expenses for VA employees.
Blank Page Issues? We have received some reports about compatibility issues with our website while attempting to pay for a workshop resulting in blank pages. According to our website host, this is a known security issue with Internet Explorer (particularly when someone is about to use a credit card). Microsoft stopped supporting Internet Explorer in January 2016, and they updated it to Microsoft Edge. Our website is updated constantly to offer the highest level of security. If you experience issues while using Internet Explorer, we recommend updating your browser to Edge or using another browser (e.g., Google Chrome, Safari, or FireFox). This should fix the issue and be more secure for you in general. Or, you may always enroll another way here. We apologize for any inconvenience.
For information about our Continuing Education Workshops, please contact our Continuing Education
Workshop Coordinator at: